Endangered olive ridleys find a new home for nesting
Context
Despite concerns over erosion in coastal areas due to high tide, this year marked a record mass nesting of endangered Olive Ridley turtles at Rushikulya beach.
About
About Olive Ridley Turtles:
They are the smallest and most abundant of all sea turtles found in the world.
Major nesting sites in India:Rushikulya rookery coast (Odisha), Gahirmatha beach (Bhitarkanika National park) and mouth of the Debi River.
Scientific name: Lepidochelys olivacea; also known as the Pacific ridley sea turtle.
Presence:Found in warm waters of the Pacific, Atlantic and Indian oceans.
Conservation Status:
IUCN Red List: Vulnerable
Schedule I of Indian Wildlife (Protection) Act, 1972
CITES Appendix I
Features:
Known for their unique mass nesting called Arribada, where thousands of females come together on the same beach to lay eggs.
These are carnivores and feed mainly on jellyfish, shrimp
The eggs hatch in 45 to 60 days, depending on the temperature of the sand and atmosphere during the incubation period.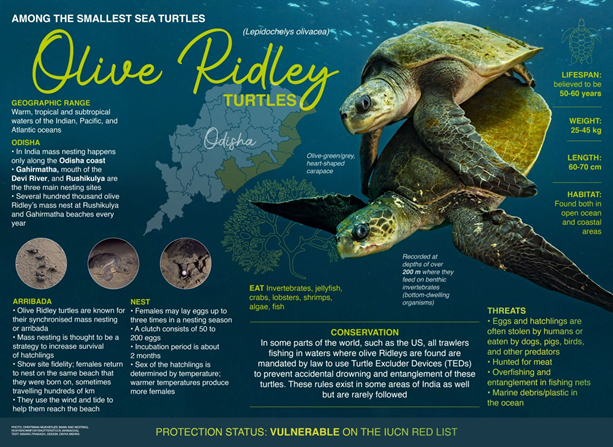 About Rushikulya rookery:
The Ruskikulya Rookery is located in Odisha.
The rookery is situated on the Rushikulya Beach in Ganjam district.
The coast of Odisha is the largest mass nesting site for these sea turtles.
It is at the mouth of river Rushikulya.
The Rushikulya River is one of the major rivers in the state of Odisha.
The Rushikulya originates at an elevation of about 1000 metres from Daringbadi hills of the Eastern Ghats range.
It meets the Bay of Bengal at Puruna Bandha in Ganjam.
Its tributaries are the Baghua, the Dhanei, the Badanadi etc.
It has no delta as such at its mouth.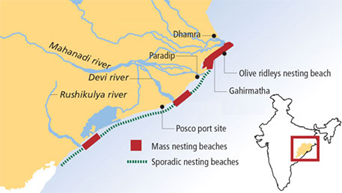 Verifying, please be patient.