Guaranteed Pension Scheme (GPS) of Andhra Pradesh
Context
Amid the rejection of four states on new pension system, there are discussions about a new model, which has been proposed by the YSR Jagan Mohan Reddy in Andhra Pradesh named as Guaranteed Pension scheme (GPS).
About Guaranteed Pension scheme:
Under GPS, employees can get a guaranteed pension of 33% of their last drawn salary if they contribute 10% of their basic salary every month which is matched by a 10% contribution by the state government.
And if, they can get a guaranteed pension of 40 per cent of their last drawn salary, if they are willing to contribute a higher 14 per cent of their salary every month, which will be matched by 14 per cent government contribution.
It combines the elements of both the Old Pension System (defined benefit) and the New Pension Scheme (defined contribution). In doing so, it seeks 'defined contribution' from employees every month and offers two options of 'defined benefit'.
How does the Pension system work in India?
All pension plans in India provide guaranteed maturity benefits. This is the reason why pension plans in India are also known as guaranteed pension plans.
The maturity benefits are generally the fund value or 101% of the Premium paid, whichever is higher.
Old pension Scheme (OPS):

New Pension Scheme

The OPS is an assured inflation-indexed monthly family pension till you (and your spouse) live(s). The OPS level is

Linked to the last pay pensioner drew.

The NPS is a retirement saving scheme to secure the life of an individual financially after retirement.
What are the issues associated with NPS?
The NPS is a corpusfrom which you can draw a pension after retirement. Its value is determined by the market prices in which the corpus is invested.
One of the issues with the NPS is the amount of monthly pension you would draw (for the same contribution during service) with three hypothetical market rates of return is significantly lower for NPS.
Secondly, it is dependent on the vagaries of the market prices of equity/bonds in which the corpus is invested. To be sure, the markets do not crash often and in the long run, they go up rather than down.
If there is a crash, the downside has to be absorbed by the retirees.
According to a 2008 OECD study, the global financial crisis had wiped a total of $5 trillion off the value of private pension funds in rich countries compared to the start of the year 2022.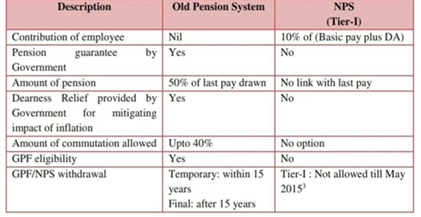 Verifying, please be patient.
Our Centers
DELHI (Karol Bagh)
GS SCORE, 1B, Second Floor, Pusa Road, Karol Bagh, New Delhi - 110005 (Beside Karol Bagh Metro Station Gate No. 8)
BHUBANESWAR (Jaydev Vihar)
GS SCORE, Plot No.2298, Jaydev Vihar Square, Near HCG Day Care, BBSR - 751013
LUCKNOW (Aliganj)
GS SCORE, 2nd Floor, B-33, Sangam Chauraha, Sector H, Aliganj, Lucknow, UP - 226024