Adoption and related laws in India
Context
The Ministry of Women and Child Development has written to State governments, asking them to immediately implement the revised adoption rules requiring adoption orders to be passed by District Magistrates (DMs) instead of courts with effect from September 1.
However, the latest rules have several aspects questioning the adoption procedure in India and its applicability.
About
Current laws for Adoption in India
Adoptions in India are governed by two laws —

The Hindu Adoption and Maintenance Act, 1956 (HAMA)
The Juvenile Justice Act, 2015.
Both laws have separate eligibility criteria for adoptive parents.
The Central Adoption Resource Authority (CARA), a statutory body of the Ministry of Women and Child Development (MoWCD), deals with the adoption of orphaned, abandoned, and surrendered children through its associated or recognized adoption agencies. It was set up in 1990.
What is in the new rule?
From September 1, District Magistrates (DM) have been empowered to give adoption orders instead of courts.
All cases pending before courts have to be now transferred.
Why is there concern over the revised rules?
Parents, activists, lawyers, and adoption agencies are worried as cases already before courts will have to be transferred and the process will have to start afresh.
There is a possibility that the Judiciary will be less informed about adoption and further crimes can be aggravated.
Further, the complexity of the procedure might increase, due to the possibility of a lack of cooperation among different involved agencies.
Why adoption is a challenge?
Long delays in the adoption process due to the involvement of several institutions (Judiciary, Executive, and Legislators) and lack of coordination among them.
The involvement of multiple stakeholders (Centre, States, CARA) makes the process complex
Loopholes in the adoption system;

DMs are authorized but are not informed of their duties regarding Adoption and lack of awareness.
Post-adoption and succession-related cases are further heard by courts, which remains a challenge to the legality of passing the order for adoption by DMs.
The numbers:
According to the United Nations Children's Fund (UNICEF), India has 2.96 crore orphaned or abandoned children. In its annual report 2020-21, the Ministry of Women and Child Development noted that 2.56 lakh children were living in 7,164 child care institutions (CCIs) in the country.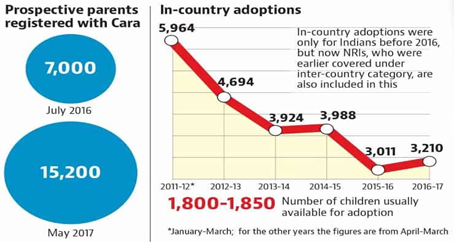 Consequences
On Adopted Children: The children adopted legally or illegally, are vulnerable and hence need proper management in every step before adoption.
On People aspiring for Adoption: In Indian society, having an adopted child is itself a challenge and the adoption-related process under the law has made it further tedious.
On Constitutional Machinery: As the executive and judicial powers have conflicted with the adoption process, it can lead to future problems while the legality of the succession rights would be considered.
Steps were taken to overcome the issues of Adoption
Centralization of Adoption laws: In 2015, the then Minister for Women and Child Development Maneka Gandhi centralized the entire adoption system by empowering CARA to maintain in various specialized adoption agencies, a registry of children, prospective adoptive parents as well as match them before adoption.
Involvement of NGOs and Civil society: NGOs should be allowed to directly give children for adoption after obtaining a no-objection certificate from CARA.