Distribution of Fortified Rice
Context
Recently cabinet has approved for distribution of fortified rice. The total cost of fortification which estimates around 2,700 cr. per year.
Background
Prime Minister has announced distribution of fortified rice through various government schemes.

In Global Hunger Index 2021, India stands at 101st position among 116 countries

The GHI score for India is 27.5 which is at 'serious' level in the scale of GHI.

India has shown a declining trend in score of Global Hunger Index over the last decade.
Analysis
How India earlier focused on nutritious food security?
Green Revolution has significantly benefitted India's food production and ensured food security for all. This has helped to overcome the past challenges of severe famines.

Unfortunately, green revolution got restricted to the wheat and rice and could not diversify the impact to other crops.

Food security could not focus on the nutritious food security.
What is Rice Fortification?
Identification mark
Fortified rice are packed in jute bags with the logo ('+F') and the line "Fortified with Iron, Folic Acid, and Vitamin B12".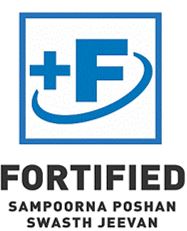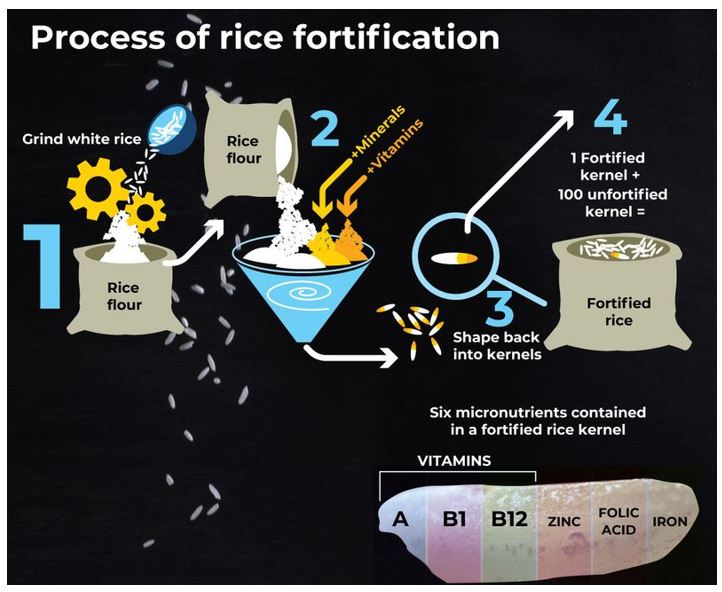 Important technologies
Various technologies are available to add micronutrients to regular rice, such as coating, dusting, and 'extrusion'.
The 'Extrusion' involves the production of fortified rice kernels (FRKs) from a mixture using an 'extruder' machine.

It is considered to be the best technology for India.

The fortified rice kernels are blended with regular rice to produce fortified rice.

Under the Ministry's guidelines, 10 g of FRK must be blended with 1 kg of regular rice.
What is the need of fortification?
India has very high levels of malnutrition among women and children.

According to the Food Ministry, every second woman in the country is anaemic and every third child is stunted.

Fortification of food is considered to be one of the most suitable methods to combat malnutrition.

Rice is one of India's staple foods, consumed by about two-thirds of the population. Per capita rice consumption in India is 6.8 kg per month.

Therefore, fortifying rice with micronutrients is an option to supplement the diet of the poor.
Standards for fortification (Ministry of Consumer Affairs, Food and Public Distribution)
Under the Ministry's guidelines, 10 g of FRK must be blended with 1 kg of regular rice.

According to FSSAI norms, 1 kg of fortified rice will contain the following:

iron (28 mg-42.5 mg)

folic acid (75-125 microgram)

vitamin B-12 (0.75-1.25 microgram)

Rice may also be fortified with zinc (10 mg-15 mg), vitamin A (500-750 microgram RE), vitamin B-1 (1 mg-1.5 mg), vitamin B-2 (1.25 mg-1.75 mg), vitamin B-3 (12.5 mg-20 mg) and vitamin B-6 (1.5 mg-2.5 mg) per kg.
How the scheme will be implemented?
The decision to supply fortified rice throughout the country using the targeted public distribution system in a phased manner by 2024 aims to overcome malnutrition.

The distribution of fortified rice will implemented in three phases

Phase 1:

Through Integrated Child development Schemes (ICDS)/ mid-day meal schemes.

Phase 2:

Through Public Distribution System (PDS)

Phase 3:

Rest of the district will be covered before 2024.
What are main benefits?
Improve Nutritional quality of the food:

The improved nutritional quality will help to reduce the condition of malnutrition among children and women.

Demographic dividend

: Focus on children development will ensure better quality of demography which will result into better development of the nation.

POSHAN Abhiyan 2.0:

The fortified rice will help to boost the POSHAN Abhiyan 2.0 to secure nutritional food for all.

Aatmanirbhar Bharat

: India's long-term objective of "Aatmanirbharta" (self-dependency) needs a highly productive and healthy demography which can be achieved by the fortification.
What are the major challenges?
Fortification not permissible limit:

The fortification should not exceed the permissible limit of the fortification to reduce the health concern.

Public Awareness:

Lack of public awareness cannot boost the demand fpor fortified rice that will not incentivize the farmers or companies to opt for fortification
What can be done?
CAUTION!

There is need for extreme caution in implementing food fortification to address micronutrient deficiencies in India.

Close check:

Attention must even be paid to the consequences of excess intake when such schemes are offered along with food supplements.

Diversification of Fortification:

Fortification should not constraint only for rice but should expand the scope for other food grains.
Conclusion
Fortification will enhance the quality of the food which will enable a new and health way towards Aatmanirbhar Bharat. Three level distribution program has the potential to narrow down the gap left by the green revolution.