FSSAI releases State Food Safety Index
Overview:
Food Safety Index
Parameters
Procedure of assessment
Key Highlights
Significance of Food safety
Significance of the Index
Government initiatives
Context
The Food Safety and Standards Authority of India (FSSAI) have recently released the State Food Safety Index (SFSI) 2021-22.
Background
Food Security is important for the healthy growth of the demography irrespective of the development and income status of a nation.
Green Revolution, use of new variety seeds and use of fertilisers, has narrowed down the scope of food insecurity for India
The climate change, land use pattern soil degradation and global warming are possessing a potential threat to the food security in various ways.
Socio-economic factor and accessibility of sea food are correlated to each other.
Analysis
What is Food Safety Index?
Food Security Index developed by Food Security and Standards Authority of India (FSSAI).
The index aims to measure the performance of states and Union Territories on selected "parameters" of food safety.
The major objective of the index is to encourage states and UTs to improve their performance and work towards establishing a proper food safety ecosystem.
What are the parameters measured in the food safety index?
Human Resources and Institutional Data; 20% weightage
Compliance; most important parameter with 30% weightage
Food Safety- Infrastructure and Surveillance; 20% weightage
Training and Capacity; 10% weightage
Consumer Empowerment; 20% weightage
How are the states assessed?
The states and UTs are classified into three categories and are assessed separately: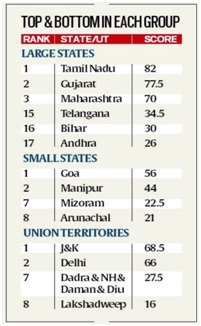 Large state
Small state
Union Territories
Key Findings of the Index:
Large state category:

Tamil Nadu: 1st rank with a score, 82 out of 100
Andhra Pradesh: 17th rank with a score of 26

Small state:

Goa: 1st rank; 56 score
Arunachal: 8th rank with 21 score

UTs:

J&K: 1st rank; 68.5 score
Lakshadweep: 8th rank; 16 score
Significance of the Food Security and Safety:
Access to sufficient amounts of safe food is key to sustaining life and promoting good health, reducing the events of non-communicable diseases.
Food safety has a critical role in assuring that food stays safe at every stage of the food chain - from production to harvest, processing, storage, distribution, all the way to preparation and consumption.
What are the major challenges behind ensuring food safety and security?
Socio-economic diversity: The amplitude of socio-economic diversity poses a threat to the accessibility of safe food, leading to food insecurity.
Land degradation and desertification: Climate change and global warming has led to degradation and desertification of land, reducing the harvest.
Climate change: Climate change and global warming has also impact the local seasonal climate which further contributes to crop failure.
Unemployment and poverty
Unplanned rural to urban migration
Gender inequality and lack of education
Lack of safe storage facility
Lack of logistics support and connectivity
Rapidly growing population and resource constraints
Initiatives taken by the government:
Eat Right India Movement; aligned with National Health Policy
Et Right Research awards and grants
Targeted Public Distribution System
Ayushman Bharat
PoshanAbhiyan 2.0
Swachh Bharat Abhiyan
Plastic Waste Neutral
Conclusion:
Food security and food safety remains the prime objective of any nation for the health growth of the demography. India with the high demographic dividend and diversified income level needs to focus on narrowing down the socio-economic gap and make food available to every citizen irrespective of their economic and geographical position.