'How viable is online education?'
Skill-development needs experiment and experience, which may not be feasible in online learning
Context
Skill-development needs experiment and experience, which may not be feasible in online learning
About
The countrywide lockdown to curb the spread of the novel coronavirus disease (COVID-19), entwined with health and safety concerns, has brutally disrupted India's economy.
The economic consequences of the pandemic as well as local lockdowns have been well-discussed and have surfaced in the gross domestic product and industrial production numbers. But there is another side to the ramifications: The lack of skillful imparting of education may translate into an economic adversity over time.
India's gross enrollment ratio in higher education was a mere 27.4 per cent for 2017-18, according to the All India Survey on Higher Education (AISHE). This is not great news compared to other developing countries. The situation could be further battered by the possible decline in enrollment due to limited access to online education.
Viability of online education
The internet and digital infrastructure with a significant penetration is a boon for education. The Pradhan Mantri e-Vidya Programme was launched in May to amplify the efforts for a better shift online.
The top 100 universities in the country were permitted to start online courses in May, without the need to seek approval from education regulators. States such as Karnataka announced their own policies to make online education accessible.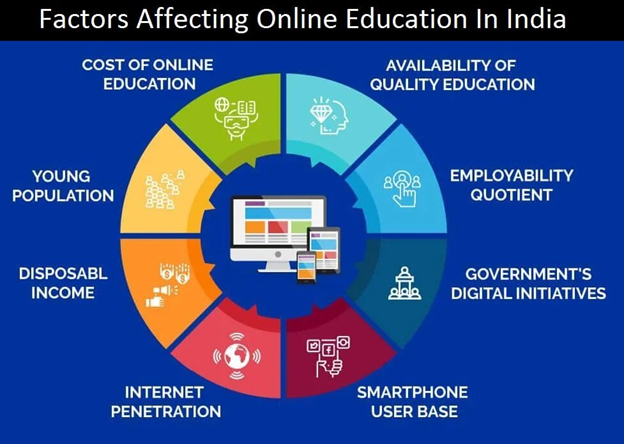 Challenges
Online education has not only changed how students are learning, but has also significantly altered the methods deployed by teachers and parents.
A fundamental enabler is the digital infrastructure, which includes high-speed internet and supporting devices such as desktop, laptop, tablet or mobile phones.
These prerequisites have expanded the gap between upper- and middle-economic sections, as well as urban and rural populations of our country. The infrastructure challenges in online education have rendered unprivileged learners helpless.
Education and skill-development are dependent on each other. It is difficult to imagine students learning physics and chemistry only outside of laboratories. Similarly, an engineer cannot simply have the knowledge of combustion engine without the skill to design and operate it.
It is, therefore, important to differentiate between knowledge and skill. While knowledge can be delivered and learned, skill-development needs experiment and experience that may not be feasible online.
The industry-academia gap has existed in India for a very long time. A McKinsey report flagged the issue a decade ago: Only a quarter of engineers in India were truly employable.
Online education producing graduates without skills may aggravate the employability issue further. This may lead to a deteriorating human capital and underemployment in the economy.
This adulteration in the education system may have a long gestation period. A large pool of unskilled human capital will come out of the online pedagogy to join the future workforce and face employability challenges. This may also mean that they will take longer to gain the requisite skills.
Conclusion
We must acknowledge and address these challenges. The lack of digital infrastructure in rural and underdeveloped sections has posed implementation challenges on the ground, leading to social inequalities in the country. Students, teachers and parents are sailing through the operational challenges to cope with the new online regime. It's high time that we start thinking about bridging the gap between rural and urban digital infrastructure for online education.