India to Add 100 more Earthquake Observatories by 2026
Context
The Government has announced that India is going to open 35 earthquake observatories by the end of 2021 and is aiming to increase the number by adding 100 more earthquake observatories by the year 2026.
Background
In the last 65 years since Independence, the country had only 115 Earthquake Observatories.
But now India is going to make a quantum leap in the number of Earthquake Observatories it has.
The announcement was made in the inaugural function of the Joint Scientific Assembly of the International Association of Geomagnetism and Aeronomy (IAGA) and International Association of Seismology and Physics of the Earth Interior (IASPEI).

IASPEI: It promotes the study of earthquakes and other seismic sources, the propagation of seismic waves, and the Earth's internal structure, properties, and processes.
IAGA: It is an international scientific association that focuses on the study of terrestrial and planetary magnetism and space physics.

Both of them are semi-autonomous associations under the aegis International Union of Geodesy and Geophysics (IUGG).
International Union of Geodesy and Geophysics (IUGG)
IUGG is a non-governmental, association of semi-autonomous associations, established in 1919.
Its Secretariat is based in Potsdam, Germany.
It's objectives are:

Promotion and coordination of physical
Chemical and mathematical studies of the Earth and its environment in space
About National Centre for Seismology
National Centre for Seismology (NCS) is the nodal agency for monitoring seismological activity in the country.
NCS network comprises 115 monitoring stations spreading all across the country.
The major activities currently being pursued by the NCS are:

Earthquake monitoring on a 24X7 basis
Operation and maintenance of national seismological network comprising of 115 Stations
Maintenance of Seismological data centre and information services.
Seismic hazard micro-zonation related studies
Aftershock/Earthquake swarm monitoring/survey
Understanding of Earthquake processes
Public outreach

The network can record any event of:

magnitude five and above for the New Delhi region
magnitude three and above for northeast region
magnitude 3.5 in and above in peninsular
magnitude four and above in the Andaman region
magnitude 4.5 and above in border regions
Analysis
Seismic Zones in India: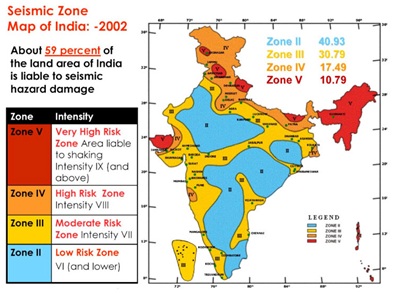 The Bureau of Indian Standards has classified regions in India into four seismic zones on the basis of historical seismic activity and strong ground motions. They are namely: Zones II, III, IV and V.
Seismic zone intensity classification as (according to the Modified Mercalli scale):

Zone II (low-intensity zone)
Zone III (moderate intensity zone)
Zone IV (severe intensity zone)
Zone V (very severe intensity zone)

Zone V is considered as the most seismically active region whereas zone II is the least active.

Zone V includes the north-eastern part of India, parts of J&K and Himachal Pradesh, Uttaranchal, Rann of Kutch, parts of North Bihar and Andaman & Nicobar Islands.
Important Terms in Seismology:
1. Richter's scale
It is a mathematical formulation (not a physical device), developed by Charles Richter in 1935, to measure the strength (Magnitude) of local earthquakes is measured.
2. Body wave
They propagate through the interior of a body. There are two types of seismic body waves, namely:

Compressional or longitudinal (P wave): P-waves are the fastest body waves and are first to arrive at a station, that is to say, before the arrival of the S waves.
Shear or Transverse (S wave): S-waves are the type of body waves, which move slowly in comparison to P waves (another type of body wave).
3. Surface Waves:
Surface waves propagate along the surface of a body or along with the interface between differing media. The two common types of seismic surface waves are:

Rayleigh waves: A type of surface wave which causes the ground to shake in an elliptical motion. These are the slowest ones, but often the most destructive ones too, of the wave types caused by an earthquake.
Love waves: It is a kind of a surface wave having a horizontal motion. It's the fastest surface wave and shows side-to-side movement.
The Earthquake Risk in India
During the last 15 years, 10 major earthquakes have been reported, resulting in over 20,000 deaths.
Based on the current seismic zone map of the country, over 59% of India's land area is under threat of moderate to severe seismic activity.
The entire Himalayan belt is considered vulnerable to major earthquakes of magnitude exceeding 8.0.
Scientific publications have talked about the likelihood of the occurrence of very severe earthquakes in the Himalayan region.
The North-Eastern part of India experiences moderate to large earthquakes. The region experiences an earthquake with a magnitude greater than 6.0 every year.
The Andaman & Nicobar Islands often experiences earthquakes because it is situated on an inter-plate boundary.
Occurrence of earthquake
The earthquake is characterized by severe shaking of the ground and severe shaking of structures above the ground.
This happens due to the release of the transmitted pressure of moving lithospheric or crustal plates.
The Earth's crust is divided into 7 large plates, which are 50 miles thick.
It moves slowly and steadily over the Earth's interior and many smaller plates.
Earthquakes are basically tectonic, that is, moving plates are mainly responsible for the shaking in the ground.
Why more earthquake Observatories are required?
The Indian subcontinent is undoubtedly one of the world's most disaster-prone areas in terms of natural calamities like, earthquakes, landslides, cyclones, floods, and tsunamis.
Under-sea earthquakes, capable of generating tsunamis on the Indian coastal regions are also a point of concern.
Thus, it becomes important to put in place a robust warning system to equip ourselves to make timely predictions.
In order to do so, a network of well-distributed observatories all across the country is required.
It will increase the detection capability of an earthquake up to magnitude 2.5 throughout the country, which is around the magnitude of 3.5 on the Richter scale.
It can also capture small seismic activity that went undetected earlier.
Can we make predictions for future earthquakes?
So far, there is not any proven scientific technique, anywhere in the world, to predict the occurrence of earthquakes with a reasonable degree of accuracy with regard to space, time and magnitude.
The warning time, however, is getting much shorter and of the order of a few seconds if a well-established spatial network of observatories is in place.
The success rate of a warning system should be assessed thoroughly before the system can be considered for real-time operations.
What are the other methods available for earthquake detection?
Artificial Intelligence (Machine learning techniques) gives us options to takes on Earthquake Prediction. But it's a long way to cover before it can reliably bring to use to predict catastrophic earthquakes.
Geodetic observations—especially interferometric synthetic aperture radar (InSAR) and satellite optical imagery have shown promising results.
Laser beams can be deployed to detect plate movement by directing the beam across the fault line.
Abnormal exhalation of Radon gas is observed from the interior of the earth. So, the levels of it can be monitored - a sudden increase may suggest an earthquake.
Conclusion:
Science and Technology must be used to help and Protect Communities to lead us towards building a safe and sustainable society. Biodiversity of the Planet Earth requires to be protected. Himalayan belt fragile soil and rocks are saying something to us, the Landslides have killed Several People in the past several years. We need to learn more about the science behind earthquakes, so as to build an early warning system.
India is committed to working towards creating a seismic resilient society. Understanding the earthquake source processes and their effects through earthquake monitoring and seismological research for an earthquake-safe society.