Indian Real Estates – An Analysis
Real estate sector comprises four sub sectors - housing, retail, hospitality, and commercial.
Context
Background
Real estate sector comprises four sub sectors - housing, retail, hospitality, and commercial.
The growth of this sector is well complemented by the growth of the corporate environment and the demand for office space as well as urban and semi-urban accommodations.
The construction industry ranks third among the 14 major sectors in terms of direct, indirect and induced effects in all sectors of the economy.
It is also expected that this sector will incur more non-resident Indian (NRI) investments in both the short term and the long term. Bengaluru is expected to be the most favoured property investment destination for NRIs, followed by Ahmedabad, Pune, Chennai, Goa, Delhi and Dehradun.
Analysis
What is the Market Size of real Estate Industry?
Real estate sector in India is expected to reach a market size of US$ 1 trillion by 2030 from US$ 120 billion in 2017 and contribute 13 per cent of the country's GDP by 2025.
The Indian real estate sector has witnessed high growth in recent times with the rise in demand for office as well as residential spaces.
According to Department of Industrial Policy and Promotion (DIPP), the construction development sector in India has received Foreign Direct Investment (FDI) equity inflows to the tune of US$ 25.04 billion in the period April 2000-March 2019.
Issues and challenges in real estate sector
Issues faced by customers

Delay in Projects: The major problem consumer is facing is the delay of projects which may happen due to various reasons like court intervention or other hurdles in land acquisition, finance, approval, etc. The consumer had to suffer because customer is paying rent where resides and paying EMI for home loan at same time due to delay of projects.
There is little or no provision for necessary compensation from government.
Fraudulent advertisement to sell product is quite popular and frequent in real estate. The main reason for flourishing fraudulent methods is absence of any regulator and standard guidelines which to certain extend have been minimized by RERA Act, 2016.
Further builders pays only 2 to 3% interest in case of default from their side but when customers default (like refuses to buy) then they have to pay around 16 to 18% which is unfair.

Issues faced by Real Estate Industry

Approvals and Procedural difficulties:There are almost 50 approvals or more need to be taken for starting a real estate project and further these approvals are required form different govt. departments or authorities. This is one of the major causes of delays and high amount of corruption in real estate sector. Consequently corruption and delay cause inconvenience to customers only.
The Real Estate (Regulation and Development) Act, 2016
It seeks to protect home-buyers as well as help boost investments in the real estate industry.
The Act establishes Real Estate Regulatory Authority (RERA) in each state for regulation of the real estate sector and also acts as an adjudicating body for speedy dispute redressal.
Lack of clear land titles:The land titles are not clear because of poor record keeping and division of land in many parts till independence. The slow pace of modernization of land records is further aggravating the problem.
Speculation in Land and Real Estate Prices:The prices of land and real estate in India have increased exponentially in last decade and causes overpricing of commercial or residential property. In recent times, the real estate is the most favorable destination for investment in India and far ahead than equity or gold. Further real estate agents or brokers buy or sell property frequently with their own investments and cause of surging prices in property.
Sources of Finance:Finance is the key for development of any industry. Due to poor image of Real Estate sector, banks are becoming reluctant to provide loans and making regulation tougher to avoid the bad loans. Alternate sources of finance are very costly and ultimately impact total cost of the project.
High Input Cost:The real estate is a capital and labour intensive industry; thus rise in cost of labour and construction material due to inflation poses many problems to real estate industry. Further real estate builders many times raise a question about unfair practices in cement industry for rise of price more than 50% in quick time.

Further government intervention of building minimum 20% affordable housing putting extra burden on developers and ultimately on the rest 80%.
Real estate is the most famous sector for soaking the black money without any ambit.
High taxation like stamp duty, VAT etc. and land acquisition are other major challenges faced by real estate sector.
All the above issues can be verified by the facts that more than 30% of houses and commercial spaces are lying vacant in major cities like Mumbai or Delhi despite being so much demand in real estate sector.
Government InitiativesThus to handle the above issues government of India has launched Real Estate (Regulation and Development) Bill. It seeks to regulate contracts between buyers and sellers in the real estate sector to ensure consumer protection, and standardisation of business practices. It establishes regulatory authorities at the state level to register residential real estate projects.
The Government of India along with the governments of the respective states has taken several initiatives to encourage the development in the sector. The Smart City Project, where there is a plan to build 100 smart cities, is a prime opportunity for the real estate companies. Below are some of the other major Government Initiatives: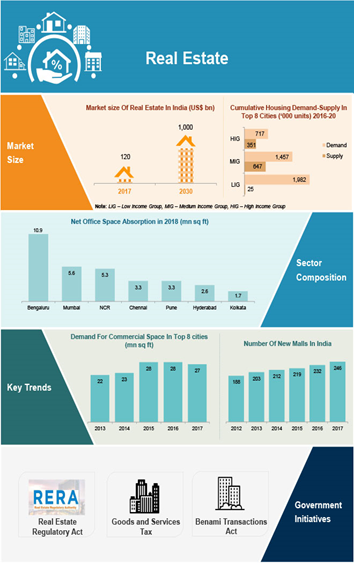 Under the Pradhan Mantri Awas Yojana (PMAY) Urban, more than 8.09 million houses have been sanctioned up to May 2019.
In February 2018, creation of National Urban Housing Fund was approved with an outlay of Rs 60,000 crore (US$ 9.27 billion).
The Real Estate (Regulation and Development) Act, 2016 seeks to protect home-buyers as well as help boost investments in the real estate industry.
GST Act: Builders receive input tax credits under GST regime.
Benami Transaction Act, 1988: Although benami transactions are now illegal, the act had limited success in curbing them. Amendments to the Act in 2011 and 2016, seeking to more comprehensively enforce the prohibitions.
Road Ahead
The Securities and Exchange Board of India (SEBI) has given its approval for the Real Estate Investment Trust (REIT) platform which will help in allowing all kinds of investors to invest in the Indian real estate market. It would reduce the dependence of real estate sector on banks.
Professionalism in real estate to serve increasingly well-informed consumer base. There is growing need for managing multiple projects across cities, and invest in centralised processes to source material and organise manpower and hiring qualified professionals in areas like project management, architecture and engineering.
The growing flow of FDI into Indian real estate is encouraging increased transparency. Developers, in order to attract funding, have revamped their accounting and management systems to meet due diligence standards.
Learning Aid