IPCC Report 2018
The Intergovernmental Panel on Climate Change (IPCC) has released a special report on the actions the world needs to take to prevent global average temperatures from rising beyond 1.5°C as compared to pre-industrial times.
Issue
Context
The Intergovernmental Panel on Climate Change (IPCC) has released a special report on the actions the world needs to take to prevent global average temperatures from rising beyond 1.5°C as compared to pre-industrial times.
The 'Special Report on Global Warming of 1.5°C,' compares the impact of global warming of 1.5 degree C and 2 degree C. It provides details on how the global response to climate change needs to be strengthened within the broader context of sustainable development and continuing efforts to eradicate poverty.
The reportwill be a key scientific input for the Climate Change Conference in Poland in December 2018, when governments review the Paris Agreement to tackle climate change.
Background
It was in 2015, at the Paris climate conference, that the global community made a pact to pursue efforts to limit warming to within 1.5°C — half a degree below the previous target of 2°C. With the increase in extreme events and the very survival of small islands at stake, the lower limit was greeted then with surprise and enthusiasm.
IPCC
It is the international body for assessing the science related to climate change.
It was set up in 1988 by the World Meteorological Organization (WMO) and United Nations Environment Programme (UNEP) to provide policymakers with regular assessments of the scientific basis of climate change, its impacts and future risks, and options for adaptation and mitigation.
It assessments provide a scientific basis for governments at all levels to develop climate related policies, and they underlie negotiations at the UN Climate Conference – the United Nations Framework Convention on Climate Change (UNFCCC).
About:
Key Highlights of the Report
At current rate of emissions, the world is set to breach the global warming limit of 1.5 degrees Celsius between 2030 and 2052. At present, the world is 1.2°C warmer compared to pre-industrial levels.
Climate change could have "irreversible" and "catastrophic" impacts if the global average temperatures were allowed to rise beyond 2 degrees Celsius. Climate-related risks for natural and human systems are higher.
There could be progressive worsening of extreme weather events as temperature rises.
The report gave a more comprehensive assessment of the differences in a 1.5C world and 2C world and quantified the carbon dioxide that would need to be removed from the atmosphere to achieve this.
The international effort to tackle climate change must be accelerated in order to limit global temperature rises.
The report notes that investment in physical and social infrastructure is a key enabler in enhancing resilience and adaptive capacity.
Poorly designed or implemented adaptation projects can increase greenhouse gas emissions and water use, increase gender and social inequality, undermine health conditions, and encroach on natural ecosystems.
Hence, adaptation efforts must pay attention to poverty and sustainable development and these efforts need financial support.
Adaptation needs have generally been supported by public sector sources, multilateral development banks, NGOs, private funding and UNFCCC channels.
According to the report, there is a need to integrate Disaster risk management (DRM) and adaptation to reduce vulnerability. The report also identifies "educational adaptation" options which motivate adaptation through building awareness.
A more participatory approach towards adaptation, especially for vulnerable population will be to formulate adaptation action based on indigenous knowledge. These people are threatened by cultural modification, dispossession of land rights and land grabbing, rapid environmental and social changes. Therefore recognition of indigenous rights, governance systems and laws is central to adaptation, mitigation and sustainable development.
Involvement of local governments is important too since they enable more participative decision-making and involve wider community in designing and implementing adaptation policies.
Analysis
What is 1.5-degree C target?
Since 1990s, countries started discussing climate change and began negotiating an international arrangement for tackling it together.The objective has been to limit rising global average temperatures to within 2°C from pre-industrial times
Periodic Assessment Reports produced by IPCC, suggest that the impacts of climate change could be "irreversible" and "catastrophic" if the rise in temperature was allowed to go beyond the 2°C ceiling.
Small island states and the least developed nations are likely to suffer the worst consequences of climate change. These countries negotiated that the goal should be to restrict the temperature rise within 1.5°C from pre-industrial times.
A 1.5°C target demanded much deeper emission cuts from the big emitters, which in turn required massive deployment of financial and technological resources.
The Paris Agreement 'hold' the increase in global average temperature to "well below" 2°C. It also promised to keep "pursuing efforts" to attain the 1.5°C target.
Incidentally, the global average temperature has already risen by more than 1°C from pre-industrial times.At the current rate, the 1.5°C limit could be crossed as early as 2040.
How to attain the 1.5 degree target?
Learning Aid
Key Points: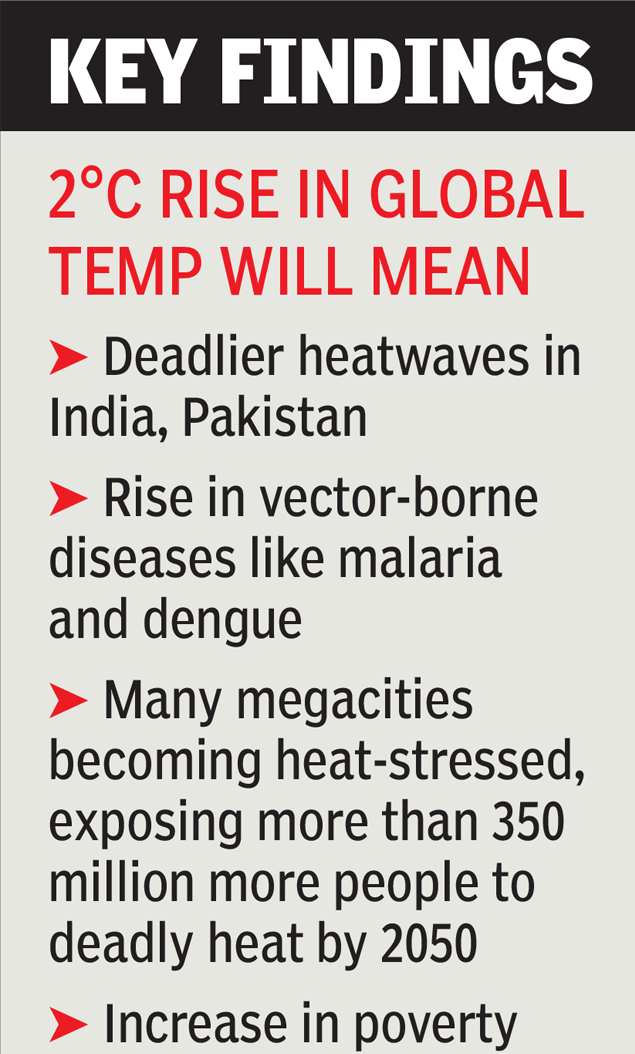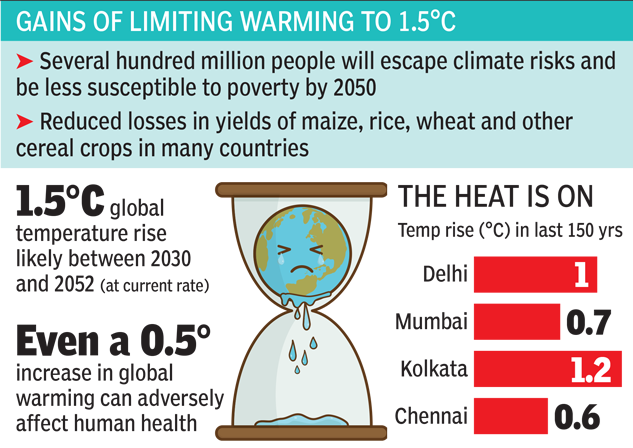 Practice Question
Q."1. 5 degree C rise in temperatures will be catastrophic for coastal nations and agricultural economies like India." Examine the given statement in the light of recently released IPCC Special Report on Global Warming of 1.5°C.
Approach:
Introduce your answer by discussing about recently released IPCC report.
Discuss about the challenges that rise in 1.5 degree C in global temperature will cause.
Impact over India and coastal nations
Conclusion