Another cyclone is expected to hit the eastern coast of India after Cyclone Tauktae ravaged through the western coast of India.
Context
Another cyclone is expected to hit the eastern coast of India after Cyclone Tauktae ravaged through the western coast of India.
Background
The India Meteorological Department (IMD) has informed that a low-pressure area is very likely to form over north Andaman Sea and adjoining east central Bay of Bengal. It is likely to intensify into a cyclonic storm. The weather department has said that the storm is very likely to move north-westwards and reach north Bay of Bengal near Odisha-West Bengal Coast around. The department has named it as Cyclone Yaas.
Analysis
What are cyclones?
A cyclone is a huge strong wind system which blows around thecentre of intense low-pressure area. Cyclones are the local nameof the Indian Ocean and the South Pacific Ocean, but in theNorthwest Pacific Ocean they are known as typhoons, and in theNortheast Pacific Ocean and North Atlantic, they are known ashurricanes. Since the cyclones form in the tropical region, theyare also known as tropical storms, tropical revolving storms ortropical cyclones. In the northern hemisphere, cyclone winds blow anticlockwise and they reverse in the southern hemisphere.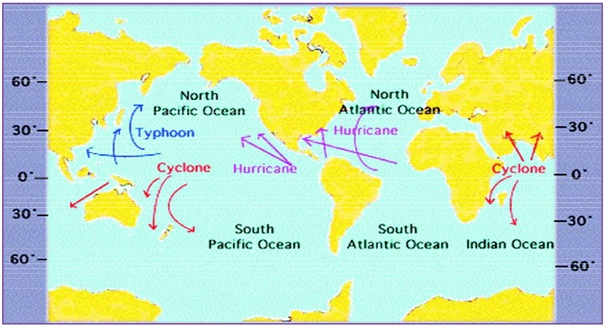 Hazards associated with Cyclones
There are three hazards associated with a cyclone, which cause destruction
Storm surge:

A storm surge is an abnormal rise of sea level near the coast caused by a severe tropical cyclone; as a result, seawater inundates low lying areas of coastal regions drowning human beings and livestock, eroding agricultural land, beaches and embankments, destroying vegetation and reducing soil fertility.

Strong wind

: The most destructive force of a cyclone comes from fierce winds. These winds are strong enough to easily topple fences, sheds, trees, power poles and communication systems, while hurling helpless people through the air. Many people are killed when the cyclone winds cause buildings and houses to collapse and completely blow away resulting in loss of life and property.

Flood

: Heavy and prolonged rains due to cyclones may causefloods and submergence of low-lying areas causing loss of life andproperty. Floods and coastal inundation due to storm surges pollutedrinking water sources causing outbreak of epidemics. Long after a cyclone has passed, road and rail transport can still be blocked by floodwaters. Water often becomes contaminated from dead animals or rotten food, and people are threatened with diseases like diarrhoea and other infections.
Most destructive cyclone in the past
1942 Bengal Cyclone: hit near the India/Bangladesh border, resulting in around 40,000 fatalities.

1971 Orissa Cyclone: killed around 10,000people in Cuttack, Orissa, India.

1977 Andhra Pradesh Cyclone: killed 10,000people in Andhra Pradesh, India.
District identified as Vulnerable to tropical cyclone in India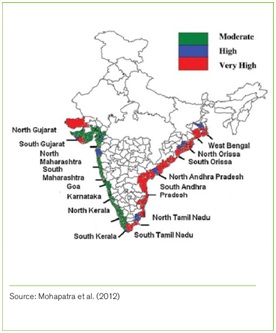 Mitigation measures for cyclone
Mitigation means measures taken prior to the impact of a disaster to minimize its effects. Mitigation measures for cyclone include both structural and non-structural measures.
Hazard mapping

A hazard map will illustrate the areas vulnerable to the cyclone, and associated storm surge and flood in any given time. It will be useful to estimate the severity of the cyclone and potential damage intensities in the region. The map is prepared with data inputs of past climatological records, history of wind speed, frequency of flooding etc.

Land use planning

Land use planning should be systematically considered for cyclones so that least critical activities are placed in vulnerable areas. Location of settlements in the flood plains is of utmost risk. Siting of key facilities must be marked in the land use. Policies should be in place to regulate land use and enforcement of buildingcodes.Vulnerable areas should be kept for parks, grazing groundsor flood diversion instead of human settlements.

Engineered structures

Structures need to be built to withstand wind forces. Good site selection is also important. The public infrastructures including buildings for electricity services, communication facilities, hospitals, schools, rural healthcare centres and community centres should be engineered structures.

Retrofitting Non-engineered Structures

A large portion of Indian people lives in self-designed non-engineered buildings. The knowledge on how to strengthen non-engineered buildings should be shared with the community. Local engineers and artisans can take part in the construction and retrofitting of the buildings in their locality and demonstrate disaster resistant construction methods to the people.

Cyclone Shelters

Flood management

Flooding will result from a cyclonic storm. Storm surges will flood the coastal areas. Heavy rains will bring in flash floods. Embankments along the rivers, sea walls along the coasts may keep water away from the flood plains. Water flow can be regulated through construction of reservoirs, check dams and alternate drainage channels/routes.

Improving vegetation cover

Improvement of the vegetation will increase water infiltration capacity of the soil. The roots of the plants and trees will keep the soil intact and prevent erosion and slow runoff to prevent or reduce flooding. The trees planted in rows will act as a wind breaker. Coastal shelterbelt plantations can be developed to break severe wind speeds as it minimizes devastating effects.

Mangrove plantation

Mangroves protect the coastal area from storm surge and wind which accompanied with cyclones. The tangle of branches slows the flow of water. Community should also participate in the mangrove plantation which could be organized by the local authorities, NGOs or the community itself. Mangroves also help in erosion-control and coastal conservation

Saline embankments

Another activity that can be taken up as part of the community-based mitigation are construction of saline embankments to protect habitation, agriculture crop and important installations along the coast from sea water inundation due to storm surge.

Raised embankment or levees
Conclusion
The Disaster Management Act, 2005 (DM Act,2005) lays down institutional and coordination mechanism for effective Disaster Management (DM)at the national, state, district and local levels.
NDMA has prepared these Guidelines for the Management of Cyclones (hereinafter referred to as the Guidelines) to assist ministries and departments of GoI and state governments to prepare their DM plans. Once all the activities, as laid down in the guidelines of National Cyclone Risk Mitigation Project are implemented, we will be much better prepared to face the hazards of cyclones.