Nobel Prize in Literature & Peace 2023
Context:
The Nobel Prize for Literature has been awarded to Norwegian author Jon Fosse.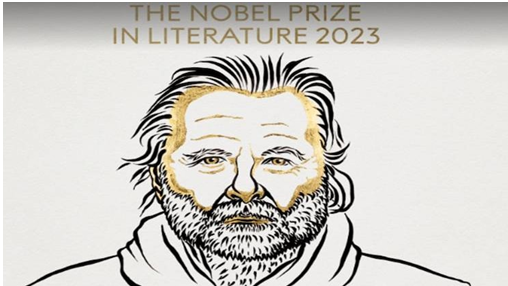 About
About his contribution:
Fosse was awarded the Nobel laureate award "for his innovative plays and prose which give voice to the unsayable."
Known as "new Norwegian" and used by only about 10% of the country's population, Fosse's version of the language was developed in the 19th century with rural dialects at its base, making it an alternative to the dominant use of Danish that followed from a 400-year union with Denmark.
In addition to more than two dozen plays, the prolific writer has also published novels, essays, collections of poetry and a string of children's books over a period of four decades.
His work has been translatedinto more than 40 languages, and there have been more than 1,000 different productions of his plays.
Nobel Prize for Literature:
The Nobel Prize in Literature is awarded by the Swedish Academy, Stockholm, Sweden.
It is one of the five Nobel Prizes established by the will of Alfred Nobel in 1895.
The Nobel Prizes carry a cash award of 11 million Swedish kronor (1 million Dollars) from a bequest left by their creator, Swedish inventor Alfred Nobel.
Fosse will receive the Nobel from King Carl XVI Gustaf, at a formal ceremony in Stockholm, at death anniversary of scientist Alfred Nobel.
Winners also receive an 18-carat gold medal and diploma at the award ceremonies in December.
Nobel Peace Prize:
Jailed Iranian human rights activist Narges Mohammadi has been awarded the Nobel Peace Prize for 2023 for her "fight against the oppression of women" in her country and for "promoting human rights and freedom for all".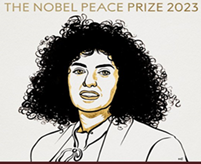 About:
Narges Mohammadi is a woman, a human rights advocate, and a freedom fighter.
The Iranian regime has arrested Narges Mohammadi 13 times, convicted her five times, and sentenced her to a total of 31 years in prison and 154 lashes. Mohammadi is still in prison.
Mohammadi is the second Iranian woman to receive the Nobel Peace Prize. Before her, Shirin Ebadi was awarded the prize in 2003.