Potential climate change hotspots mapped for the first time
Context
Recently, The India State of Forest Report (ISFR) has mapped climate change hotspots in the country for the first time in three future period scenarios of 2030, 2050, and 2085.
Background
Mapping of the climate change hotspots over the forest areas of the nation was executed by the

Forest Survey of India

in collaboration with the

Birla Institute of Technology & Science (BITS) Pilani
Objective:

The collaborative study was carried out to map climatic hotspots over forest cover in India, using a computer model-based projection of temperature and rainfall data for the three future periods.

Significance:

The idea behind the mapping was to establish the effect of climate change on forests, species composition, and associated biodiversity.
Analysis
What has been found in the Report?
Temperature improvement:

It was noticed that Ladakh, Jammu & Kashmir, Himachal Pradesh, and Uttarakhand are projected to witness the very best temperature improve whereas Andaman & Nicobar Islands, West Bengal, Goa, Tamil Nadu, and Andhra Pradesh might face the least temperature rise over these quick, medium and very long time intervals.

Rainfall pattern:

The report on the hotspots additionally exhibits that northeastern states and Upper Malabar Coast are projected to expertise the very best improve in rainfall whereas half of the northeastern states like Arunachal Pradesh and Sikkim and north-west elements of the nation corresponding to Ladakh, J&k, and Himachal Pradesh are projected to expertise "least increase and sometimes even decline" in rainfall.

Carbon inventory:

Total carbon inventory in India's forest is estimated to be 7,204 million tonnes. Overall, it exhibits a rise of 79.4 million tonnes in carbon inventory of the nation as in comparison with the final evaluation in 2019, noting an annual improvement of 39.7 million tonnes.
Note:
Important Information (India State of Forest Report-2021)
India's forest cover is now 7, 13,789 square kilometers, 21.71% of the country's geographical area, an increase from 21.67% in 2019.

The states that have shown the highest increase in forest cover are Telangana (3.07%), Andhra Pradesh (2.22%), and Odisha (1.04%).

Five states in the Northeast – Arunachal Pradesh, Manipur, Meghalaya, Mizoram, and Nagaland have all shown a loss in forest cover.

Area-wise: Madhya Pradesh has the largest forest cover in the country followed by Arunachal Pradesh, Chhattisgarh, Odisha, and Maharashtra.
What are Climate Change Hotspots?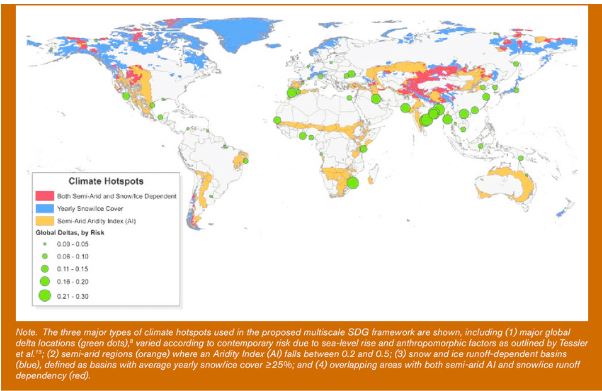 A region whose climate is especially responsive to global warming is typically referred to as a climate change hotspot, hotspots are exposed to greater risk than other regions, compounding the challenges they experience.

Therefore, finding hotspots and understanding the mechanisms of response enhancement are crucial steps toward understanding, adapting to, and avoiding the risks of future climate change.

Type:

There are major three types of climate change hotspots:

Deltas in Africa and South Asia

Semi-arid regions in Africa and parts of South and Central Asia

Glacier- and snowpack-dependent river basins, especially in the Himalayas

Livelihood in this region:

People living in these regions largely depend on their immediate environment for food and income, so they're particularly threatened by any changes to temperatures, rainfall, or the seasons.
India & climate change hotspot:
According to a recent study on the report "Preparing India for Extreme Climate Events" released by the Council on Energy, Environment and Water (CEEW), over 75% of districts in India are hotspots of extreme climate events such as cyclones, floods, droughts, heatwaves, and cold waves.
Hot Spot Criteria
Science Evidence

. Scientific robustness is the most fundamental criterion in considering a hot spot location. To qualify, robust evidence must be there that shows impacts have already occurred in the hot spot region, or are projected to occur in the region as current warming trends continue.

Multiple Stresses

. Climate impacts are not occurring in a vacuum—they are affecting a planet already influenced by an array of human activities. The presence of other stresses in a region suggests that the consequences of a warming world will be exacerbated. One example of "multiple stresses" would be unsustainable extraction—such as overfishing key species, inefficient water use in drought-prone areas, or development that threatens a local species.

Climate Change Impacts

. A location qualifies as a hotspot if global warming is already having an impact, or is projected to have an impact. The Climate Hot Map group's impacts are under five broad categories, which each have several subcategories. Thus, for example, a warming world could affect a hot spot by affecting residents' food supplies and putting coastal homes at risk of damage from rising sea levels.
Suggestions:
Develop a Climate Risk Atlas to map critical vulnerabilities such as coasts, urban heat stress, water stress, and biodiversity collapse.

Develop an Integrated Emergency Surveillance System to facilitate a systematic and sustained response to emergencies.

Mainstream risk assessment at all levels, including localized, regional, sectoral, cross-sectoral, macro, and micro-climatic levels.

Enhance adaptive and resilience capacity to climate-proof lives, livelihoods and investments.

Increase the participatory engagement of all stakeholders in the risk assessment process.

Integrate risk assessment into local, sub-national, and national level plans.