Sabrimala Temple Verdict
The Supreme Court, in a majority opinion of 4:1, lifted the centuries-old practice of prohibiting women from the age of menarche to menopause to enter the Lord Ayyappa temple at Sabarimala in Kerala.
Issue
CONTEXT:
The Supreme Court, in a majority opinion of 4:1, lifted the centuries-old practice of prohibiting women from the age of menarche to menopause to enter the Lord Ayyappa temple at Sabarimala in Kerala.
ABOUT:
Sabarimala Temple
Location: Sabarimala is a Hindu pilgrimage center located at the Periyar Tiger Reserve in the Western Ghat, Kerala.
Deity: The Sabarimala shrine is an ancient Hindu temple of Lord Ayyappan, who is also known as Sasta or Dharmasasta.
The temple is a prominent pilgrimage site among the Hindu devotees in the state of Kerala.
It witnesses the second largest seasonal pilgrimage after the Islamic holy site of Mecca in Saudi Arabia.
An estimated 3.5 crore Hindu pilgrims visited the shrine last year.
Restriction
The Sabarimala temple restricts entry only for menstruating women, i.e., women in the age group of 10 to 50 years
The restriction is on account ofperceived idea of "purity".
The ban on 'menstruating women' was enforced under Rule 3(b) of the Kerala Hindu Places of Public Worship (Authorization of Entry) Rules 1965.
The board states that "Women who are not by custom and usage allowed to enter a place of public worship shall not be entitled to enter or offer worship in any place of public worship".
It claims, through the Travancore Devaswom Board, that its deity, Lord Ayyappa, is a "Naisthik Brahmachari" and women entry will affect the celibacy of the deity.
Constitutional articles involved
Article 15
Article 15: No person shall be discriminated on the basis of religion, race, caste, sex or place of birth.
Article 15(b): Every person shall have equal access to public places like public parks, museums, wells, bathing ghats and temples etc.
Article 25
It states that every individual is "equally entitled to freedom of conscience" and has the right "to profess, practice and propagate religion" of one's choice.
Article 26
Freedom to manage religious affairs subject to public order, morality and health, every religious denomination or any section thereof shall have the right.
to establish and maintain institutions for religious and charitable purposes;
to manage its own affairs in matters of religion;
to own and acquire movable and immovable property; and
to administer such property in accordance with law
Article 51A (e)
Article 51A(e) states that it is the duty of everyone to promote harmony and the spirit of common brotherhood amongst all the people of India transcending religious, linguistic and regional or sectional diversities; to renounce practices derogatory to the dignity of women.
TIME LINE OF THE CASE:
1991: The Kerala high court upheld the ban in the S. Mahendranvs. Secretary, Travancore case and directed the Devasom Board to implement it.
2008: Kerala's LDF government files an affidavit supporting a PIL filed by women lawyers questioning the ban on the entry of women in Sabarimala.
2016: The India Young Lawyers Association revived the issue in Supreme Court through a PIL contending that Rule 3(b) violates constitutional guarantees of equality, non-discrimination and religious freedom (Articles 14, 15 and 25).
November 2016: Kerala's Left Front government favours the entry of women of all age groups filing an affidavit to the effect.
2017: Supreme Court referred the case to a constitutional bench of 5 members.


KEY POINTS FROM THE JUDGMENT:
Women to be allowed entering Sabrimala Temple.
The managerial rights of religious authorities under Article 26(b) of the Constitution cannot override the individual woman's religious freedom guaranteed under Article 25(1). The former is intended to safeguard, not annihilate, the latter.
Ban a form of untouchability and violates Article 17 of Indian Constitution.
Biological reasons can't be accepted in freedom for faith.
Women are not lesser or inferior to man.
Patriarchal ideas can't triumph over devotion.
To deny worship is to deny one of the most basic postulates of liberty.
Analysis
Arguments in favour of entry:
Preventing women's entry to the Sabarimala temple with an irrational and obsolete notion of "purity" offends the equality clauses in the Constitution.
It denotes a patriarchal and partisan approach.
Article 15(1): The entry prohibition takes away the woman's right against discrimination guaranteed under Article 15(1) of the Constitution.
Article 25(1): It further curtails the religious freedom assured by Article 25(1).
Article 51A(e): Prohibition of women's entry to the shrine is done on the basis of womanhood and the biological features associated with womanhood, which Article 51A (e) aims to renounce.
Earlier SC judgmentregarding similar matters:
In Commissioner, Hindu Religious Endowments, Madras, vs. Shri Lakshmindra Thirtha Swamiar of Sri Shirur Mutt (1954), the seven judge bench of the Supreme Court observed that:
What was protected under Articles 25 and 26 was the essential part of the religion, which was to be ascertained by its basic tenets. Therefore, discrimination in matters of entry into temples was neither a ritual nor a ceremony associated with the Hindu religion.
The Supreme Court's Constitution Bench in Sri Venkatramana Devaruvs State of Mysore (1958) observed that:
In case of conflict between the right of a religious denomination and that of an individual, it was the individual's right that was to be given preference.
Significance of judgment:
This judgment is considered as a radical judgment which would help to rationalize religious practices which are prevailing in Indian society. This judgment protects women's rights in public places and ensures the individual liberty to them. However, critics believes that as religious institutions are not included in the long list of public places mentioned in Article 15 (2) and this is overreach of judiciary on religious matters.
Learning Aid
Timeline of the issue: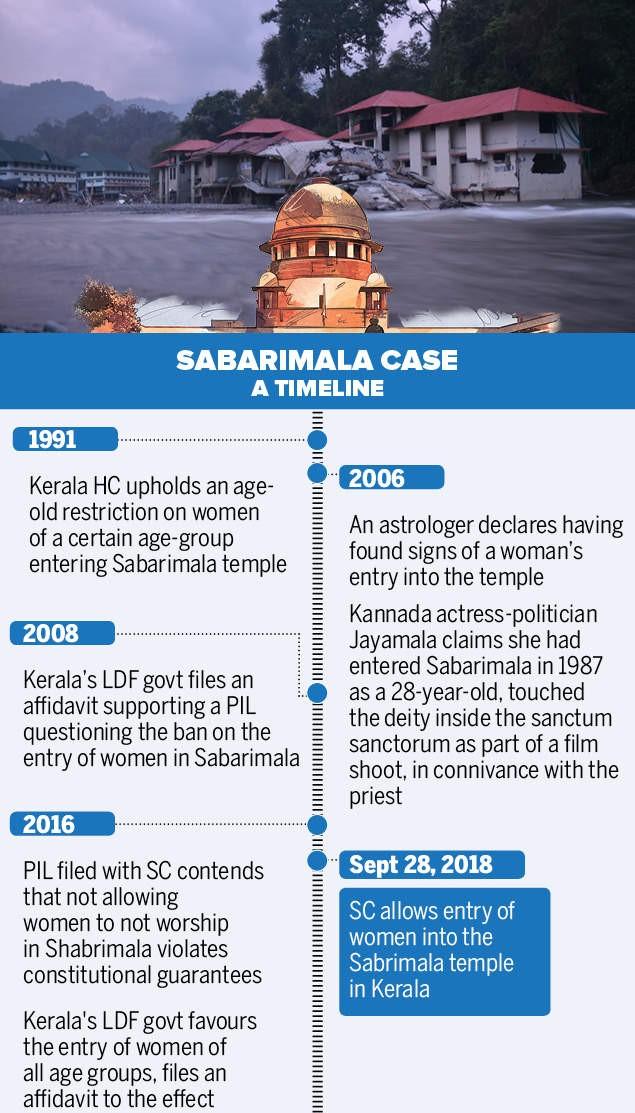 Practice Question
In a recent judgment, Supreme Court allowed women of all age group to enter Sabrimala temple against the age old practice where women between age group of 10 to 50 years were not allowed to enter the temple. How must the integrity behind these practices be judged? Are religious exercises susceptible to conventional constitutional standards of justice and equality? (250 words)