Stampede in Israel makes a crowd-disaster
A huge gathering on Mount Meron to celebrate a religious holiday, has turned into a disaster due to stampede.
Context
A huge gathering on Mount Meron to celebrate a religious holiday, has turned into a disaster due to stampede.
Background
Recently tens of thousands of Jews had thronged to the Mount Meron tomb of 2nd-century sage Rabbi Shimon Bar Yochai for annual Lag Baomer commemorations that include all-night prayer, mystical songs and dance.
Media had reported that it started after some attendees slipped on steps, which caused dozens more to fall, leading to a man-made disaster of stampede
This incident reflects that poor crowd management was deployed by the authorities responsible which could not avert this man-made disaster.
Analysis
What is crowd management?
The tenets of crowd management lie on fundamental ground of managing the demand -supply gap through

Controlling the crowd inflow
Regulating the crowd at the venue
Controlling the outflow

The demand can be understood by-

historical numbers, crowd arrival patterns, growing popularity, type of visitors
Identify mass arrival time windows creating peaks (season, days of the week, time in the day, festivals, holidays etc.),
Advance ticket booking/registration
Public transport timetables

The supply can be understood by

The capacity of the venue: seating capacity; worships, offerings or prayers possible per hour etc
Calculate the capacity of queue complex/holding areas

Human Stampedes in India
Sabrimala Tragedy of 1999
52 pilgrims were killed and several injured in a tragedy at Pampa hill top.
Cause:

The tragedy happened because of uncontrolled crowding of pilgrims at the Hill Top in Pamba and the rushing down by pilgrims, immediately after seeing the Makarjyothi, towards parking places and bus stand. Some people stumbled upon and others fell over them near Kerala State Electricity Board's building
Shri Kalubai Yatra Mandhardev at Wai, Satara, Maharashtra, 2005
A stampede took place at the temple premises killing 293 and injuring 250-300people visiting. Fires and gas cylinder explosions that followed, added to the panic. All the deaths were caused because of suffocation. There were no deaths because of fire.
Causes:

Wrong Crowd estimates (More pilgrims expected because of Tuesday)
Temple compound not big enough to hold large number of pilgrims
Narrow, steep, wet (slippery), winding path with (illegal) vendors (some having gas cylinders) on both sides
Illegal electric connections
1954 Prayag Kumbh Mela stampede
1994 Gowari stampede
1996 Haridwar and Ujjain stampedes
1999 Sabarimala stampede
2005 December Chennai stampede
2005 November Chennai stampede
2008 Jodhpur stampede
2011 Sabarimala stampede
2013 Prayag Kumbh Mela stampede
2013 Madhya Pradesh stampede
2014 Mumbai stampede
2014 Patna stampede
2017 Mumbai stampede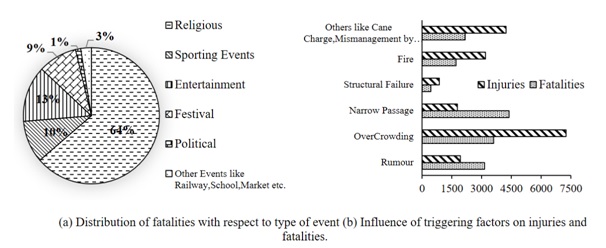 What are the causes/triggers for crowd-disaster?
Structural
Structure collapse of

Barricades/ bamboo railings/wire fence/ Metal barrier
Makeshift bridge.
Temporary structure.
Railings of the bridgecaused by panic triggered by rumours
Fire/Electricity
Fire in a makeshift facility or a shop
Cooking in a makeshift facility
Wooden structure/ quick burning acrylic catching fire
Crowd Control
More than anticipated crowd at store/mall/political rallies/ examinations/ religious gatherings/ public celebrations
Underestimation of audience, staffing, services
People allowed in excess of holding capacity due to overselling of tickets for an event
Crowd Behaviour
A wild rush to force the way towards entrance/exits
Crowds attempting to enter a venue after the start/closing time
A collision between large inward flows and outward flows
Security
Under deployment of security personnel to regulate to control crowd.
Lack of adequate scientific planning in making police arrangement to deal with crowd with proper sectoral deployment under an officer with adequate manpower and each sector reporting to the senior police personnel in charge of the police arrangement.
Lack of proper wireless deployment with clutter free call arrangement between sector in-charge and officer in-charge of the police arrangement
Lack of Coordination between Stakeholders
Coordination gap between agencies (e.g. Commissioner /Superintendent of Police and District Magistrate; PWD, Fire Service, Forest officials, Revenue officials, Medical officers and shrine management etc.)
Poor infrastructure (Plans on paper but no implementation due to lack of funds, resources, or will)
Flowchart describing crowd-disaster process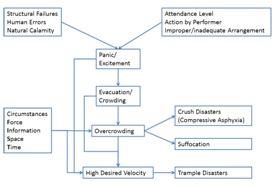 How the crowd can be effectively managed?
Multiple routes should be encouraged (normal, express, emergency) with varying "route gradient". This will also help in movement of typically vulnerable groups (children, people with special needs etc.)
Long Term Perspectives is required for crowd management at religious places hence focus should be on infrastructure development which should depend on popularity, periodicity of event, weather, terrain, local population etc.
Each staging point should have sufficient facilities for rest, food, water, hygiene. An effective way of counting/monitoring visitors passing through a staging point should be installed to regulate the flow
Research has shown that understanding of crowd behaviour has led to community-based approach to crowd control instead of force-based control.
An attempt has to be made and the intelligence has to be gathered about the motives of various visitors (social, entertainment, political, religious, economic etc.) and unwanted visitors (theft, disruption, terror etc.)
A Unified Control Systembrings the agencies with different functional authorities, roles, and responsibilities to work together effectively without affecting individual accountability. Under a Unified Control System, a single, coordinatedIncident Action Plan will direct all activities.
Role of ICT in crowd-disaster management
Registration database

database system should be deployed to capture demographic details (gender, age, and place etc.) of the visitors. This data would be useful in capturing underlying patterns

Online registration

This registration process could be used to influence the arrival pattern

Deployment of RFID tags

As visitors move through the system, the scanners deployed at various locations could be used to keep track of their movements along with timings. This can also help track the exact number of visitors at various locations

Geographical Information Systems

(GIS), wherever possible, should be deployed in location planning, layout, alignment of roads, structural assessment of parking lots, helipads, laying utility lines (water, electricity, gas) etc.
Conclusion
Event volunteers and paramedics must commence rapid first aid treatment.
Route patients to area hospitals in a coordinated manner, so that relatives can easily find them.
A control room and helpdesk to handle all the inquiries.
Police personnel and relief workers should ensure proper storage and tagging of the mobiles, purses, footwear and other belongings of the victims.
Psycho-social support and mental health services for the survivors, and the persons who lost their loved ones.