The silent drought in making
Context
Water-related hazards like floods and droughts are increasing because of climate change. The number of people suffering water stress is expected to soar, exacerbated by population increase and dwindling availability.
Background
The world is seriously behind schedule on the UN Sustainable Development Goal No. 6 (SDG 6) to ensure availability and sustainable management of water and sanitation for all.
In 2020, 3.6 billion people lacked safely managed sanitation services, 2.3 billion lacked basic hygiene services and more than 2 billion live in water-stressed countries with lack of access to safe drinking water.
75 countries reported water efficiency levels below average, including 10 with extremely low levels.
The current rates of progress need to quadruple in order to reach the global targets by 2030.

Analysis
What actually causes a drought?
A period of uncertain, drier-than-normal conditions resulting in water-related problems, leads to a drought.
With little or no rain falling, the soils can dry out and plants can find hard to survive. When this trend occurs from weeks to years, water scarcity prevails: stream flows decline, water levels in lakes and reservoirs fall, the depth to water in wells increases.
If the dry weather persists and water-supply problems develop, the dry period can become an incumbent drought.
Water Scarcity:
Water crisis is usually viewed in terms of an increasing imbalance between water supply and demand.
| | |
| --- | --- |
| Per capita Water Availability | Status |
| < 1700 cubic meters | Water stress |
| < 1000 cubic meters | Water scarcity |
| < 500 cubic meters | Absolute scarcity |
What is the status of ground water depletion in India?
India is home to 16% of the world's population, but only holds 4% of the world's freshwater resources.
About 33 per cent of wells registered a decline in groundwater levels in the range of 0 to 2 metres, the Ministry of Jal Shakti.
The analysis of water level data indicated that about 33 per cent of the wells monitored have registered decline in groundwater levels in the range of 0–2 metres.
Decline of more than 4 metres has also been observed in a few pockets of Delhi, Chennai, Indore, Coimbatore, Madurai, Vijayawada, Dehradun, Jaipur, Allahabad, Ghaziabad, Kanpur and Lucknow.
Groundwater pollution and the effects of climate change, including erratic rainfall in the drier areas, put additional stress on groundwater resources which serve about 85% of domestic water supply in rural areas, 45% in urban areas, and over 60% of irrigated agriculture.
Water extraction in India
According to the United Nations Educational, Scientific and Cultural Organization (UNESCO), India is the world's largest extractor of groundwater.
The groundwater level in India is estimated to have declined by 61% between 2007 and 2017.
The depletion of this vital resource not only threatens people's access to drinking water but also food security by resulting in a reduction in food crops by up to 68% in severely-hit regions.
Rainfall in India
India receives about 400 million hectare metres of rain annually, but nearly 70% of surface water is unfit for human consumption due to pollution.
India is ranked 120th out of 122 countries in the water quality index.
An estimated 200,000 people die every year due to inadequate water.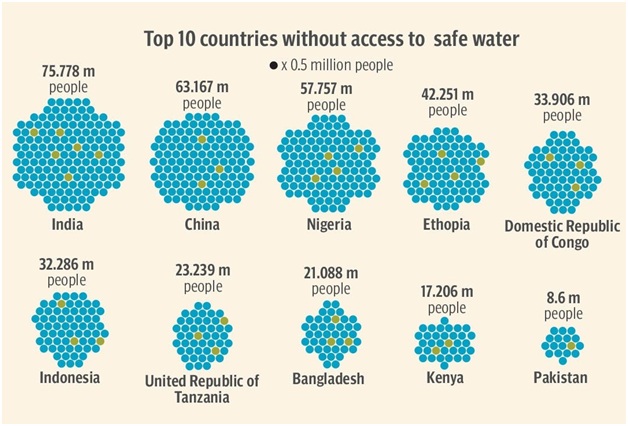 Agricultural sector & level of water consumption
India is the world's second-largest producer of wheat and rice and is home to more than 600 million farmers.
The country has achieved impressive food-production gains since the 1960s, due in part to an increased reliance on irrigation wells, which allowed Indian farmers to expand production into the mostly dry winter and summer seasons.
But those gains have come at a cost: The country that produces 10% of the world's crops is now the world's largest consumer of groundwater, and aquifers are rapidly becoming depleted across much of India.
If Indian farmers lose all access to groundwater in overexploited regions, and if that irrigation water is not replaced with water from other sources, then winter cropped acreage could be reduced by up to 20% nationwide.
Impact of overexploitation of water resources
Multiple threats: Current overexploitation rates pose threats to livelihoods, food security, climate-driven migration, sustainable poverty reduction and urban development.
Increased vulnerability: Drought makes small farmers highly vulnerable to drought and climatic changes, like erratic monsoon, eroding their capacity to take risks, restricting their investments in farming, and bringing down productivity.
Poverty: Drought and poverty are interconnected with millions of very poor people living in drought-prone areas.
GDP Loss (Economic loss)


Drought management in India (Government Initiatives)
Studies of India's drought management approaches over the last several decades reveal that the country largely depended on crisis management approaches. However, based on the experience of tackling the 1966 drought-induced food crisis, serious efforts were made to replace ad hoc crisis management with an anticipatory drought management approach.
In the early 1970s, the Drought Prone Areas Programme (DPAP) and the Desert Development Programme (DDP) were implemented to revive the ecology in hot and cold deserts.
The DPAP and DDP programmes were redrafted to make watershed development a unit of drought proofing.
Other watershed-based programmes were also launched, including the

National Watershed Development Programme for Rain-fed Areas (NWDPRA)
Watershed Development Programme for Shifting Cultivation (WDPSC)
Required measures
Early warning system: Invest in end-to-end drought and flood early warning systems in at-risk LDCs, including for drought warning in Africa and flood warning in Asia.
Integrated Water Resources Management: Integrated Water Resources Management (IWRM) is vital to achieving long-term social, economic and environmental well-being.
Sustainable solution: To reduce water-related disasters and support water resource management, climate services for water and end-to-end early warning systems, as well as sustainable investments, are required.
Financial support: Additional funding and investment is essential to support adaptation.
Gap filling: It is important to fill the data gaps for climate services in the water sector.
Conclusion
While groundwater depletion is becoming a global threat to food security, and the extent of current and projected groundwater depletion are well documented, the potential impacts on food production remain poorly quantified. There is need for comprehensive analysis of depleting groundwater and further collaboration is required for effective management of water resources for a better future.