U.K.experiencing record-smashing heat events
Context
The U.K. experienced the warmest-ever night, and preparing for record-smashing day temperatures. These record highs are unprecedented in the European context.
About
Britain experienced the country's warmest-ever night on July 19 2022, and braced for a day when temperatures are forecast to hit 40° Celsius (104° Fahrenheit).
The ongoing heat wave is scorching Europe, a landmass known for mild weather and rain.
According to the U.K.'s Met Office weather agency, the provisional figures are showing to remain above 25° C (77° F) overnight in parts of the country for the first time.
Why is the UK getting so hot?
Azores Highs: The driver for the hot weather is the Azores High stretching into Britain from the Atlantic, and this is also known as the 'Bermuda High'. The other reason is climate change.
Climate Change: If someone has to be blamed for such a record high temperature in the region, it has to be Climate change.

This is happening when average world temperatures have only risen just over 1 degree C beyond levels seen before many parts of the world became industrialized.
One degree doesn't sound much, but we're living in the hottest period for 125,000 years, according to the UN's climate science body, the Intergovernmental Panel on Climate Change (IPCC).
The greenhouse gas emissions by the burning of fossil fuels trap heat in our atmosphere, resulting in increased concentration of carbon dioxide in the atmosphere to the highest levels seen for 2 million years.
About 'Azores High' pressure system:
Azores high, also called Bermuda high, Azores anticyclone, or b, large persistent atmospheric high-pressure centrethat develops over the subtropical region of the eastern North Atlantic Ocean during the winter and spring seasons in the Northern Hemisphere.

How is this phenomenon resulting in high temperature?
The Azores High is also known as North Atlantic (Subtropical) High/Anticyclone or the Bermuda-Azores High.
It is a subtropical high-pressure cell that moves westward during the summer and fall (before winters) when it is known as the Bermuda high.
The Bermuda high is often associated with warm humid weather in the eastern United States during the summer months.
The Bermuda or Bermuda-Azores High is a high-pressure system located over a vast area of the Atlantic Ocean, spanning from the Caribbean to a group of Portuguese islands roughly 1,000 miles from the mainland.
It has the ability to influence much of the western world's weather, moving tropical storms from the Atlantic basin to the southern United States, Mexico, Central America, and the Caribbean. Then, as far east as northwest Africa, the UK, and beyond in Western Europe.
The system is semi-permanent and is most active during summer.
Effects of Azores High:
An annual drying of 5-10 millimetres per year per decade has been recorded in the Iberian Peninsula throughout the second half of the 20th century.A further 10-20% drop in winter precipitation is expected by the end of the 21st century.
The weather will gradually become "drier, brighter and warmer in the coming months.
These projected changes make agriculture in the Iberian region some of the most vulnerable in Europe. The study projected:

Olive-growing regions in southern Spain will suffer a 30% decline in production by 2100.
Cultivation areas in grape-growing regions across the Iberian Peninsula will shrink 25% - 99% by 2050 due to severe water deficits that will render land unsuitable for viticulture.
Iberian Peninsula:
The Iberian Peninsula also known as Iberia, is a peninsula in southwestern Europe, defining the westernmost edge of Eurasia.
It is principally divided between Spain and Portugal, comprising most of their territory, as well as a small area of Southern France, Andorra, and Gibraltar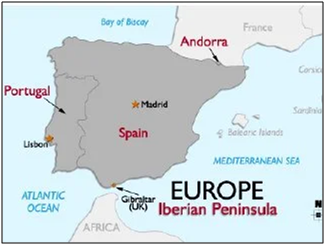 Challenges:
Infrastructure designed for mild climate: Britain's transport infrastructure, some of it dating from Victorian times, "just wasn't built to withstand this type of temperature.

It is years away from replacing the existing infrastructure with the kind of infrastructure that could withstand the extreme heat.

Increased frequency of extreme weather events:Climate experts warn that global warming has increased the frequency of extreme weather events.

It is a likelihood of temperatures in the U.K. reaching 40° C (104° F) is now 10 times higher than in the pre-industrial era.

Wild Fires: Drought and heat waves tied to climate change have also made wildfires harder to fight.

Thousands of people have been evacuated from their homes since wildfires broke out in tinder-dry pine forests a week ago.

The affected region is increasing:Hot weather has gripped southern Europe, in addition to northern Europe, triggering wildfires in Spain, Portugal, and France.
Air conditioning: Less than 5% of homes in the U.K. have to air-condition. It's a sharp contrast to the U.S., where the figure hovers above a whopping 90%.

Absence of cooling centers:Air-conditioned cooling centers are virtually absent in the U.K. and they provide life-saving shelter for vulnerable people during heat waves.

House Design: According to U.K. government figures, one in six homes in England date from before 1900, while 46% were built between 1930 and 1982.

Many older houses are built with brick and have no—or very small—air cavities, and it becomes harder and more expensive to retrofit older houses with air-conditioning.

Poor Urban Planning: "Urban heat island effect", amplifies the already scorching heat. That problem may worsen as demand for housing fuels the property development boom in large British cities and green space is being squeezed out further.
Transportation: Britain has some of the oldest working railways in the world. The London Underground dates back to 1863, and many of the trains in use are decades old-seven lines still don't have air conditioning.
Conclusion
To achieve its target of net zero, and to manage events of high temperatures, U.K. government should be reconfiguring buildings and cities to promote "passive" methods of cooling—insulation, shading, and tree planting—rather than energy-guzzling cooling systems. The government has set a lot of targets and put a lot of policies in place but there is "scant evidence" that these goals will be delivered if timely interventions are not made.