WHO declares monkey pox a 'Public health Emergency'
Context
WHO has issued a Public Health Emergencyof International Concern(PHEIC)which will enhance coordination and sharing of resources and information among nations regarding Monkey pox.
Monkey-pox (MPX) was first discovered in 1958 in colonies of monkeys kept for research, hence the name 'monkey-pox.'
Background
The first human case of monkey-pox was reported in the Democratic Republic of the Congo (DRC) in 1970.
Recently, an ongoing outbreak of the viral disease monkey-pox was confirmed in May 2022.
Analysis
What is PHEIC?
A PHEIC is an 'extraordinary event', which constitutes a public health risk to other States through the international spread, and which potentially requires a coordinated international response.
What does declaring a disease PHEIC mean?
Declaring a PHEIC is the highest level of alert that WHO is obliged to declare, and is meant to send a powerful signal to countries of the need for urgent action to combat the spread of the disease.
It obliges to mobilize resources to help low- and middle-income countries in this effort and fund research and development on needed treatments, vaccines, and diagnostics. It also obligates countries to share information with WHO.
PHEIC comes below the Pandemic situation now, declared as a global health concern after COVID-19 spread across the world.
Earlier it was only considered 'as Epidemic' and no Pandemic Word was evolved.
What is the Role of WHO in declaring a PHEIC?
To declare a PHEIC, the WHO Director-General is required to take into account factors that include the risk to human health and international spread.
They take advice from an international committee of experts, the 'IHR Emergency Committee (EC)', one of whom should be an expert nominated by the State within whose region theevent arises.

Rather than being a standing committee, the EC is created on an ad hoc basis. These members are selected according to the disease in question and the nature of the event.
The director-general takes the advice of the EC, following their technical assessment of the crisis using legal criteria and a predetermined algorithm after a review of all available data on the event.
Upon declaration, the EC then makes recommendations on what actions the director-general and member states should take to address the crisis.

The recommendations are temporary and require review every three months while in place.
2022 Monkey pox: Previously, the WHO had held an EC meeting on 23 June 2022 regarding the outbreak, which had more than 2,100 cases in over 42 countries at that point.
It didn't reach the criteria for a PHEIC alert at that time.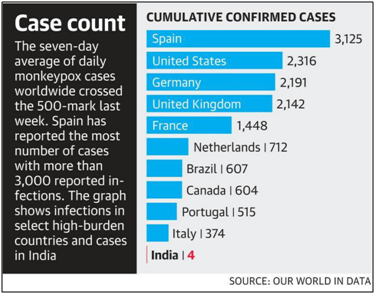 WHO's Early Warning, Alert, and Response System (EWARS):
Humanitarian emergencies increase the risk of transmission of infectious diseases and other health conditions such as severe malnutrition.
An effective disease surveillance system is essential to detecting disease outbreaks quickly before they spread, cost lives, and become difficult to control.
WHO's Early Warning, Alert, and Response System (EWARS) is designed to improve disease outbreak detection in emergency settings, such as in countries in conflict or following a natural disaster.
It is a simple and cost-effective way to rapidly set up a disease surveillance system.
It is made up of three components i.e.
DataHub
Mobile
Exchange
Some other diseases in past were declared as PHEIC
2009- swine flu
2014- polio
2014 -Ebola
2016 -Zika virus
2020 -COVID-19
What is Monkey pox?
Monkey-pox (MPX) is a viral zoonotic disease with symptoms similar to smallpox, although with less clinical severity.



Zoonotic diseases are caused by harmful germs like viruses, bacteria, parasites, and fungi. These germs can cause many different types of illnesses in people and animals, ranging from mild to serious illnesses and even death.

It is a potentially serious viral illness that typically involves flu-like symptoms, swelling of the lymph nodes, and a rash that includes bumps that are initially filled with fluid before scabbing over.
Illness could be confused with a sexually transmitted infection like syphilis or herpes, or chickenpox.
Symptoms of it range from; Swollen lymph nodes, Fever, Headache, Body aches, and Profound weakness.
Vaccine and Drug availability:
Two vaccines licensed by the S. Food and Drug Administration (FDA) are available for preventing monkey-pox infection - JYNNEOS (also known as Imvamune or Imvanex) and ACAM2000.
Serum Institute of India (SII), has said that they are planning to develop an mRNA vaccine against monkeypox in association with its global partner Novavax.
An antiviral that was developed to treat smallpox (tecovirimat) was approved in January 2022 by the European Medicines Agency for the treatment of monkeypox. However, the WHO is not certain about its therapeutics' success of it.