Number of migrants crossing dangerous Darien Gap soars: UNHCR
Context
UN refugee agency says number of people taking the Panamanian jungle route tripled so far this year compared with 2021.
UNHCR said 8,456 people crossed the dangerous jungle area between Colombia and Panama in the two first months of this year, compared with 2,928 in the first two months of 2021.
About
About the Darien Gap:
The Darien Gap, a stretch of mountainous jungle 160km (100 miles) long and 50km (30 miles) wide, is controlled by criminal groups known for acts of violence, including sexual abuse and robbery. To cross, migrants also must tackle natural hazards.

It sits on the border between Panama and Colombia.

Largely untouched by the modern world, the Darien is one of the least visited places on the planet.

The Darien National Park and biosphere has been a UNESCO World Heritage Site since 1981.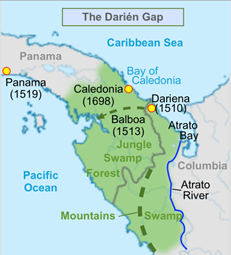 Verifying, please be patient.