'Armenia and Azerbaijan fight over disputed Nagorno-Karabakh'
One of the world's oldest conflicts, a territorial dispute between Armenia and Azerbaijan, has re-erupted with the heaviest clashes in years.
Context
One of the world's oldest conflicts, a territorial dispute between Armenia and Azerbaijan, has re-erupted with the heaviest clashes in years.
About
What is Nagorno-Karabakh region?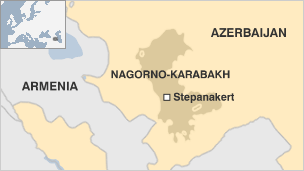 Nagorno-Karabakh is the subject of an unresolved dispute between Azerbaijan, in which it lies, and its ethnic Armenian majority, backed by neighbouring Armenia.
A mountainous region of about 4,400 sq km (1,700 sq miles)
Traditionally inhabited by Christian Armenians and Muslim Turks.
In Soviet times, it became an autonomous region within the republic of Azerbaijan
Internationally recognised as part of Azerbaijan, but majority of population is ethnic Armenian
An estimated one million people displaced by 1990s war, and about 30,000 killed
Separatist forces captured some extra territory around the enclave in Azerbaijan in the 1990s war
Stalemate has largely prevailed since a 1994 ceasefire
Russia has traditionally been seen as an ally of the Armenians
The Conflict
Since 1991, Armenia and Azerbaijan have been at odds over Nagorno-Karabakh.
The land is an ethnic Arminian enclave with Azerbaijan and it lies approximately 50 kilometres from the Armenian border.
The region has been out of control of Azerbaijan since the end of the war in 1994, however, both the sides have a heavy military presence along a demilitarized zone separating the region from the rest of the country.
Additionally, local soldiers backed by Armenia also occupy some Azerbaijani territory outside the region.
Role of Russia and Turkey
Russia and Turkey are two key players.
Turkey with Azerbaijan
Turkey, which wants to play a key role in the Caucasus' affairs, has extended its support to oil-rich and Turkic-speaking country, Azerbaijan.
During World War I, roughly 1.5 million Armenians were massacred by Turkey under the Ottoman Empire. Some scholars call the mass killings of Armenians in the Ottoman Empire as the first genocide of the 20th century.
Turkey, however, denies the charge and refuses to recognise World War I killings of Armenians as genocide.
Due to Turkey's denial, the ties between Yerevan and Ankara are very cold.
Russia with Armenia
Russia shares close ties with Armenia.
Russia also leads the Collective Security Treaty Organization, the military alliance of former Soviet states that includes Armenia.
A look at the ties between the two countries suggests that Russia needs Armenia as much as Armenia needs Russia.

Azerbaijan's spending on arms exceeds Armenia's defence budget, making Yerevan dependent on Russia's support and military guarantees.
The geopolitical and strategic importance of Azerbaijan pulls Russia's attention to the country (Armenia).
In order to keep [its former republic] in its orbit, Russia appears to chasten Azerbaijan with Armenia.