C. Rajagopalachari birth anniversary
Context
Prime Minister Narendra Modi paid tributes to freedom fighter and statesman C. Rajagopalachari on his 143rd birth anniversary.
About
About C. Rajagopalachari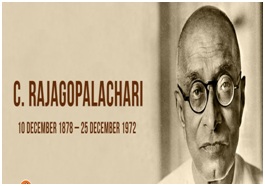 C Rajagopalachari, also known as Rajaji or C.R.,was born on 10 December 1878 in Thorapalli Agraharam, Krishnagiri District in Tamil Nadu.
His father Chakravarti Venkataryan was the munsiff of Thorapalli, who with his wife Singaramma had two other sons apart from Rajagopalachari.
Rajagopalachari studied in elementary schools at Thorapalli and Hosur and passed his matriculation in 1891.
In 1894, he secured a BA in Arts from Central College in Bangalore.
In 1897, he graduated in law from the Presidency College, Madras.
He married Alamelu Mangalamma in 1897 and had five children.

Later, his daughter Lakshmi married Devdas Gandhi, son of Mahatma Gandhi.

He started his legal career in Salem, Tamil Nadu in 1900 where he got interested in politics and society.
In 1911, he became a member of the Salem Municipality.

He also served as its chairman from 1917 to 1919. It was during his tenure as chairman that the municipality got its first Dalit member, and Rajagopalachari had a big role in this development.

He was conferred the Bharat Ratna in 1955.
He passed away on 25 December 1972 aged 94.
Role during the Independence Struggle
He joined the Indian National Congress in 1906 and participated in the 1906 Calcutta session.
After that, he became more involved in national politics. He took part in the anti-Rowlatt Act agitations.
Referred to as 'my conscience keeper' by Gandhi, he became one of the early followers of Mahatma Gandhi after Gandhi joined the Indian Independence Movement.
He quit his legal practice and took part in the non-cooperation movement.
In 1921, he became the party's General Secretary.
He led the group of NO-CHANGERS e. individuals against contesting elections for the Imperial Legislative Council and other Provincial Councils against PRO-CHANGERS.

NO-CHANGERS won the motion in the Indian National Congress against PRO-CHANGERS which led to the resignation of Pandit Motilal Nehru and C.R.Das.

He was involved in the Vaikom Satyagraha Movement against untouchability during 1924-25.
When Gandhi was leading the Dandi March in 1930, Rajagopalachari made a similar march at Vedaranyam and defied the salt laws. For this, he was arrested.
He became the President of Tamil Nadu Congress Committee in 1937.
As premier, He issued the Temple Entry Authorization and Indemnity Act 1939 and removed restrictions on Dalits entering Hindu temples.
He was instrumental in convincing the Indian National Congress to participate in the 1937 general elections.
He resigned from premiership when the Viceroy declared India to be a party to the Second World War without duly consulting Indians. He was arrested in December 1940.
He also offered a resolution to the INC-Muslim League impasse over the issue of partition in the form of the C.R. Formula.
Post Independence
He was the Minister of Industry, Supply, Education and Finance in Jawaharlal Nehru's interim government from 1946 to 1947.
He was also the Member of Constituent Assembly where he was the part of Advisory Committee and Sub-Committee on Minorities.
He was the first Governor of West Bengal after the partition of India in 1947.
He also acted as the Acting Governor-General of India in the absence of Lord Mountbatten in November 1947.
He became the first Indian Governor-General of India and the last Governor-General of India when he served between June 1948- 26 January 1950.
He also served as the Home Affairs Minister for 10 months from December 1950.
He was against Linguistic States as he considered they would act against the Unity of India.
During his tenure Andhra Pradesh, a Telugu speaking state was created after division from Madras Presidency in 1953.
His government became more unpopular when he introduced the controversial Modified System of Elementary Education and later he resigned as CM in 1954.
In 1957 he resigned from the Congress Party and in 1956 founded the Swatantra Party along with Murari Vaidya and Minoo Masani.
He was against Soviet Socialism and also coined the term 'License-Permit Raj'.
In 1967, Swatantra Party in an alliance with the DMK and the Forward Bloc won the Madras Assembly Elections and ousted the Congress in Madras for the first time in 30 years.
Swatantra Party also became the single largest opposition party in the Lok Sabha in 1967 elections.