Hydrogen-Based Cars
Recently, Supreme Court has asked government to look into the feasibility of hydrogen-based technology to deal with vehicular air pollution in capital.
Context
Recently, Supreme Court has asked government to look into the feasibility of hydrogen-based technology to deal with vehicular air pollution in capital.
About
A hydrogen car is a vehicle that uses hydrogen fuel for motive power (energy used to drive machinery).
Hydrogen vehicles include hydrogen-fueled space rockets, as well as automobilesand other transportation vehicles.
The power plants of such vehicles convert the chemical energyof hydrogen to mechanical energy either by burning hydrogen in an internal combustion engine, or by reacting hydrogen with oxygen in a fuel cell to run electric motors.
Widespread use of hydrogen for fueling transportation is a key element of a proposed hydrogen economy.
India is looking closely at Japan, which has made progress in this field.
How does the hydrogen fuel cell work?
At the heart of the fuel cell electric vehicles (FCEV) is a device that uses a source of fuel, such as hydrogen, and an oxidant to create electricity by an electrochemical process.
The fuel cell combines hydrogen and oxygen to generate electric current, water being the only byproduct.
Like conventional batteries under the bonnets of automobiles, hydrogen fuel cells too convert chemical energy into electrical energy.
From a long-term viability perspective, FCEVs are billed as vehicles of the future, given that hydrogen is the most abundant resource in the universe.
Uses of this Technology
The hydrogen fuel cell vehicle market is dominated by Japan's Toyota and Honda, alongside South Korea's Hyundai.
The successful development of hydrogen would provide energy for transportation and electric power.
The advantage is the wide availability of resources for producing hydrogen fuel cells.
What are the advantages and disadvantages of fuel cells?Advantages
They produce much smaller quantities of greenhouse gases and none of the air pollutants that cause health problems.
Pure hydrogen fuel cells emit only heat and water as a byproduct. Such cells are also far more energy efficient than traditional combustion technologies.
Unlike battery-powered electric vehicles, fuel cell vehicles do not need to be plugged in.
Disadvantages
The process of making hydrogen needs energy — often from fossil fuel sources that has raised questions over hydrogen's green credentials.
Questions of safety are of great concern as hydrogen is more explosive than petrol.
The vehicles are expensive, and fuel dispensing pumps are scarce. But this should get better as scale and distribution improves.
What is the progress in India?
In India, so far, the definition of EV only covers BEVs; the government has lowered taxes to 12%. At 43%, hybrid electric vehicles and hydrogen FCEVs attract the same tax as IC vehicles.
The Ministry of New and Renewable Energy, under its Research, Development and Demonstration (RD&D) programme, has been supporting various such projects in academic institutions, research and development organisations and industry for development. Fourteen RD&D projects on hydrogen and fuel cells are currently under implementation with the support of the Ministry. Between 2016-17 and 2018-19, eight projects were sanctioned and 18 completed.
The Ministry of Science and Technology has supported two networked centres on hydrogen storage led by IIT Bombay and Nonferrous Materials Technology Development Centre, Hyderabad. These involve 10 institutions, including IITs, and IISc, Bangalore.
Electric Vehicles V. Hydrogen Vehicles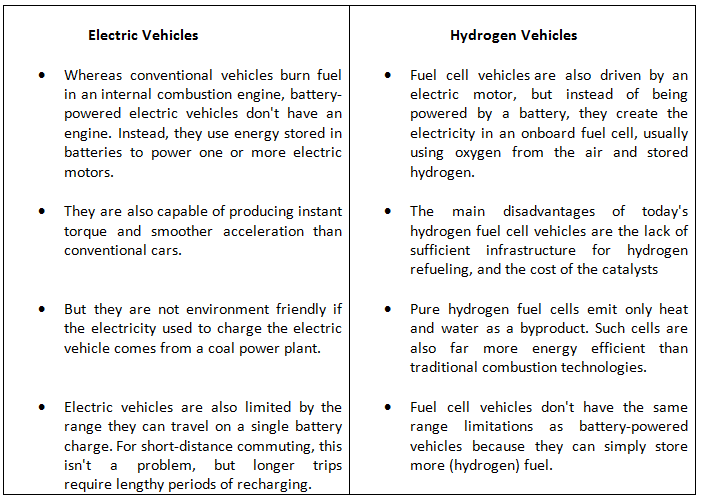 Conclusion
Hydrogen's proponents point to how clean it is as an energy source as water and heat are the only byproducts and how it can be made from a number of sources, including methane, coal, water, even garbage. However, lack of refuelling stations, which are costly to build, is usually cited as the biggest obstacle to widespread adoption of FCVs. On the other hand, electric vehicles provide a satisfactory alternative to the problems of internal combustion.
While battery-powered electric vehicles may have a head start on fuel cell vehicles, both technologies are advancing rapidly. It will be interesting to see where they are five years from now.