India, Singapore launch UPI-PayNow linkage
Context
India and Singapore has announced to link their payment apps, namely UPI and PayNow which will allow instantaneous and low-cost money transfers between the two countries.
The linkage is set to ease financial transactions for the Indian diaspora.
About
About the move:
Background: UPI payments through QR codes are already taking place in Singapore, though at a limited number of outlets.
The announcement was done via a virtual address by both India and Singapore's Prime minister.
Aim: This move will aid the Indian diaspora in Singapore, especially students and migrant workers, by allowing instantaneous and low-cost money transfers between the two countries.
Singapore has now become the first country with which cross-border Person to Person (P2P) payment facilities have been launched.
Significance:
This will help the Indian diaspora in Singapore and bring the benefits of digitalisation.
It will also help FINTECH through instantaneous and low-cost transfer of money from Singapore to India and vice-versa.
FINTECH or financial technology refers to the technological innovation in the design and delivery of financial services and products.
Unified Payments Interface (UPI):
Unified Payments Interface (UPI) is a system that powers multiple bank accounts into a single mobile application (of any participating bank), merging several banking features, seamless fund routing & merchant payments into one hood.
It also caters to the "Peer to Peer" collect request which can be scheduled and paid as per requirement and convenience.
Currently, UPI payments are made using the digital equivalent of existing currency notes. That means every rupee transferred via UPI is backed by physical currency.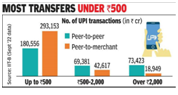 PayNow
PayNow is a fast payment system in Singapore.
It enables peer-to-peer funds transfer service, available to retail customers through participating banks and Non-Bank Financial Institutions (NFIs) in Singapore.
It allows users to send and receive instant funds from one bank or e-wallet account to another in Singapore by using just their mobile number, Singapore National Registration Identity Card (NRIC)/Foreign Identification Number (FIN), or VPA.
Authorities concerned:
The digital rupee/ currency will be operated by RBI and not by bank intermediaries in the case of UPI where each bank has a different UPI handler.
Digital rupee will be settled by RBI instantly, whereas UPI payments were settled by transacting bank with RBI.