Katraj zoological park to get zebras from abroad
Context
Recently, the Pune Municipal Council has planned to procure five Zebras for its Rajiv Gandhi Zoological Park in Katraj from foreign zoos.
Key Highlights:
The five Zebras to be brought are planned to include two malesand Three Females.
The guidelines by the Central Zoo Authority of India (CZAI)will be followed for the transportation of captive wild animals.
Zebras in India: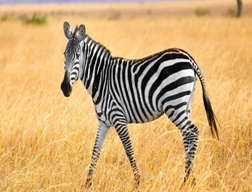 Zebras are equids, members of the horse family.
There are three different species: plains, mountains, and Grevy's zebras.
The Grevy's zebra is the largest, weighing from 770 to 990 pounds (350 to 450 kilograms)
The Grevy's zebra lives in the arid grasslands of Ethiopia and northern Kenya. The Grévy's zebra is consideredendangered in India.
Though Zebras live in Africa, each species of zebra has its own home area.
Recent Initiatives:
The Lucknow Zoo has obtained three Zebras from Israel.
Rajiv Gandhi Zoological Park:
The Rajiv Gandhi Zoological Park, commonly known as the Rajiv Gandhi Zoo or Katraj Zoo, is located in Katraj, Pune district, Maharashtra State, India.
It is managed by the Pune Municipal Corporation. The 130-acre (53 ha) zoo is divided into three parts: an animal orphanage, a snake park, and a zoo, and includes the 42-acre (17 ha) Katraj Lake.
The zoo has a collection of reptiles, mammals, and birds. Among mammals, the zoo has a white tiger and a male Bengal tiger named Tanaji.
Indian Laws related to Wild Animals in Captivity:
The Wildlife Protection Act is the law governing the status of wildlife conservation and Transportation in India.
Any animal which is kept or bred in captivity, which is described in Schedule 1; Schedule 2; Schedule 3; and Schedule 4 of the act.
The 'Chief wildlife warden'is the statutory authority that heads the wildlife department of a state.
Protection of animals is enshrined as a fundamental dutyin the Indian Constitution and there exist several animal welfare legislations in India such as the Prevention of Cruelty to Animals Act 1960 and the Wildlife Protection Act 1972 at the Central level.
Central Zoo Authority of India:
The Central Zoo Authority (CZA) is the body of the government of India responsible for the oversight of zoos.
It is an affiliate member of the World Association of Zoos and Aquariums (WAZA).
The Central Zoo Authority has been constituted under section 38A of the Wild Life (Protection) Act 1972.
Composition:
The Authority consists of a Chairman, ten members, and a Member Secretary.