New species discovered
New monkey species discovered in rapidly-deforested area of Amazon.
Context
New monkey species discovered in rapidly-deforested area of Amazon.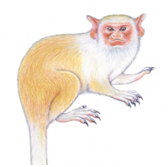 About
A new species of marmoset has been discovered in the south-west of Pará State in Brazil in an area of the Amazon that has suffered extensive illegal logging and agricultural incursion.
The new species of marmoset was found at Tapajós River.
The region where the marmoset was discovered is "one of the main fronts of forest destruction within the 'arc of deforestation', a region infamously characterised by fast, intense and disordered conversion of forests to pastoral and agricultural land and human settlements.
The new species has been named Mico munduruku after the Munduruku Amerindians who live in the area where the monkey was discovered.
Mico munduruku occurs only within an area in south-western Pará State, Brazil.
The marmosets' markings and pigmentation were the first characteristics distinguishing them from others in their genus. Aside from having a white tail, the individuals displayed a beige-yellowish back, white hands, white feet, and white forearms with a beige-yellowish patch on their elbow.
Their DNA was the second difference. Genomes show they are closely related but separate from other known Amazonian marmosets.
Marmosets have claw-like nails on all digits except the hallux, and the clawed toes are used for the vertical climbing of and leaping between trees. It also has long lower jaw incisors and incisor-like canines used to gouge holes in the bark of trees.
Amazon's 'arc of deforestation'
Deforestation in the Amazon has accelerated markedly in recent months.
88% forest was been cleared within a time span of one year.
In addition to logging and agricultural expansion, four hydroelectric power plants have been approved for construction that will directly threaten the habitat.
The region "is also a hotspot for gold miners, so there is dredging and digging of the river bed and its tributaries.