PM Vishwakarma Scheme
Context
In commemoration of 'Vishwakarma Jayanti', Prime Minister Narendra Modi launched the 'PM Vishwakarma' scheme for the benefit of traditional artisans.
What is PM Vishwakarma's scheme?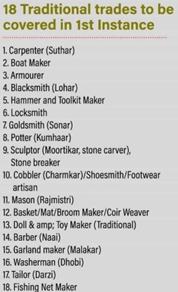 PM Vishwakarma's scheme has been launched to support the people engaged in traditional crafts.
Objective: The prime focus of the scheme is improving the quality as well as the reach of products and services of artisans and craftspeople and ensuring that they are integrated with the domestic and global value chains.
Funding: PM Vishwakarma's scheme has been fully funded by the Union government with an outlay of ?13,000 crore.
Nodal ministry: Ministry of Micro, Small & Medium Enterprise is the nodal ministry of the PM Vishwakarma Yojana.

The Ministry of Tribal Affairs, would provide active support for implementation of the scheme for the wellbeing of the Vishwakarmas.

Under the scheme, the prospective beneficiaries will be registered free of charge through common services centres using the biometric-based PM Vishwakarma portal.
Coverage: The scheme will provide support to artisans and craftspeople in rural and urban areas across India. Initially, 18 traditional trades will be covered.

These include carpenter (Suthar); boat maker; armourer; blacksmith; hammer and tool kit maker; locksmith; goldsmith; potter (Kumhaar); sculptor, stone breaker; cobbler; mason; basket/mat/broom maker/coir weaver; doll and toy maker (traditional); barber; garland maker; washerman; tailor ; and fishing net maker.

In the first year, five lakh families will be covered and a total of 30 lakh families will be covered over five years from FY24 to FY28.
Certification: The beneficiaries of the scheme will be provided recognition through a PM Vishwakarma certificate and ID card, and skill upgradation involving basic and advanced training.