Santiniketan inscribed on UNESCO World Heritage List
Context
Santiniketan, founded in 1901 by the iconic poet and philosopher Rabindranath Tagore, has earned a coveted spot on the UNESCO World Heritage List.
About
Santiniketan Ashram was originally founded by Maharshi Devendranath Tagore (Rabindranath's father) in 1863.
This is India's 41st World Heritage site and India stands 6th on the World Heritage List.
Later on Rabindranath himself founded the Brahmo Vidyalaya school and later on in the year 1901 he established Santiniketan.
Shantiniketan was founded on the principles of the ancient Indian Gurukul system, where education was provided in a natural setting, fostering a strong connection between students and their environment.
In 1913, Rabindranath Tagore won the Nobel Prize in Literature.
In 1921, Rabindranath Tagore founded Visva Bharati.

Visva-Bharati Universitywas later expanded to include a wide range of disciplines, including arts, sciences, and humanities.
It became a Central University and an Institution of National Importance in 1951, and is now one of the most prestigious universities in India.


About Rabindranath Tagore (1861-1941)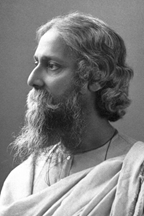 Rabindranath Tagore was the youngest son of Debendranath Tagore.

He was a leader of the Brahmo Samaj, which was a new religious sect in nineteenth-century Bengal and which attempted a revival of the ultimate monistic basis of Hinduism as laid down in the Upanishads.

From time to time he participated in the Indian nationalist movement, though in his own non-sentimental and visionary way; and Gandhi, the political father of modern India, was his devoted friend.

He was the first non-European to receive the Nobel Prize for Literature in 1913.

Rabindranath Tagore was Knighted by King George V in 1915. However, Tagore gave it up after the Jallianwala Bagh massacre in 1919.

Highly prolific, Tagore was also a composer – he wrote the national anthems for both India and Bangladesh – as well as an educator, social reformer, philosopher and painter.

Although Tagore wrote successfully in all literary genres, he was first of all a poet.

Among his fifty and odd volumes of poetry are Manasi (1890), Sonar Tari (1894), Gitanjali (1910), Gitimalya (1914) and Balaka (1916).

English Poetry: The English renderings of his poetry, which include The Gardener (1913), Fruit-Gathering (1916), and The Fugitive (1921), do not generally correspond to particular volumes in the original Bengali; and in spite of its title, Gitanjali: Song Offerings (1912), the most acclaimed of them, contains poems from other works besides its namesake.

Major Plays: Raja (1910), Dakghar (1912), Achalayatan (1912), Muktadhara (1922) and Raktakaravi (1926).

Novels and Stories: He is the author of several volumes of short stories and a number of novels, among them Gora (1910), Ghare-Baire (1916), and Yogayog (1929)