Volcanic eruption of Mount Nyiragongo
Context
As the Volcanic eruption of Mount Nyiragongo approached towards the eastern Democratic Republic of Congo's main city of Goma and it has thousands to flee the city.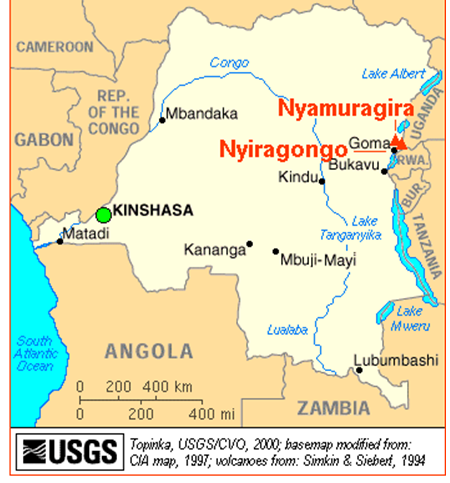 About the Mount Nyiragongo and the volcanic eruption
Mount Nyiragongo is an active stratovolcano in the Virunga Mountains which is associated with the Albertine Rift.
It is located inside the Virunga National Park, in the Democratic Republic of the Congo.
The main crater is about two kilometres wide and contains a lava lake.
Nyiragongo and nearby Nyamuragira both are responsible for 40% of Africa's volcanic eruptions.
It is one of the world's most active

volcano

es and is considered among the most dangerous volcanoes.
Nyiragongo's was erupted last in 2002 which killed 250 people and left 120,000 homeless.
What is Lava Lake?
Lava lakes are large volumes of molten lava that are usually basaltic.
Lava is contained in a volcanic vent, crater, or broad depression.
It describes both lava lakes that are wholly or partly molten and those that are solidified.
Lava lakes can form in three ways

from one or more vents in a crater which eruptsenough lava to partially fill the crater
when lava pours into a crater or broad depression and partially fills the crater
atop a new vent that erupts lava continuously for a period of several weeks or more and slowly builds a crater progressively higher than the surrounding ground
Some notable examples
Mount Erebus, Ross Island, Antarctica
K?lauea, Big Island, Hawaii
Mount Nyiragongo, Democratic Republic of the Congo