Environment
Three new species of migratory birds in Tripura's Gomati district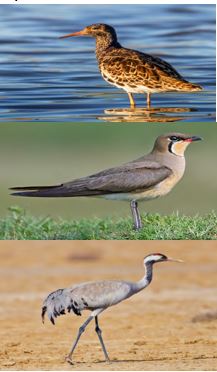 New species of migratory birds from Siberia and Europe were sighted at Sukhsagar lake in Tripura's Gomati district.
About the species:
The birds sighted are ruff, found in Europe, oriental pratincole, and common crane from Siberia in Russia.
The migratory birds visit Sipahijala wildlife sanctuary, Gomati reservoir, Gomati wildlife sanctuary, College Tilla Lake in Agartala, Rudrasagar Lake in Sipahijala district, Trishna wildlife sanctuary, and NIT College water body.
Every year more than 100 species of migratory birds visit Tripura from European, African and North American countries.
Migratory bird species visit the region:
The migratory birds which visit Tripura are — large wader, northern shoveler, greater flamingo, black-tailed godwit, little cormorant, pheasant-tailed jacana, etc.
Birds migrate to other places because of the scarcity of food, climatic change and habitation (nesting) problems.
Birds find places by sight and smell.
They navigate by observing the positions of the sun, stars and also the moon in a few cases.
Sometimes they use the magnetic waves of the earth as well can be followed by them.
Science and Technology
Nanoplastics can produce reactive oxidizing species when exposed to light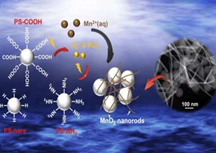 A team of researchers has analysed how light breaks down polystyrene, a non-biodegradable plastic from which packing peanuts, DVD cases and disposable utensils are made.
About the study:
When exposed to light, the nanoplastics derived from polystyrene unexpectedly facilitated the oxidation of aqueous manganese ions and the formation of manganese oxide solids that can affect the fate and transport of organic contaminants in natural and engineering water systems.
It showed how the photochemical reaction of nanoplastics through light absorption generates peroxyl and superoxide radicals on nanoplastic surfaces, and initiates oxidation of manganese into manganese oxide solids.
Concern associated:
There are concerns over the physical presence of Nano-plastics rather than their active roles as reactants.
The small plastic particles that can more easily interact with neighbouring substances, such as heavy metals and organic contaminants, and can be more reactive.
The smaller particle size of the polystyrene Nano-plastics may more easily decompose and release organic matter because of their larger surface area.
This dissolved organic matter may quickly produce reactive oxygen species in light and facilitate manganese oxidation.
Science and Technology
India & Japan to hold Maiden Air Exercise 'Veer Guardian 2023'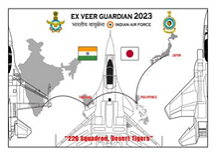 India and Japan are going to commence the maiden joint air exercise 'Veer Guardian,' from 12 January 2023 to 26 January 2023.
Background:
The conduct of exercise Veer Guardian 2023 is a decision taken to step up the defence cooperation between the two nations which were taken during the second 2+2 Foreign and Defence Ministerial meeting held in Tokyo, Japan on 08 September 2022.
In the meeting, India and Japan agreed to engage in more military exercises, including holding the first joint fighter jet drills.
About the exercise:
Indian Air Force (IAF) and Japan Air Self Defence Force (JASDF) will hold the first bilateral air exercise at Hyakuri Air Base in Japan.
This maiden air exercise will also be the first time when an Indian Air Force woman fighter pilot would be part of the Indian contingent for aerial war games in a foreign land.
Details:
During the joint air exercise Veer Guardian 2023, the participating IAF contingent will include four Su-30 MKI, two C-17 & one IL-78 aircraft.
On the other hand, the JASDF contingent will consist of four F-2 & four F-15 aircraft.
The first edition of the bilateral air exercise will see the conduct of various aerial combat drills between the Air Forces of India and Japan.
It will also include multi-domain air combat missions in a complex environment allowing the air warriors to exchange their best practices.