Geography
Zojila Pass reopens after 68 days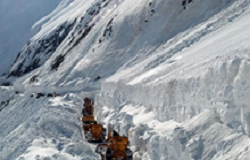 The Border Roads Organisation (BRO) reopened the strategic Zojila Pass located on the Greater Himalayan Range after it remained closed during winter snowfall.
It remained closed for only 68 days this year as compared to 73 days last year and 160-180 days in the past.
About:
It lies at an altitude of 11,650 feet.
It acts as a gateway between Union Territories of Ladakh, and Jammu & Kashmir.
The snow clearing operations were named as Project Beacon and Vijayak, located in J&K and Ladakh respectively.
Significance:
During the Indo-Pakistani War of 1947, it was seized by Pakistani supported invaders in 1948 in their campaign to capture Ladakh.
The pass was re-captured by Indian forces on 1 November in an assault codenamed Operation Bison, which achieved success primarily due to the surprise use of tanks, then the highest altitude at which tanks had operated in combat in the world.
International Relations
Poland to send Ukraine four MiG-29 fighter jets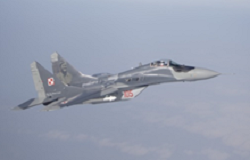 Poland becomes the first NATO country to provide MiG-29 Fighter Jets to Ukraine amid Russia's invasion.
About:
Poland has around a 1to 15 of MIGs that it got in the 90s when the aircraft were handed down from the German Democratic Republic.
The ones transferred to war-torn Ukraine will be replaced at home with South Korean FA-50 planes bought by Poland, followed by American F-35s.
Poland has also sent 14 German-made Leopard 2 tanks to Ukraine.
About NATO:
NATO is an intergovernmental military alliance of 30 different countries from Europe, North American and Asia.
It was established by the North Atlantic Treaty (also called the Washington Treaty) of April 4, 1949, which sought to create a counterweight to Soviet armies stationed in Central and Eastern Europe after World War II.
Headquarter: The NATO headquarters are located in Brussels, Belgium.
While the headquarters of Allied Command Operations is near Mons, Belgium.
Original members: Belgium, Canada, Denmark, France, Iceland, Italy, Luxembourg, the Netherlands, Norway, Portugal, the United Kingdom and the Unites States.
Member countries: Albania, Belgium, Bulgaria, Canada, Croatia, Czech Republic, Denmark, Estonia, France, Germany, Greece, Hungary, Iceland, Italy, Latvia, Lithuania, Luxembourg, Montenegro, Netherlands, North Macedonia, Norway, Poland, Portugal, Romania, Slovakia, Slovenia, Spain, Turkey, UK and USA.
North Macedonia is the latest entry in the organization.
Environment
Low Temperature Thermal Desalination (LTTD) technology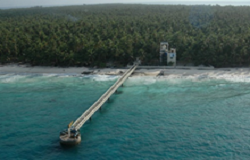 For supplying portable drinking water, Lakshadweep using Low Temperature Thermal Desalination (LTTD) technology which the National Institute of Ocean Technology (NIOT) is working at making this process free of emissions.
About the technology:
The plants are equipped to provide at least 100,000 litres of potable water every day.
The desalination plants are powered by diesel generator sets — there being no other source of power in the islands.
LTTD exploits the difference in temperature (nearly 15°C) in ocean water at the surface and at depths of about 600 feet.
Such de-pressurised water can evaporate even at ambient temperatures and this resulting vapour when condensed is free of salts and contaminants and fit to consume.
Issues/concerns:
The need for diesel power to reduce the water pressure means that the process is not fossil-fuel free and also consumes diesel.
Currently there were five desalination plants in operation in the Lakshadweep islands.
National Institute of Ocean Technology (NIOT):
NIOT, an institute under the aegis of the Ministry of Earth Sciences (MoES), has worked for years on harnessing energy from the ocean.
It is a Chennai-based plant.
Science and Technology
First test vehicle demonstration for Gaganyaan mission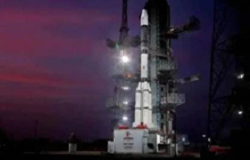 The first test vehicle demonstration (TV-D1) under the Gaganyaan mission is likely to take place in May 2023.
About TV-D1:
The test vehicle demonstration has been designed to test:

The processes for aborting the mission mid-air,
The parachute system that will bring the crew module down to sea, and
The recovery of crew members from the module after splashdown.

The demonstration will use a single liquid propellant-based rocket stage to carry the crew module to sub-orbital level.
The mission was initially supposed to have only two uncrewed missions and then a crewed mission.
Gaganyaan Advisory Council has recommended testing of Crew Escape System and deceleration systems through four abort missions using Test Vehicle (TV) and Integrated Air Drop Tests before proceeding with crewed missions.
Gaganyaan mission:
The Gaganyaan programme is an indigenous mission that would take Indian astronauts to space.
The Gaganyaan Programme envisages undertaking the demonstration of human spaceflight to Low Earth Orbit (LEO) in the short-term.