The C-295 and India's aircraft industry
Context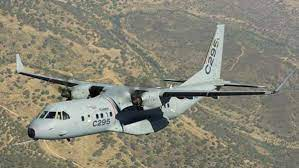 Recently, PM laid the foundation stone for the C-295 transport aircraft manufacturing facility in Vadodara to be set up by Airbus Defense and Space and Tata Advanced Systems Limited (TASL).
About C-295 Transporter:
Capacity:
The C-295 MW is a transport aircraft of 5-10 tonne capacity with contemporary technology.

The aircraft, with a flight endurance of up to 11 hours, can carry out multi-role operations under all weather conditions.
Features:
It has a rear ramp door for quick reaction and para-dropping of troops and cargo.

It will be installed with the indigenous Electronic Warfare Suite.

The C-295 has very good fuel efficiency and can take off and land from short as well as unprepared runways.
Replacement:
Fleet:
Of the 56 aircraft contracted, 16 will come in fly-away condition from Spain between September 2023 and August 2025.

The remaining 40 will be manufactured here to be delivered between September 2026 and 2031 at the rate of eight aircraft per year.
C-295 Transport Aircraft Manufacturing Facility
About:

The C-295 Transport Aircraft Manufacturing facility will manufacture C-295 aircraft for the Indian Air Force (IAF).

Collaboration

: C-295 Transport Aircraft Manufacturing facility is being set up through collaboration between Tata Advanced Systems Limited and Airbus Defense and Space S.A., Spain.

Cost

: The total cost of the C-295 aircraft manufacturing facility project is Rs 21,935 crore. The aircraft can be used for civilian purposes as well.
Importance of C-295 Transport Aircraft Manufacturing Facility:
Promote Self-Reliance:

The project offers a unique opportunity for the Indian private sector to enter into the technology-intensive and highly competitive aviation industry.

Employment Generation

: The TATA Consortium has identified more than 125 in-country MSME suppliers spread over seven states. This will act as a catalyst for employment generation in the aerospace ecosystem of the country.
Impact on domestic aircraft manufacturing ecosystem:
Expanding Footprints:

Indian companies, both public and private, have steadily expanded their presence in the global supply chains of major defense and aerospace manufacturers.

Involvement of MSMEs:

Boeing's sourcing from India stands at $1 billion annually, and 60% of its manufacturing requirement is sourced through a growing network of 300+ supplier partners of which over 25% are micro, small, and medium enterprises (MSME).

Joint Ventures:

Both Lockheed Martin (manufacturing aerospace components for commercial helicopters and aircraft) and Boeing (manufacturing aero-structures for its AH-64 Apache helicopter) has joint ventures with TATAs.

Boost to domestic defense manufacturing sector:

The C-295 project will lead to the development of a strong private industrial aerospace ecosystem not only in and around Vadodara but across the country.

Employment Generation:

The C-295 project is expected to create more than 15,000 skilled direct and indirect jobs across the aerospace ecosystem.
Verifying, please be patient.