Introduction
Agricultural exports will play a pivotal role in realising the vision of doubling the farmers' income by 2022. To achieve export targets as envisaged in Agriculture Export policy, the Government has made impressive progress in agricultural reforms and has initiated several schemes to explore the potential in several agri-commodities while addressing challenges.
Background:
India is predominantly an agrarian country with a prominent place on the world map as a major contributor to the global food basket.
Blessed with 20 Agri-climatic regions
15 major climates and
46 soil types
India is at an advantage point being the largest producer of milk, pulses, spices, tea, cashew and jute while being the second-largest producer of wheat, rice, fruits and vegetables, sugarcane, cotton and oilseeds in the world. But, paradoxically, the country's share in global agricultural exports does not match its potential.
It was merely 1.1 percent in 2000 that rose to 2.27 percent in 2017 valued at 39 billion US dollars. Currently, India ranks amongst the top 10 exporters of agricultural products in the world.
Roles played by various government bodies
Agricultural and Processed Food Products Export Development Authority (APEDA):
It is the chief agency primarily responsible for the export promotion and development of listed agriculture, horticulture, dairy and livestock products.
Department of Commerce under Ministry of Commerce and Industry
It works to develop strategies and policies for increasing foreign trade across sectors, including the agriculture sector.
Ministry of Food Processing Industries:
It provides leverage to agricultural exports by focusing on the entire value chain, value addition and logistics.
Ministry of Agriculture and Farmers Welfare along with Ministry of Fisheries, Animal Husbandry and Dairying:
It largely focusses on enhancing production, quality improvement and creating opportunities for exports
The Growth Story
Soon after independence in 1950-51, the value of Agri-export was about Rs. 149 crores which took giant strides reaching to the level of Rs. 2.53 lakh crores in 2019¬20.
According to Economic Survey 2019-20), India has been a net exporter of Agri-products since the rollout of economic reforms in 1991.
Marine products, basmati rice, buffalo meat, spices, non-basmati rice, cotton raw, oil meals, sugar, castor oil and tea are the major commodities exported from India.
Even during the COVID-19 pandemic, India maintained its world food supply chain and exports.
On 4th March, 2021 the first consignment of 'red rice'— speciality rice varieties (non-basmati) were flagged off to the USA. 'Village Rice' to Ghana and Yemen through air and sea routes.
Related Information
'Red rice' is a naturally iron-rich variety grown traditionally in the Brahmputra valley of Assam. Locally referred to as 'Bao-Dhaan', red rice is an integral part of the Assamese food. Hopefully, as the exports of 'red rice' grow, it would enhance the income of farming families of the Brahmaputra flood plains.
'Village rice' sourced from Kumbakonam, Thanjavur district. It got patented recently. It is enriched with protein, fibre, and a variety of minerals, 'village rice' is sourced directly from farmers of Thanjavur, also known as the rice bowl of Tamil Nadu.
Among fruits, India is the largest producer of mango in the world with over 1,000 varieties in hand. But currently, our exports are dominated by Alphonso and Kesar. Others being Langda, Dussehri, Himsagar and Zardalu.
Policies for Promotion:
Pre-production, production, postharvest management, export potential are major challengesthat to be is taken into account for developing a holistic strategy towards the promotion of agriculture trade.
There are two main issues:
boosting export with value addition, and
import substitution.
A product-market matrix has been developed containing a list of products of strength, new destinations having potential, and a list of known markets where new products can be introduced.
At the behest of the Ministry of Agriculture and Farmers Welfare, Agri-product specific Export Promotion Forums (EPFs) have been created under the aegis of APEDA. So far, EPFs for eight Agri and allied products have been made functional viz. Grapes, Mango, Banana, Onion, Rice, Nutri-cereals, Pomegranate and Floriculture.
The Department of Commerce came up with a comprehensive Agriculture Export Policy (AEP). AEP was developed with a target to double agricultural exports from the present US dollar 30+ billion to US dollar 60+ billion by 2022 and reach US dollar 100 billion in the next few years thereafter.
Broadly, policy recommendations are categorised into two categories — strategic and operational.
Strategic interventions: Development of robust infrastructure resulting in the creation of Mega Food Parks, integrated cold chains and state-of-art testing centres.
Operational interventions: Logistics and facilities are being developed and improved for pre-harvest and post-harvest handling, storage and distribution and processing. Major ports are under renovation to provide 24×7 customs clearance for perishable products.
Developing product-specific clusters: It will help in dealing with various supply-side issues and integration of exporters with farmers.
Marketing and Branding of Agri-produce:for example, marketing of organic, value-added, ethnic, GI, region-specific and branded products.
Reliable intelligence tool:To strategically plan export activities.

APEDA and MPEDA are operating 'agri-exchange' and 'fish-exchange' portals respectively to provide market intelligence to their stakeholders

Single portal for real-time updates: Information on market intelligence is scattered in different web pages, which needs to be integrated on a single portal.
Manual for Importing Country Requirements: to minimise the risk of rejection of exported consignment.
Opportunities and Challenges
'Farm factories' is a new approach in which high-value crops are grown in temperature, moisture and nutrition-controlled environment assuring high organic yield. Fruits and vegetables are best suites as they naturally use less water with high profitability as against to cash and cereal crops.
Increase in consumption of vegetables in advanced countries: The consumption has increased in the USA and in other advanced economies. Covid-19 has further accelerated the demand due to its immunity-boosting properties, for example, India has exported gherkin worth Rs 700 crore to European countries.
Value addition of fruits and vegetables: For example, cashew requires a boost in value-added forms such as cashew-apple jams and pastes, flavoured cashew, roasted/salted nuts etc.One district one product (ODOP): Spice Board has initiated Entrepreneurship Development Program for pushing exports in ODOP.
Saffron from Kashmir
Ginger from the district of H.P, Karnataka, Sikkim, Orissa, Manipur, and Assam.
Cumin from Gujrat and Rajasthan
Exports of spices touched the highest ever level of US dollar 4 billion during 2020-2021.
Huge demand for Organic produce: Experts has recommended Organic Product Export Zones (OPEZ): in three states for processing, standardization, storage, logistics and connectivity to ports and airports.
Huge demand for medicinal plants: Based on therapeutic properties, over 960 types of medicinal plants are traded of which 178 species have a yearly consumption level of over 100 metric tonnes.
'Kisan Rath' mobile application facilitates farmers and traders to get the best transportation services for their produce at competitive prices. So far, nearly one lakh tractor trolleys and 9.85 lakh trucks have been onboarded for providing services.
'Transport and Marketing Assistance' scheme for specified agricultural products is assisting with the international component of freight along with assistance for the marketing of agricultural produce.
Kisan Udan: The Ministry of Civil Aviation is set to launch the 'Kisan Udan' scheme to facilitate air transport of perishables, especially in the north-eastern region and tribal districts.
Presence of pesticide and chemical residues: Itis a major cause of concern for agricultural exports in India. Tricylazole from 1 ppm to 0.1 ppm in Basmati rice, the residue of Buprofezin was also an impediment in Basmati exports. APEDA, in collaboration with trade bodies, has taken measures to create awareness on such issues among farmers.
A number of digital platforms have been developed for enabling the smooth flow of business and ensuring transparency in the system. BasmatiNet, HortiNet Mango, TraceNet, MeatNet, Peanut.Net are some of the major traceability systems serving farmers, farmer organisations and exporters.
Addressing the issue of transport and logistics: India Railways 'Kisan Rail' is an exclusive service primarily to enable farmers and producers to transport their agricultural produce from rural areas to major towns and cities at affordable cost.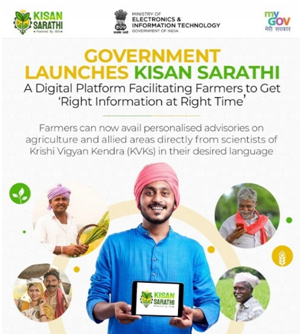 Conclusion:
The government of India is endeavouring hard to propel the country into the top bracket of Agri-exporters at the global level. Moreover, agricultural exports will play a pivotal role in realising the vision of doubling farmers' income by 2022.