Developing Natural Forest Cover: A Case Study From Yadadri, Telangana
A systematic approach of forest management to sustain the ecological balance and stability of the forest is gaining momentum in India. Innovative reforestation approaches are explored to increase the forest cover and climate amelioration.
So far no significant scientific study on natural forest reforestation has been taken up due to diverse climatic condition and soil profile in India.
With the enthusiasm generated across all sections of the society to plant and protect the saplings planted under 'Telangana Haritha Haram' which is a flagship programme of the State to create an entire forest instead of mere plantation.
It is thought that forests that have been cleared in diversion cases can be compensated by creating forests instead of plantation.
This leads to exploration of the principles of Professor Akira Miyawaki, a well known Japanese botanist and plant ecologist.
He invented the Miyawaki restoration technique to protect the lowland areas against natural calamities like tsunami.
The basic principle of this technique is to initiate high density plantation in small piece of land with native tree species that can protect the low-lying areas from natural disaster.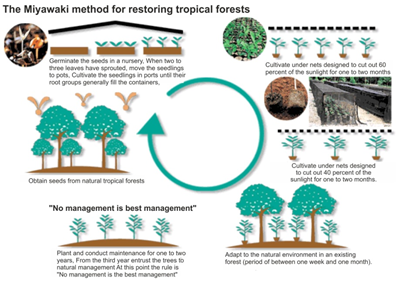 Miyawaki Principles of Natural Forest are:
No defined spacing between plant
Soil enrichment must be done before taking up plantation
High density planting of herbs, shrubs and tree species up to 10000 plants per hectare.
Further Supplementation of site by seed dibbing of native species.
Watering should be done at least up to next rainy season after planting.
Mulching should be done after planting to suppress weed and prevent evaporation.
No existing tree in the area should be removed while doing soil enrichment.
Watering is to be done with tankers and pipe sprinkling instead of flood irrigation.
Periodical weeding is to be done till the end of next rainy season after planting.
Huge crown developing tree species like Ficus should be avoided.
Seedling or saplings of all sizes can be planted to give the plantation a 3-tier look of a natural forest.
Analysis of soil properties done in advance so as to choose the best soil enrichment practices.
Except weeds no other naturally grown species shall be removed from the plots.
Yadari Natural Forest (YNF) Establishment Model
A method of developing a natural forest in the degraded forest areas is developed in a cost effective manner and is known as Yadari Natural Forest (YNF) Establishment Model.
The principles of Miyawaki method and local practices and local materials are utilized in developing this model.
Establishment cost of the YNF model is arrived at Rs. 2 lakh/acre or Rs. 5 lakh/hectare. A successful YNF model can be revolutionary intervention towards increasing the greenery, climate amelioration and wasteland development.
Conclusion: Practices envisaged by Miyawaki model has been implemented at various places in accordance with the availability of materials in the local ecosystem and has been given different names. This has essentially helped in resurrecting the local environment and restoring the deforested land.