Gist of Kurukshetra- Rural Prosperity: Rural Health:
Rural health in India has made progress in terms of services and infrastructure in the last seven decades. The period of 2002-17 has been argued as the first major health system reforms since India's independence. The period of 2017-19 has many similarities with the period of 2002-05 and has potential to become the second wave of health reforms in India.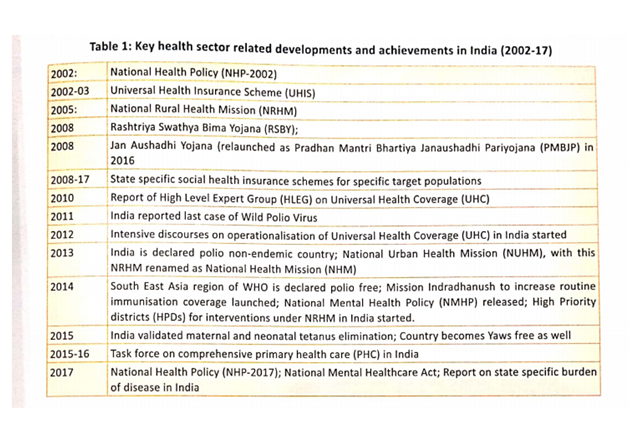 Two-third of India's population lives in rural areas. Health of rural population is vital for the overall health and development of nation.



National Health Policy 2017:

Proposal that Govt. would be sole provider of Primary health care services.

Provision and attention on special populations such as Tribal health.

Increasing Government spending on health to 2.5 per cent of GDP by 2025.

Two-third or more govt. spending on health for primary health care.

State governments to increase spending from 5 per cent to 8 per cent of state budget.
NITI Aayog strategic plan for new India(2018-22)
Universal health coverage,

Comprehensive primary health care,

Human resources for health; and

Public health care and management.
New health initiatives by Government for newborns and adolescents:
Rashtriya Shishu Suraksha Karyakaram (RSSK)

Rashtriya Bal Suraksha Karyakaram (RBSK)

Rashtriya Kishor Suraksha Karyakaram (RKSK)

Kayakalp