Gist of YOJANA : Managing Electronic Waste
Categorization of electronic gadgets
White goods: Household appliances,
Brown goods: TVs, camcorders, cameras etc
Grey goods: Computers, printers, fax machines, scanners etc.
Electronic industry is one of the world's largest and fastest-growing manufacturing industries. It has provided some leverage to the socio-economic and technological growth of the developing society of India.
However, it creates new environmental challenges- "Electronic Waste" or "e-waste" that consists of obsolete electronics devices.
Solid waste management, which is already a critical task in India, is becoming more complicated by the invasion of e-waste, particularly computer waste.
Challenges posed by e-Waste
Personal Computers (PCs) contain certain components, which are highly toxic, posing environmental and health challenges.
This fast-growing waste stream has been accelerating because the global market for PCs is far from saturation and the average life span of a PC is decreasing rapidly.
Rapid economic growth, coupled with urbanization and growing demand for consumer goods, has increased both the production and consumption of electronics and electrical equipment.
India's recycling sector is still underdeveloped. Most people are unaware of the potential negative impact. When these products are dumped in landfills or incinerated, they pose health risks because of the hazardous materials they contain.
The Global E-waste Monitor, 2017 estimated that India generates about 20 lakh ton of e-waste annually, nearly 82% of which is personal devices.
When electronic items containing heavy metals are improperly disposed of, these heavy metals leach through the soil to reach groundwater channels which eventually run to the surface as streams or small ponds of water.
Burning of e-waste in open landfill for obtaining gold and other precious metals produces fine particulate matter and causes cardiovascular and pulmonary ailments in children.
Drinking water contaminated with lead affects the central and nervous system and causes poor brain growth, dwarfism, hearing disability, and impaired formation and function of blood cells.
Since these chemicals are non-biodegradable, they persist in the environment for a long time, increasing the risk of exposure.
Sustainable solutions regarding E-waste management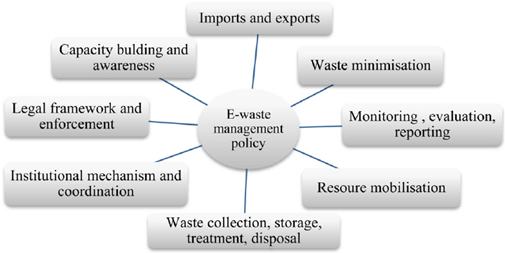 The product designers must ensure the longevity of the products through their re-use, repair, and/or upgradability features.
Recycling and reuse of materials are the next options to reduce the generation of e-waste. Recovery of metals, plastic, glass, and other materials reduce the magnitude of e-waste.
Clear regulatory instruments adequate to control both exports and imports of e-waste and ensuring their environmentally sound management should be in place.
Manufactures of products must be made financially, physically, and legally responsible for their products.
All vendors of electronic devices shall provide take-back and management services for their products at the end of life of those products.
Collection systems are to be established so that e-waste is collected from the right places ensuring that this directly comes to the recycling unit.
Extended Producer Responsibility (EPR) authorization has been provided to 726 producers by the CPCB.
It specifies the collection targets for the specified time (five years); but unfortunately, no independent mechanism has been put in place to check or verify the claims made in authorisations resulting in slack implementation.
Recently, Ministry of Electronics and Information Technology (MeitY) has developed a guideline on uniform incentivisation of e-waste in the country.
As per information available with CPCB, 69,414 MT of e-waste was collected, dismantled, and recycled during 2017-18.
Steps need to be taken in management of Electronic waste in India
Only 5 per-cent of e-waste generated in India gets recycled. Lack of awareness about e-waste and its recycling as well as the role of the unorganised sector are the added challenges to the problem.
The base metals which can be reused are lost and result in soil contamination due to unorganised and crude dismantling.
A consumer of an electric or electronic device is not apprised of the end of the value chain of the product. Often, information is not provided along with the product packing about the e-collection centre for the product sold.
The responsibility of the consumers is also not specified along with the product.
Technical and policy-level interventions, proper implementation, capacity building, and increasing public awareness are the need of the time.
They only can convert this challenge into an opportunity and set global credible standards concerning environmental and occupational health.