Gist of YOJANA : National Voters' Day 2020- Electoral Literacy for a Stronger Democracy'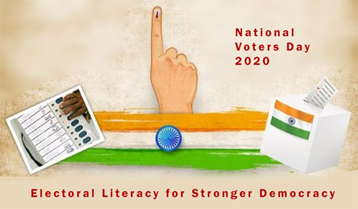 The mandate for universal equal suffrage emanates from Article 326 of the Constitution. The Mandate was further enhanced with the Constitution (Sixty-first Amendment) Act, 1988 that reduced the voting age to 18 years.
National Voters' Day is celebrated on 25th January since 2011 to mark the foundation day of the Election Commission of India. ECI was established on this day in the year 1950.
The main purpose of the celebration is to encourage, facilitate, and maximise the enrolment, especially for the new voters.
Theme: 2020: Electoral Literacy for a Stronger Democracy
ECI launched the Electoral literacy programme under SVEEP and by now about 5.8 lakh Electoral Literacy Clubs (ELC), Chunav Pathshalas, and Voter Awareness Forums have been set up across the country.
These forums work on the principle of engaging the target populations through hands- on experience on the electoral process.
The Lok Sabha Elections 2019 saw a historic voter turnout of 67.4%. Voter turnout had increased to a record of 66.44% in 2014 from 58.19% in 2009.
The number of electors rose to 91 crores ahead of Lok Sabha Elections 2019. Moreover, women participation also increased to a historic 66.79% in 2019 reducing the gender gap to 0.01%.
At present, the electoral operations of India are the largest in the world as demonstrated in the Lok Sabha Election 2019 where about 1.2 crore polling officials worked at over 10 lakh polling stations in the country.