Impact and Progress of NamamiGange Programme
NamamiGange programme, implemented by National Mission for Clean Ganga (NMCG) is an integrated mission for conservation of Ganga and its tributaries. A comprehensive Ganga River Basin Management Plan (GRBMP) was developed by a consortium of seven IITs. The vision is to restore the wholesomeness of the River by ensuring Aviraland NirmalDhara, and maintaining its geo-hydrological and ecological integrity.
Integrated River Basin Management (IRBM) approach is followed with multi-sectoral and multi-agency interventions such as (I) pollution abatement (Nirmal Ganga), (II) improving ecology and flow (Aviral Ganga), (III) strengthen people river connect (Jan Ganga) and (IV) facilitate diversified research, scientific mapping, studies and evidence-based policy formulation (Gyan Ganga).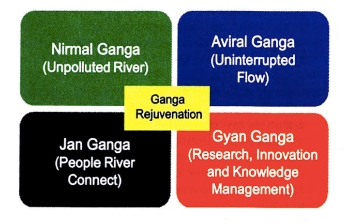 Pollution Abatement (Nirmal Ganga)
Pollution abatement measures comprehensively tackle all sources of pollution such as municipal sewage, industrial effluents, municipal solid waste, rural sanitation, non-point sources of pollution such as agricultural runoff, open defecation, un-burnt dead bodies etc.
Sewerage Infrastructure: Under NamamiGange, a total of 151 sewerage infrastructure projects have been sanctioned. Wastewater is a valuable resource from which energy, water, organics, phosphates, nitrogen, and other resources can be extracted.
Faecal Sludge Management: Faecal sludge and Septage treatment is good option in developing a mix of solutions with centralized and decentralized STPs. NMCG has adopted co-treatment in its all under construction STPs.
Industrial pollution: To control the industrial pollution in Ganga, all the Grossly Polluting Industries (GPls) were identified and annual Inspection undertaken by independent expert institutions such as IITs, NEERI, NITs leading to Improved compliance by industries.
Solid Waste Management: Regular cleaning of river banks, installing screens/filter to trap solid waste, ban on single-use plastics and periodical third-party inspections. Trash skimmers have been installed at important places for surface cleaning.
Rural Sanitation: NMCG facilitated construction of around 11 lakh household toilets in 446S identified Ganga bank villages. They were declared open defecation free (ODF) early and solid, liquid waste management in Ganga Grams is priority in SBM Grameen.
Water Quality: For the first time in India, Real Time Water Quality Monitoring has been introduced with 36 stations set up along Ganga with 40 more in pipeline. Community monitoring is also promoted.
Ecology and Flow (Aviral Ganga)
Ecological Flow: Ecological flow was notified for River Ganga in Oct 2018. This has become a major component of river rejuvenation
Wetland Conservation: Wetlands are important for Nirmalta, Aviralta and also for economy, ecotourism, ground water recharge and supporting biodiversity. Toolkits for urban wetlands protection are also being developed with special attention to flood plain wetlands.
Afforestation: Natural, urban and agricultural riverscapes are covered in this plan.
Biodiversity Conservation - Wildlife Institute of India (WII) to map biodiversity hotspot for the entire length of Ganga and scientific improvement of habitat, species.
Sustainable Agriculture:NMCG promotes this through organic farming, eco agriculture and medicinal plantation. Organic farming corridor along Ganga has been proposed.
Small River Rejuvenation: A GIS based district wise inventory of small rivers is being created along with district level interventions with convergence with MGNREGA.
People River Connect (Jan Ganga)
NamamiGange mission accords prime importance to People River Connect and is taking several steps for making it a people's movement.
Ghat and Crematoria: 138 Ghats and 38 Crematoria have already been constructed with River Front development at Patna and Haridwar, making them important public space.
Jan Bhagidari: Community and stakeholder groups have been developed such as Ganga VicharManch, Ganga Praharis, NYK Ganga Doots, Ganga Mitras, and Ganga Task Force with ex-serviceman, NCC, NSS etc.
Ganga AmantranAbhiyan: This was largest social outreach program through adventure sports connecting people from Devprayag to Ganga Sagar last year through 35-daylong rafting expedition.
NMCG regularly conducts several activities to connect youth and others such as 'Great Ganga Run'.
Ganga Quest: During lockdown, an innovative online national quiz on Ganga to connect school/college students drew overwhelming response with 11.5 lakh participants.
Clean Ganga Fund is another innovative step to create an avenue for people and corporates to donate and take up specific projects for this national cause.
Research, Policy and Knowledge Management (Gyan Ganga)
LIDAR Mapping: Generation of high-resolution GIS ready database for 10 kms on both sides of Ganga using LIDAR(Light Detection and Ranging) which will for the first time provide data on drainage, flood plains etc.
Microbial Diversity Mapping: studying Water Quality and Sediment Analysis to understand the Special Property of Ganga River.
Cultural mapping: Of entire length of Ganga for natural, built and intangible heritage, taken up through INTACH (Indian National Trust for Art and Cultural Heritage).
Climate Scenario Mapping: Understanding and scientifically estimate impact of climate change on water resources in the Indo-Gangetic Plain
Spring Rejuvenation: with IIT Roorkee and Survey of India to assess the impact of land use-land cover change or impact of natural or anthropogenic precipitation variability and mapping of sources of springs for taking up their rejuvenation.
A project in collaboration with CGWB and National Geophysical Research Institute (NGRI) for aquifer mapping has been started with focus on paleo-channels in parts of Ganga-Yamuna doab.
New Paradigm of Planning for River Cities: Innovative urban river management plan (URMP) framework is being developed with a template for Kanpur.
NamamiGange: It is collaborating with different international organizations like India-EU water partnership and German collaboration for the technology and knowledge transfer.
Arth Ganga: Linking economic development of Ganga Basin with ecological improvement and Ganga Rejuvenation.