RESURGENT INDIA: India's Journey Towards A $5 Trillion Economy
Seventy years after becoming republic, India is steadily poised to become a global power. This presents us with both the opportunity and mandate to envision new India we aspire to create and the world order we wish to shape. India's rise is an opportunity to re-imagine an India in consonance with our highest civilization ideals of joy, sustainable prosperity, responsible freedom, inclusive growth, peace and mutual respect. These ideals when influence our foreign policy, have the potential to shape a plural global order which is essentially the need of present global scenario.
India's Foreign Policy Approach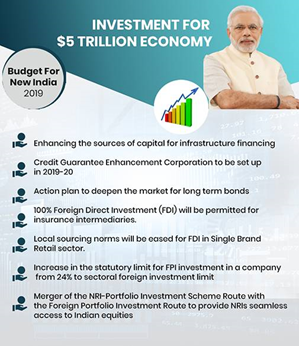 India's foreign policy approach has been undergoing a paradigm shift with economic and strategic relations gaining significant cultural undercurrents.
The new approach is reflected in the foreign policy pillars of Panchamrit – Samman (dignity and honour), Samvaad (engagement and dialogue), Samriddhi (shared prosperity), Suraksha (regional and global security) and Sanskriti evam Sabhayata (culture and civilizational linkages).
This has found place in our global engagements through our 'Neighborhood First' and 'Act East' approach.
More recently in the vision and the emphasis of this government has shifted from SAARC to BIMSTEC and Indian Ocean Region (IOR) in particular.
The BIMSTEC is fast replacing SAARC as the primary forum for India's regionalism. In line with the stated policy the government's policy has taken into account the strategic and regional importance of the Maldives and Sri Lanka.
Government has constantly reiterated the priority India attaches to its 'Neighbourhood First' policy and the SAGAR Doctrine.
SAGAR refers to "Security and Growth for All in the Region" which was propounded in 2015.
Achieving a $5 Trillion Economy
Prime Minister has recently announced the target of a $5 trillion economy for India by 2024 in the government council meeting of the NITI Ayog.
The Economic Survey has also laid a road map where it has suggested India to grow with a growth rate of 8 percent to achieve the $5 trillion economy.
The survey has the theme for enabling a "shifting of gears", "to achieve the objective of becoming a $5 trillion economy by 2024-25".
It makes the case for investment, especially private investment as key driver, that drives demand, creates capacity, increase labour productivity, introduces new technology and generates jobs.
The survey stated "a virtuous cycle or a vicious cycle". It says when economy is in a virtuous cycle, investment, productivity growth, job creation, demand and exports feed into each other and enable animal spirits in the economy to thrive".
This can be achieved by focusing the following sectors:
MSME sector : The significant of 65 million MSMEs who create about 120 million jobs and 30 percent of total employment generation cannot be underestimated.
Agricultural Sector: The real issue is not the level of productivity but how produce can be converted into value that will decide farmers 'income'. The focus has shifted from increasing per acre productivity to gainfully employing farm households in other farm-related activities and to improve post-production value-addition by pooling of land and aggregation of farmers' produce to give growers better bargaining power in the market.
And to do this the government has focused on development of sustainable and efficient cold-chain infrastructure in India for which National Center for Cold-chain Development (NCCD) has been working with private sector, Ministry of Agriculture and Ministry of Food Processing industries.
Services Sector: Services contribute to 56.5 percent of GDP but create only 30 per cent of jobs. The sector need to develop expertise in IOT, AL, VR and their applications. Travel and tourism, health and professional services can be the other key service sectors.
Another big opportunity comes in global healthcare and wellness which is a $8 trillion industry. There is an opportunity in converting India's 600 district hospitals as medical nursing and paramedical schools to train 5 million doctors, nurses and paramedics to meet the global requirement, who in turn can remit billions of dollars foreign currency every year.
There is a huge potential in construction sector which contributes 10 percent to India's GDP and it is the largest gob generating sector after Agriculture.
Digital India: Through Digital India Initiative, India is now poised for the next phase of growth – creation of tremendous economic value and empowerment of citizens as new digital applications permeate sector after sector. India can create up to $1 trillion of economic value from the digital economic in 2025, up from around $200 billion currently generated.
India's digital consumer base is the second largest in the world and growing at the second fastest rate amongst major economics. Our inclusive digital model is narrowing the digital divide within the country and bringing benefits of technology to all segments of people.
Vision for New India: 'New India' will be a $5 trillion economy and a model of Good Governance for the world. Government has set the following Vision for New India:
To be free from poverty, full of prosperity;
To be free from discrimination, filled with equality;
To be free from injustices, ensconced in justice:
To be free from squalor, covered with cleanliness;
To be free from corruption, complete with transparency:
To be free from unemployment, enriched with employment;
To be free from atrocities against women, full with respect for women; and
To be free from despondency, full of hope.
It is absolutely essential to work on a framework that provides ease of business and predictability. It is also time to redirect energies on providing the environment to encourage private sector investments and innovation. India climbed 14 rungs in the World Bank's Ease of Doing Business 2020 survey to stand at 63, among 190 countries, making it the one of world's top 10 most improved countries for the third consecutive time. This shows government's active role in improving government's scenario.