Sustaining Behavioural Change
The SBM which was launched on 2 October 2014 succeeded in construction of over 10 crore toilets by 2 October 2019. Because of these enormous efforts, about 6 lakh villages in approximately 700 districts in the country were declared open defecation free.
A major differentiating feature of SBM from all other earlier programmes has been its demand – driven nature where the primary objective is to bring about behavior change leading to the generation of demand for construction of toilets as well as to increase the use of toilets.
Challenges in sustaining the behavioral changes
Apart from the behavioral factors, it is found that the design of the toilet, availability of sanitation materials, access to water, and political or social leadership account for a higher demand for construction and use of toilets.
Many villages are not homogenous and are fragmented along the caste and religious lines. Collective behaviour change in a village is easier when the whole village homogeneous but difficult when there are more conflicts.
Furthermore, caste-based notion of purity and pollution makes it difficult to construct pit latrine which requires emptying it in future. The challenge of behaviour change is often compounded by the diversity in Indian society, and therefore, would require more contextual understanding.
As a matter of fact, without having local knowledge into the fold, the sanitation campaign will lead to fruitless activities.
In most behaviour change programs, it is observed that the adoptees after the time interval laps back to their earlier habits defeating the very purpose of the program. This study was partly intended to find out the use of patterns of toilets.
Once they are constructed and reason for lapsing back or non-use of constructed toilets. Thus construction of toilets by itself does not ensure that the rural population will use toilets on a regular basis.
There are significant cultural and behavioral factors that act as barriers to the use of toilets.
Open defecation for many is either part of early morning routine walk checking on the crops and socializing.
For women who go out to the fields in the dusk for open defecation, it may be the only opportunity in the day to freely socialize with other women without being supervised by elders in the family particularly by in-laws.
Recommendations to bring about behavioral changes
The present programme, while widely appreciated leaves a scope of the new adoptees to get back to their original behaviour. To prevent this, the programme may include the provision of more than one toilet for larger households.
More emphasis may be given for information dissemination at the ground level. Improvement of sanitation is linked with other indicators of living conditions. Hence, it is important to have a better infrastructure at the household level as well as public service.
At the same time, higher income of households with higher purchasing power for durable goods would lead to better living standards of living and thus sanitation practice. Also, emphasis on female literacy is imperative for better sanitation coverage.
Solid Waste Management: The Way Forward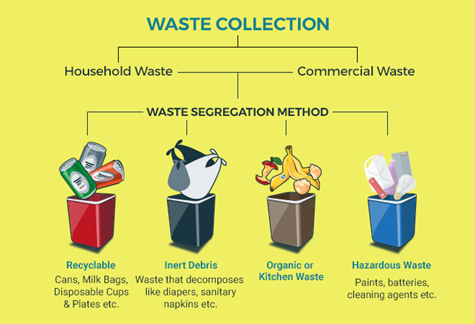 Solid Waste management is a major problem in India, where urbanization industrialization, and economic growth have resulted in increased municipal solid waste (MSW) generation.
The burgeoning population and improvement in living standards of people have only compounded the problem in management of waste in urban and rural India.
The main objective of an efficient SWM system is to maximize resource recovery and energy generation from waste in the processing facility and minimize waste disposal in landfills
Legal Framework proposed for solid waste management in India
Ministry of Environment, Forests & Climate Change (MoEF&CC) notified MSW (Management and Handling) Rules, 2000 and the revamped Solid Waste Management Rules in 2016 to ensure proper solid waste management in India.
Solid Waste Management Rules, 2016 delineate the responsibility of the different stakeholders including the MoEF&CC, MoHUA, Central pollution control Board (CPCB), State pollution Control Boards (SPCBs), state Urban Departments, Urban Local bodies, Gram panchayats, as well as waste generators.
Whereas MoHUA, State Urban Departments and Local Bodies have mainly been entrusted with the responsibility of development of infrastructure related to waste management, MoEF&CC CPCB, SPCB, and Pollution Control Committee (PCC) have been entrusted with the responsibility of monitoring the enforcement of the Rules.
The responsibility of the waste generator lies essentially in proper segregation of the waste which is the core requirement of effective solid waste management.
Status of Solid waste management
The overall solid waste generated in the country has been estimated to be 1,52,076 Tons per day (TPD) as per the Annual Report 2018-19 submitted by the SPCBs/PCCs.
Of this, 5% is collected and only 35% of waste is treated. 33% of waste is landfilled and 46,156 TPD of waste which is one-third of the total waste generated in the country remains unaccounted. The unaccounted waste is littered on streets up in dumpsites.
Recently, with National. Green Tribunal's intervention, biomining (a method for stabilisation of waste so as to minimise its adverse environmental impact) of these dumpsites, has been initiated in 11 states.