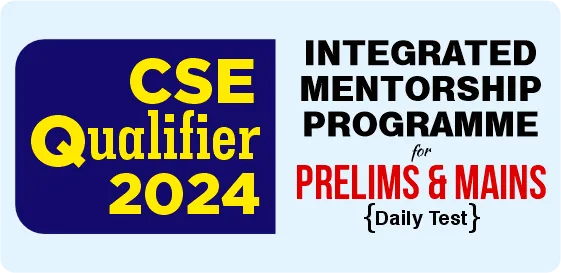 Batch Starts: 10th December
CSE Qualifier 2024 - Integrated Mentorship Program (Prelims & Mains through Daily Test)

Highlights
The CSE Qualifier 2024 (Mentorship Programme of Mains Answer Writing & Prelims Test) has been meticulously crafted to cater to the dynamic nature of the UPSC Civil Services Examinations. This comprehensive course is strategically designed to seamlessly integrate your preparation for both Prelims and Mains through our Mentorship Schedule, Daily test and evaluation approach.
50+ Mentorship Sessions

(Pre- & Post-Test) based on

52 Tests

to cover the

entire syllabus of GS Mains.
75+ Prelims Tests

integrated with

Mentorship

Schedule

of the Mains Answer Writing.
Detailed discussion of the Tests
Daily Preparation Target with Strict Schedule

(No Flexi Format)
12 Weekly Revision Tests

&

12 Subject Revision Tests

for Both Prelims & Mains
Prelims Mock Test Series (20 Tests)

for All India Ranking and Performance Analysis
One-on-one Mentorship Sessions

for Marks Improvement.
Course Fee

₹ 17000/-
course Fee
(+GST)

₹ 17000
Course Fee
(+GST)
Course Component & Delivery
Course Components
CSE Qualifier 2024 has been designed keeping in mind the dynamic nature of the UPSC Civil Services Examinations. The mentorship during the preparation holds an important key in order to sail through this examination. The course focuses on providing both Pre and Post-Test Mentorship Sessions based on Mains Answer Writing Tests. The design integrates your preparation for Prelims and Mains with our daily test, evaluation, and mentorship formula. The programme will include:
Course Delivery
Mains Mentorship Procedure
Step 1 -

Pre-Test Mentorship Session: Concept

Building Mentorship Session for the Mains Topical Tests. The concept building will include a discussion of important concepts for the topics mentioned in the upcoming test.
Step 2 - Attempt the test as per the Mains Test Schedule.
Step 3 - Evaluation:

The Topical Test will be evaluated within 2 working days.
Step 4 - Post-Test Mentorship Session:

Doubt-clearing session after evaluation for common mistakes, the key demand of the questions, answer structure, and modification in the learning process.
Step 5:

One-on-one Copy Discussion after evaluation with the faculty for marks improvement and better outcome.
Note: The concept-building and doubt-clearing session related to Prelims Tests will be incorporated in the above-mentioned sessions.
Test Pattern
Mains Tests
Prelims Tests

33 Mains Topical Tests - 5 questions
6 Weekly revision Tests - 10 questions
11 Subject Revision Tests – 20 Questions
Model answers and the supplementary notes for each test.
Topical Test discussion for Conceptual Clarity and Value Addition

33 Topical and 6 Weekly Revision Tests - 50 questions.
6 Subject-wise Revision Test - 100 Questions.
8 Current Affairs Tests - 100 Questions
6 CSAT Sectional Tests - 30 Questions
20 Mock Tests (GS + CSAT)
Answer Key & Detailed Explanation for each test
Topical Test discussion for Conceptual Clarity and Value Addition
Mentorship & Test Procedure
The

Pre-Test and Post-Test Mentorship Sessions

will be held for each Mains Topical Test. The session will be held on Google Meet and the timing will be

8:00 PM
The Offline Students can attempt the test between 09:00 AM to 4:00 PM at the test center.
The Online Students can attempt the test between 09:00 AM to 7:00 PM in your account at iasscore.in.

Evaluation of the topical test mains copy will be done within

2 working days

.

Evaluation of Weekly Revision and Subject Revision Mains Tests will be done

within 5 working days.

The

result of prelims tests

will be published on the next day of the test at 11:00 AM in your account at

iasscore.in.
Mentorship is an indispensable component of UPSC Integrated Prelims and Mains preparation, with personalized guidance and invaluable insights enhancing the chances of success in the UPSC CSE. The UPSC mentorship is the compass that helps in navigating the complex terrain of the Civil Services Exam.
Why should one opt for Mentorship for UPSC CSE?
Customized Guidance: Experienced mentors tailor the guidance to aspirant's unique strengths and weaknesses, ensuring a targeted and efficient study approach.
Strategic Planning: Mentors helps in creating a study plan that aligns with the UPSC syllabus and exam pattern, optimizing your preparation timeline.
Feedback and Improvement: Regular feedback sessions helps in identifying areas for improvement, enabling to refine strategy and performance continually.
Current Affairs Updates: Mentors keeps updated with the latest news and events, a vital component of UPSC exam.
Motivation and Confidence: Mentorship offers emotional support, motivation, and confidence-building, crucial in the face of a highly competitive exam.
Answer Writing Skills: Mentors assist in developing effective answer writing techniques, a key requirement for Mains examination success.
Mock Interviews: Prepare for the UPSC interview stage with mock interview sessions and constructive feedback.


Verifying, please be patient.
Our Centers
DELHI (Karol Bagh)
GS SCORE, 1B, Second Floor, Pusa Road, Karol Bagh, New Delhi - 110005 (Beside Karol Bagh Metro Station Gate No. 8)
BHUBANESWAR (Jaydev Vihar)
GS SCORE, Plot No.2298, Jaydev Vihar Square, Near HCG Day Care, BBSR - 751013
LUCKNOW (Aliganj)
GS SCORE, 2nd Floor, B-33, Sangam Chauraha, Sector H, Aliganj, Lucknow, UP - 226024