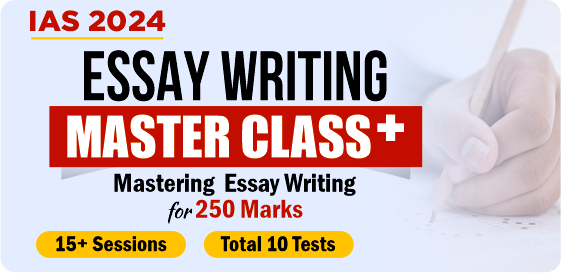 Batch Started: 04th November
Timing: 11:00 AM to 2:00 PM
IAS Mains 2024: Essay Writing Master Class

Highlights
GS SCORE has had the distinction of being one of the pioneer institutions to begin grooming candidates to tackle Essay and the illustrious results bear testimony to our excellence in this paper. In this regard, we welcome aspirants to the UPSC Mains 2024: Essay Writing Master Class+, an ultimate resource for achieving excellence in the civil services examination. As per the UPSC Mains pattern, mastering the Essay papers is essential to secure your dream career in the civil services. Our meticulously crafted UPSC master class is a key to success. With a strategic focus on the critical components of the examination, our program provides the knowledge, skills, and confidence needed to shine in UPSC Mains 2024. This transformative journey WILL equip yourself with the tools to conquer the UPSC Essay papers with ease. Unlock your full potential and chart your path to success today!"
Essay Master Class offers wide coverage of all the dimensions for essay through practice based approach by the best faculty to ensure your exam readiness. The course also includes tests to guide aspirants in scoring well by broadening their analysis and critical thinking capacity.
15+ Sessions to Master Essay Writing.
Special focus on practicing different components of Essay.
Worksheet Practice Sessions for Essay Writing for Better Clarity.
Total 10 Tests including 4 Sectional Tests and 6 Mock Tests.
Regular Mentorship Sessions for Doubt-clearing.
Ethics and Essay Master Class +
Fee: 25,000/- (Including GST)
Ethics & Essay Test Series
Course Fee

₹ 10000/-
online Fee
(Including GST)

₹ 10000
Online Fee
(Including GST)
Online Procedure
CLASSES
To enroll student has to register on the website using Registration Form or Google Login or Facebook Login.
If already registered login with your username and password which you have used for registration.
Account for Online Classes will be activated within one working day of Enrollment or before batch Starts.
Classes will be conducted online as per the class schedule.
Weekly Class Schedule will be uploaded into students account with session plan and doubt clearing sessions schedule.
Study Material is into two formats i.e. printed and pdf.
Printed Study Material, if any will be dispatched by courier within a week of enrollment.
Soft Copy notes will be uploaded in PDF format into your account.
DOUBT CLEARING
One on one doubt clearing session will be conducted with concern faculties on Google Meet as per schedule.
Students can put their doubts in chat box given into their account with each session.
Students can also interact with faculty though phone or whatsApp for doubt clearing.
After evaluation of mains test copy, one on one discussion with respective faculty will be done on phone.
MAINS TEST SERIES
Tests will be uploaded in PDF format in your account.
To write the test students have to download the PDF of test paper booklet or write the test in A4 sheet with proper spacing as per UPSC pattern. After writing the test send us back scanned copy in pdf format for evaluation.
Further evaluated test copy will be sent back to the students within 15 days after receiving the answer sheet.
Test discussion video will be uploaded into your account on the scheduled test date.
Once student will receive evaluated copy, one to one discussion with concerned faculty/experts will be arranged via phone call or live interaction.


Verifying, please be patient.
Our Centers
DELHI (Karol Bagh)
GS SCORE, 1B, Second Floor, Pusa Road, Karol Bagh, New Delhi - 110005 (Beside Karol Bagh Metro Station Gate No. 8)
BHUBANESWAR (Jaydev Vihar)
GS SCORE, Plot No.2298, Jaydev Vihar Square, Near HCG Day Care, BBSR - 751013
LUCKNOW (Aliganj)
GS SCORE, 2nd Floor, B-33, Sangam Chauraha, Sector H, Aliganj, Lucknow, UP - 226024