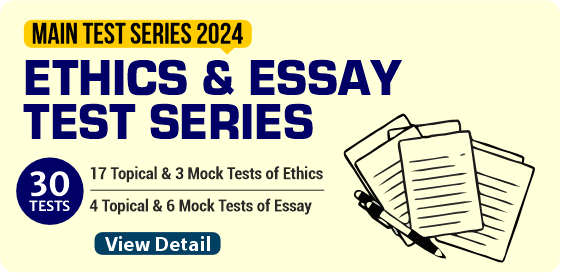 Batch Starts: 17th October
9:00 AM Onwards
IAS Mains 2024: Ethics & Essay Test Series

Highlights
GS SCORE has had the distinction of being one of the pioneer institutions to begin grooming candidates to tackle GS Paper 4 (Ethics) and Essay and the illustrious results bear testimony to our excellence in this paper.
The importance of Ethics and Essay can be gauged by the fact that these 2 papers alone carry a whooping 500 Marks in UPSC Mains Examination and every single mark matters. This Ethics and Essay Test Series helps you in gaining these precious marks and excel Mains examination with flying colors.
Practice-driven
Most comprehensive Test Series that covers each part of the GS Paper 4 syllabus.
Worksheet Practice Sessions for Essay Writing for Better Clarity.
Total of 30 Tests, including

17 Ethics Topical Tests
4 Essay Topical Tests
9 Mock Tests (6 Essay & 3 Ethics)

Each topical test consists of Section A with 5 targeted questions, and Section B featuring 3 thought-provoking case studies.
Mock tests are Meticulously crafted to align with the UPSC pattern.
Outcome-based Approach
A practice-driven course that focuses on tangible outcome.
14 Sessions to Master Essay Writing.
Special Focus on practicing different components of the Essay.
Developing Critical Thinking Skills required to excel in Essay Writing.
After each topical test, engage in in-depth discussions to dissect your performance.
One to one doubt clearing session with Manoj K. Jha for Marks Improvement.
Course Fee

₹ 16000/-
course Fee
(+GST)

₹ 16000
Course Fee
(+GST)
Procedure
Tests will be uploaded in PDF format in your My Account.
To write the test students have to download the PDF of test paper booklet or write the test in A4 sheet with proper spacing as per UPSC pattern. After writing the test send us back scanned copy in pdf format for evaluation.
Further evaluated test copy will be sent back to the students within a week after receiving the answer sheet.
Test discussion video will be uploaded into your account on the scheduled test date.
Once student will receive evaluated copy, one to one discussion with concerned faculty/experts will be arranged via phone call or live interaction.
Soft Copy notes, if any will be uploaded in PDF format into your account.


Verifying, please be patient.