Introduction
Bharat, that is India, now moves another milestone to celebrate its 75th year of independence. It is also a milestone to reflect back on as to what all we achieved in these 75 years, and what more we need to achieve. Finally, we need to articulate our vision, firm up a goal and get people, policies and institutions aligned to the future vision. India has moved fast forward on all fronts, but due to lack of holistic approach, the success of one side is decimated by the ignorance of the other side.
India has several achievements to its credit. It has built a modern economy (second fastest growing economy), remained a democracy, lifted millions out of poverty, has become a space and nuclear power and developed a robust foreign policy.India took baby steps to become one of the largest democracies in the world, overcoming a plethora of challenges to earn global recognition. India has come a long way since Independence, leaving behind a string of landmarks that define its journey from the agony of Partition to a strong, powerful and developing nation.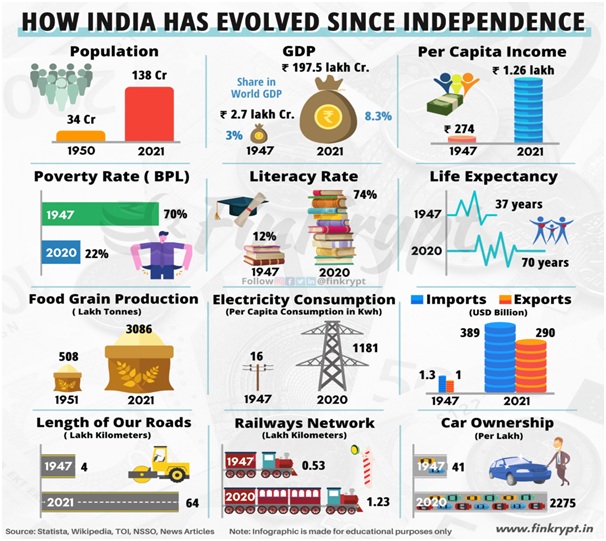 Important Steps that changed India
Partition (1947):

In one of the most defining moments of India's history, British India was divided into two countries India and Pakistan along sectarian lines. More than two lakh people were killed in ensuing riots and 14 million displaced.

The first Kashmir War:

It was fought between India and Pakistan over the princely state of Jammu and Kashmir from 1947 to 1948. It ended with Maharaja Hari Singh signing an Instrument of Accession to India.

Right to vote:

From the very first day after Independence, India gave every adult the right to vote. In the US, the right to vote for every individual was given about 150 years after their independence.

Railway network nationalisation:

Railways network was nationalised in 1951 and was initially divided into three zones. Indian Railways is now one of the world's largest railway networks comprising 119,630 km of tracks and 7,216 stations.

First general elections:

India took a democratic leap by conducting its first general elections in 1951, with Congress registering a thumping victory by winning 364 of the 489 seats. Jawaharlal Nehru became India's first prime minister.

Green Revolution:

The Green Revolution in India in 1960 saw an increase in food grain production, with development of high-yielding varieties of wheat and pulses.

Bank nationalisation:

Fourteen banks were nationalised by the government on July 19, 1969. The second wave of nationalisation in banking came into effect on April 1980.

White Revolution:

In 1970, India saw the White Revolution (Operation Flood) — the world's biggest dairy development program, pioneered by Verghese Kurien. It transformed India from a milk deficient nation into the world's largest milk producer.

Pokhran 1:

India conducted its first nuclear test, codenamed "Smiling Buddha", in the year 1974. With this, India broke into the list of five nuclear-powered nations.

First Indian satellite made:

India designed first space satellite in 1975, named it after astronomer Aryabhata.

Mandal Commission formed:

The Mandal Commission was set up in 1979 under BP Mandal to identify the socially and educationally backward classes of India.

1991 globalisation of economy:

Indian economy opened the doors for free trade by foreign investors.

Golden Quadrilateral project:

In 2001, the Vajpayee govt launched the Golden Quadrilateral, the largest highway project in India connecting four major cities of Delhi, Mumbai, Chennai, and Kolkata.

Right to Information Act:

The RTI Act was passed by Parliament in 2005, throwing government departments open to scrutiny and helping people to acquire any information they want from government officials.

MGNREGA Act:

Mahatma Gandhi National Rural Development Act, which is the largest work guarantee programme in the world, was enacted in 2005 with the primary objective of guaranteeing 100 days of wage employment per year to rural households.

Right to Education Act:

Parliament passed the RTE Bill in 2009, making education a fundamental right of every child and bridged the gap between different classes of society. It requires all private schools to reserve 25 per cent seats for poor children.

National Food Security Act passed:

The National Food Security Act, 2013 (also Right to Food Act), which aims to provide subsidised food grains to approximately two-thirds of India's 1.2 billion people, was signed into law on September 12, 2013.

SC strikes down triple talaq:

The Supreme Court struck down the practice of instant triple talaq or talaq-e-biddat in which Muslim men divorce their wives by uttering talaq three times in quick succession.

SC decriminalises homosexuality:

The Supreme Court restored a landmark Delhi High Court judgment in 2018 that decriminalised homosexuality.

J&K bifurcation and end of special status:

On August 6, 2019, the Parliament passed a bill dividing Jammu and Kashmir into two union territories of J&K and Ladakh and also adopted a resolution scrapping special status of the state under Article 370.

Change in terms of GDP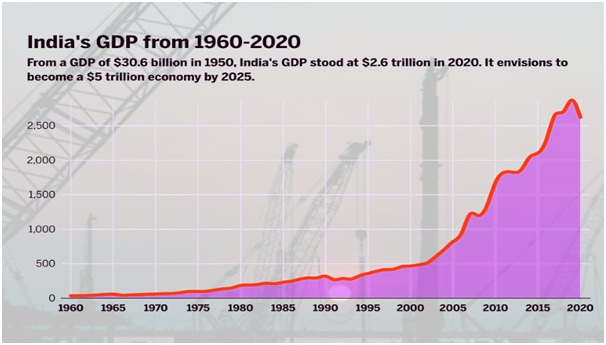 India's GDP has increased from 2.7 lac crore in 1947 to 147.79 lac crore today - India has become the fifth largest economy but India's GDP per capita at less than US$2000 puts India under a struggling LMIC – Lower Middle-Income Country. India has become the fastest growing economy but our national debt increased to a whopping 91 lac crore.
Change in Terms of Life Expectancy


India has gained more than a decade of life expectancy since 1990, but there are wide inequalities between States, according to a new study which assessed more than 286 causes of death and 369 diseases and injuries in more than 200 countries and territories across the world. Life expectancy in India has risen from 59.6 years in 1990 to 70.8 years in 2019, ranging from 77.3 years in Kerala to 66.9 years in Uttar Pradesh.
Change in terms of Infant Mortality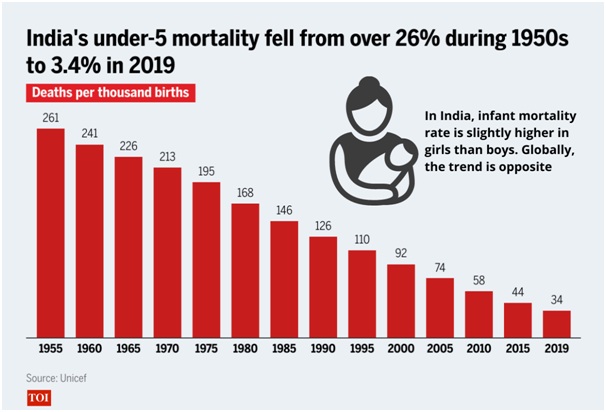 In accordance to the UN Millennium Development Goals (MDG), the goal was to cut down child mortality rate by two-thirds from 1995 till 2015. In India it declined considerably at the rate of almost 57%. The IMR came down from 80 infant deaths per 1000 live births (in 1995) to 33 deaths per 1,000 live births (in 2017: according to SRS bulletin 2019)

Changes in terms of Literacy rate & Education
India's literacy rate increased from about 12 percent in 1947 to 74 percent, but employability is still a major challenge.

Indian education system is the second biggest in the world but still an Indian has not won a Nobel Prize in science and education since independence.

AIIMS, IISC, IITs and IIMs are amongst the world's best education institutions but the rest of the education system is struggling to catch up, leading the bright and the wealthiest moving to the west for education.
Changes in terms of Agriculture
Conclusion
In its 75 years of independence, India has several achievements to its credit. It has built a modern economy (second fastest growing economy), remained a democracy, lifted millions out of poverty, has become a space and nuclear power and developed a robust foreign policy.In our pursuit to reconnect with our innate self, no other country in the world has done research greater than India. In a world fast breeding crime hatred, terrorism, restlessness, India is the peaceful future. But unfortunately our own GenX is turning away from it. Therefore, to be prepared for future we need to regularly consult our past. We should develop confidence through school syllabus, familial values, social media, etc .For example Yoga in school curriculum, World Culture Festival in Delhi, etc are cases in point. It also holds key to solving home-grown problems of Naxalism, terrorism, communalism, through peaceful means that would be sustainable and forge national unity.