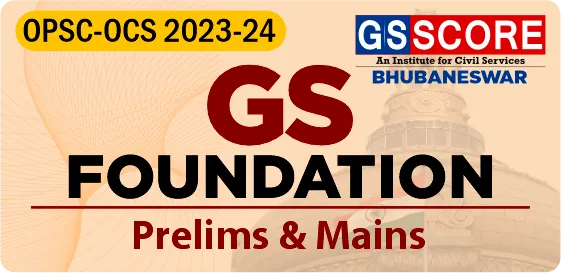 Batch Starts: 11th December
4:00 PM to 7:00 PM
OPSC-OCS GS Foundation (Prelims & Mains)

Highlights
GS SCORE's OPSC-OCS Foundation has come up with a unique methodology to cover the entire gamut of OPSC (Prelims & Mains) Syllabus which will be blended with Answer Writing Practice, Test Series and Current Affairs. The course is specially curated to ensure holistic and comprehensive learning which will be achieved through a protracted and measured process involving.
800+ Teaching Hours (12 to 14 months duration ).
Comprehensive coverage of both Preliminary and Main syllabus including GS and CSAT.
Well Structured and Planned Subject Sequence.
PREMIER- BRIDGE CLASSES: Understanding Micro Detailing of the Syllabus.
MAINS INTEGRATED CLASSES: Elaborated & Detailed Sessions with largely Mains Perspective.
ANSWER WRITING PRACTICE: Regular Answer Writing & Mains Test Series.
WEEKLY CURRENT AFFAIRS: Understand the dynamism of Current Issues.
PRELIMS CLASSES: To elevate the level of preparation for Prelims along with Prelims Test Series.
MAINS UPDATION: After Prelims Updation Classes & Mock.
PERSONALISED MENTORING: One-on-One guidance and Personalised Feedback by faculties.
STUDY MATERIAL: Updated & Complete Study Material.
Course Fee

₹ 60000/-
online Fee
(+GST)

₹ 80000/-
offline Fee
(+GST)

₹ 60000
Online Fee
(+GST)

₹ 80000
Offline Fee
(+GST)
Course Structure & Delivery
GS SCORE's OPSC-OCS Foundation program serves each of the above vital components covering all the subjects for GS for all the levels i.e. Prelims, Mains and Personality Tests through a protracted and measured process involving the following steps:
1. Premier Bridge Class
These classes will work as a bridge between your preparation and the actual demand of the examination.
It will familiarize the students with the micro detailing of the syllabus thoroughly.
The focus will be on laying bare the grey areas and teaching how to read between the line explicit.
It will lay a solid foundation of concepts and will help in developing the perspective & approach needed for the preparation.
2. Mains Integrated Class
Once the ground is prepared with understanding of syllabus, the analysis will be built on covering the entire OPSC Mains Syllabus (GS Paper 1, 2, 3, 4 & Essay) through Mains Integrated Class.
The student will be equipped with critical thinking skills along with elaborate and detailed sessions with largely Mains perspective.
These classes will also cement the basics of prelims and further polish the skills for analysis and problem solving.
Topic wise Answer Writing sessions will be conducted in a time bound manner.
3. Weekly Current Affairs
Current Affairs are the core of preparation for any candidate aspiring to crack the OPSC-OCS.
Weekly Current Affairs will be provided for the coverage of Current Issues of GS Paper 1, 2, 3, 4 & Essay and Odisha Current Affairs.
It will contain not just facts, but examination relevant analysis.
Weekly Current Affairs Magazine will be provided.
Gist of Yojana, Kurukshetra and other important Magazines.
4. Prelims Class
In the Prelims-Practice phase students will be encouraged to sharpen their problem solving skills.
It will include Daily Concept cum Revision Class & Practice Tests.
Daily Concept Class & Test will help to revise the topic twice a day.
Prelims Specific Current Affairs Classes & Odisha GS Special Class will also be provided.
5. Mains Updation
After Prelims, complete Value Addition for GS Mains through Revision Classes.
Mains Mock based on OPSC New Pattern to check one's preparation level as well as the time & speed management skills.
Essay Mock to maximize your score and to gain confidence along with rectification of errors and gradual improvement.
6. Prelims Test Series
Well-designed test papers will focus on testing concepts as well as factual knowledge as per New OPSC Pattern.
Sub Sectional Test: Under this, each subject will be divided in sub-topics to bring more depth in preparation. These tests will be of 50 Questions each
Mock Tests: Mock tests will be conducted on OPSC new syllabus. Paper 1 will consist of 100 Questions and Paper 2 will consist of 80 Questions.
Total 65 Tests: 33 Sub Sectional Test + 9 Sectional + 7 Current Affairs + 16 Mock Tests (GS+CSAT)
Sectional Tests: Under this, each subject mentioned in the UPSC syllabus & Current Affairs will be catered and each test will consist of 100 Questions.
3 Layer Performance Analysis including Test Report, Detailed Analysis & Integrated All India Ranking for Online & Classroom Aspirants.
7. Mains Test Series
16 tests, including 10 sectional and 8 mock tests & 2 CSAT to cover the entire subject in its length and breadth.
12 Sectional Tests to judge Candidate's Concepts & Inter-disicipinary Approach.
8 Mock tests will be conducted on the pattern of UPSC.
Model Answers will consist of Important Concepts & Supplementary Notes.
Detailed discussion for each sectional Test.
Value Added Test Discussions along with Approach to Answer Writing.
Answer sheets will be evaluated by the experts only.
Insightful Evaluation & Feedback.
Evaluation will be done within two weeks' time.
8. Interview Guidance
Interview guidance programme after mains result will help students to be aware of the integrities expected out of the candidate during Personality test.
It also provide opportunity to interact with renowned and most Eminent Panelists who have vast and hands-on knowledge
Procedure
Online Classes
To enroll student has to register on the website using Registration Form or Google Login or Facebook Login.
If already registered login with your username and password which you have used for registration.
Account for Online Classes will be activated within one working day of Enrollment or before batch Starts.
Classes will be conducted online as per the class schedule.
Weekly Class Schedule will be uploaded into students account with session plan and doubt clearing sessions schedule.
Study Material is into two formats i.e. printed and pdf.
Printed Study Material, if any will be dispatched by courier within a week of enrollment.
Soft Copy notes will be uploaded in PDF format into your account.
Doubt Clearing
One on one doubt clearing session will be conducted with concern faculties on Google Meet as per schedule.
Students can put their doubts in chat box given into their account with each session.
Students can also interact with faculty though phone or whatsApp for doubt clearing.
After evaluation of mains test copy, one on one discussion with respective faculty will be done on phone.
Prelims Test Series
Test schedule will be given in advance. Test will be activated on the scheduled date.
Once a test is activated you can write it as per your suitable time (Flexible Test Timings).
Tests will be submitted once you click the submit button or it crosses the time limit.
After submission of the test you will get your score and All India Ranking.
Detailed model answers will be provided.
Your score and performance chart will be available in your "My Account" section for future access.
Mains Test Series
Tests will be uploaded in PDF format in your account.
To write the test students have to download the PDF of test paper booklet or write the test in A4 sheet with proper spacing as per OPSC pattern. After writing the test send us back scanned copy in pdf format for evaluation.
Further evaluated test copy will be sent back to the students within 7 days after receiving the answer sheet.
Test discussion video will be uploaded into your account on the scheduled test date.
Once student will receive evaluated copy, one to one discussion with concerned faculty/experts will be arranged via phone call or live interaction.


Verifying, please be patient.
Our Centers
DELHI (Karol Bagh)
GS SCORE, 1B, Second Floor, Pusa Road, Karol Bagh, New Delhi - 110005 (Beside Karol Bagh Metro Station Gate No. 8)
BHUBANESWAR (Jaydev Vihar)
GS SCORE, Plot No.2298, Jaydev Vihar Square, Near HCG Day Care, BBSR - 751013
LUCKNOW (Aliganj)
GS SCORE, 2nd Floor, B-33, Sangam Chauraha, Sector H, Aliganj, Lucknow, UP - 226024