Important Essay Topics for UPSC Mains Exam
With every passing day, the democratic setup of India is strengthening, so are its administrative wings where transparency and accountability are evident. Well, it gives credibility to the fact that there are top administrative officers whose brilliant performance is at par excellence. Amid rigorous competition, UPSC (Union Public Service Commission) gets efficient candidates on-board who crack this toughest exam in India to serve the nation. This competitive examination includes 3 steps, Prelims, Mains and Personal Interview. Nevertheless, it's a daunting task to crack such exam without meticulous preparation and strategies. In this blog, we have collated information related to the UPSC essay writing topics and their related components. It is paramount to have a tap on all those important UPSC Essay Topics which have been widely asked in previous years question papers.
Let's take a look at important UPSC essay writing topics, you need to start practicing:
Social Topics
Literacy and education.
Modernization and Westernization in India
Gender Equality-problems and perspectives
Information Revolution and its increasing effects
Consumerist culture and its effects.
Reservation: Need, problems and solutions
The issue of child labour: what to do?
The mentality of misusing freedom
Composite culture of India
Rewriting of History
The problem of conversion and its solution
Uniform Civil Code: Need and perspective
Sustainable Development
Population Explosion: Problem and solution
Indian nationalism: Nature and perspectives
The freedom of expression and its limitations.
Socialism: An irrelevant ideology
The responsibilities of Journalism
Human Rights: Need of every human being
Corruption: A part of our way of life
The problem of language and its solution
Need of saving childhood
Youth unrest: Causes and solutions
The problem of vulgarity
Need for a youth and culture policy
Indian culture: Unity in Diversity.
Like above questions Mirant Parikh, IAS(AIR 67, CSE 2016) has written Essay on one of above questions: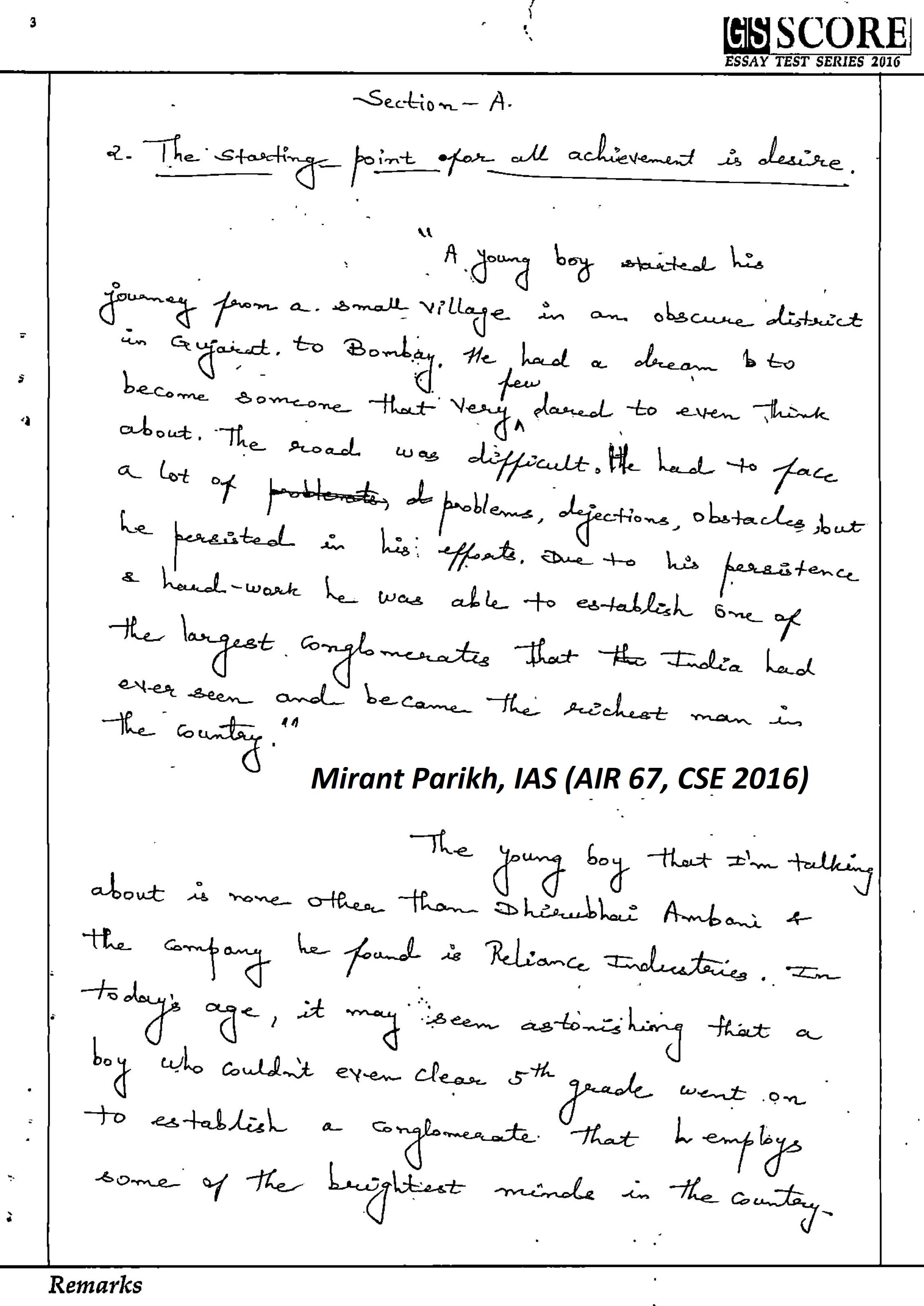 Political Topics
India as a soft state
The Constitutional Review: need and perspective
The need of interaction between administration and public
Every right is attached with a duty.
The criminalization of politics
Political instability: A hurdle in national development
Achievements and failures of Democracy in India
Is India really a secular state?
Parliamentary Democracy: situation, problems and solutions
Corruption in politics
Judicial Activism
The need of sensible administration
National Security: Challenges and hopes
Democracy: A way of life
Kashmir problem: Need of a proper solution
Coalition politics: past, present and future
The gifts of Democracy: Casteism, Regionalism and Communalism.
Economic Topics
India in the age of privatization, liberalization and globalization.
New economic policies and the ideal of Democratic Socialism
Poverty and socialism: the Indian contradiction
New economic policies: oceans of poverty and islands of wealth
Regional imbalance in development
Human resource development and management.
International Topics
The problems of third world countries
The problem of international terrorism
India's contribution to the world
United Nations: Evaluation
Human Rights: A universal propaganda
Indian foreign policy: Need of restructuring
India and its neighboring countries
Idealism and pragmatism in foreign policy.
Mock answer by Mirant Parikh, IAS (AIR 67, CSE 2016)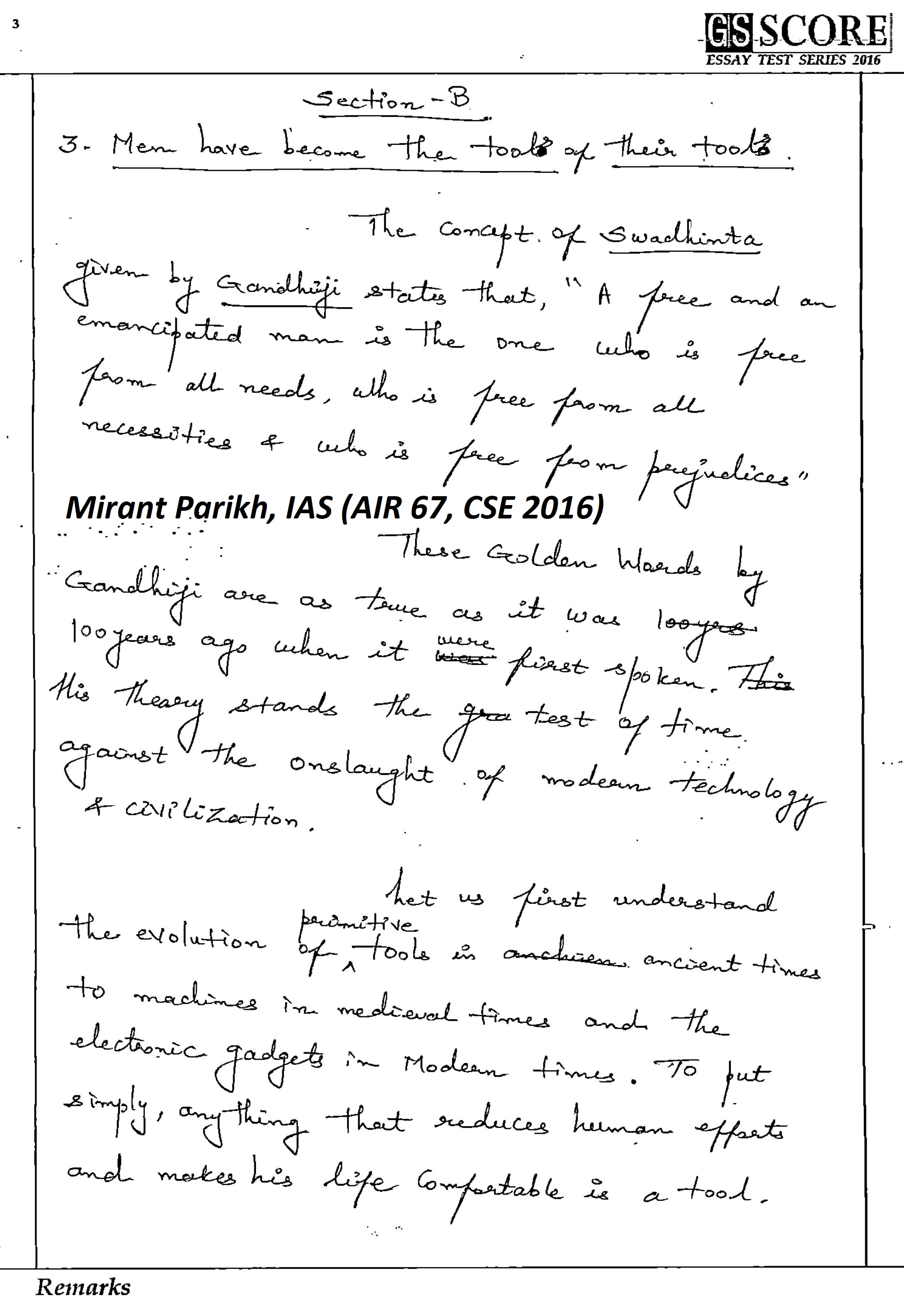 Philosophical/Imaginative topics
God is a subject of belief, not of reason
The philosophy of post-modernism in context of India
India's basic philosophy and its effect on our society
Religion and Politics: the professions without capital
'Who cares': the basic of youth culture.
Other topics
New concepts of alternative medicine: Realities about them
Natural disasters: the management of rescue
Need of a sport policy for India
Environment Protection: problem and solution.
Essay Preparation Strategy By: Mirant Parikh (AIR 67, CSE 2016)
Apart from these topics, candidates should browse through articles, columns, features of newspapers, magazines, journals for the preparation of good essays. Regular clippings and jotting down of important points on the side of clipped topics will ease your time and tension while giving a cursory look during the UPSC IAS examination period.