British rule, started as a trading unit in India, when East India Company received a Royal Charter from Queen Elizabeth. British Empire consolidated its power on India territory through the power distribution concept to Viceroys, Governor Generals. Posts like governor generals and viceroys created a pseudo force around the few chunks of British soldiers to rule on Entire Indian Sub-continent. Within a time period of nearly three centuries, the British turned from a trading power to one of the most powerful countries in the world.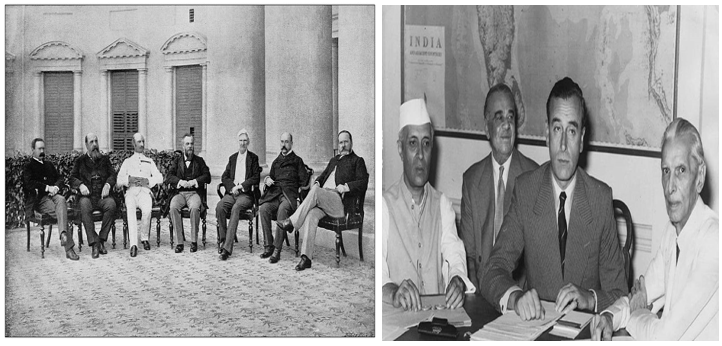 Despite being a small island country, Britain was able to establish one of the largest empires in the world. Britain was able to increase the size of their Empire exponentially on the backdrop of the strong and efficient bureaucracy that it established in its colonies. In India, the British were able to establish this control through Governor-General and Viceroys.
During the British imperialism, Governor-General and Viceroy were the two main administrative posts in British India. Most UPSC aspirants get confused in the questions related to these topics and they end up scoring less in history portion.
Every year from the history portion, majority of the questions are asked from the topics like Viceroys/ Governor Generals. UPSC ask questions from Viceroys and Governor Generals in quite different way. Aspirants should try to prepare for questions related to both of these topics every year as these topics are evergreen portion of UPSC to ask questions. In this blog, GS SCORE will provide relevant information about the Governor-Generals of India and their achievements and the major reforms that took place during their tenure as the Governors-General or viceroys of India.
How to Cover Viceroy and Governor General Topics?
Understand the objective of Introducing Viceroys and Governor Generals:
Aspirants should keep their approach of asking questions related to all topics of viceroys and Governor Generals. For instance, the very first question that should come across in mind of the aspirants is the objective of introduction of post like viceroys and Governor Generals. E.g. British Empire introduced post of Viceroys and governor generals to consolidate strong and efficient bureaucracies to maintain the smooth functioning of the colonies. The British were able to establish this authority in India through Governors-General and Viceroys.
Formulate own Notes:
Rather than going for gathering information through online mechanism, aspirants should look to consolidate their own material and should prefer for handwritten notes. But, again preparation mechanism of this examination can vary from person to person. As far as preparation of viceroys and Governor General Topics is concerned, aspirants should look to make their notes in format discussed below:
Governor General

Viceroy

Tenure Period

Major Reforms & Events

1. Warren Hastings

1772-1785

First Governor-General of Bengal
Abolishing dual system of administration
Regulating Act of 1773
Supreme Court at Calcutta
Asiatic Society of Bengal

2. Lord William Bentinck

1828-1835

Abolition of Sati
Suppression of Thugee, infanticide and child sacrifices.
English Education Act of 1835

3. Lord Canning

(1856-1862)

Revolt of 1857
Establishment of three universities at Calcutta, Madras and Bombay in 1857
Abolition of East India Company and transfer of control to the Crown by the Government of India Act, 1858
Indian Councils Act of 1861
Aspirants are advised to remember the names of Governor Generals & Viceroys their tenure period of functioning and what all major events happened during their tenure period. By following this way of notes making, aspirants can remember majority of things and also these sort of notes will be helpful in revision.
Try to Link issues/ Topics:
It is highly advisable that aspirants should look to link the issues/topics with each other. Without linking of topics, it would be very difficult to remember the chronology then understanding the important events that happened during the tenure of particular Governor Generals. For instance, understand these topics:
Introduction of Governor-General of India
Bengal Governor-General (1773-1833):
First Governor of Bengal: Robert Clive
With passage of the Regulating Act 1773, the office of Governor of Bengal was renamed "Governor-General of Bengal"
First Governor-General of Bengal was Warren Hastings
Governor-General of India (1833-58):
The office of Governor-General of Bengal was renamed "Governor-General of India" by a Charter Act in 1833
The first Governor-General of India was William Bentinck.
This position was mostly administrative in nature, and it reported to the East India Company's Court of Directors.
In both of the topics discussed above, aspirants should find the continuity of the policies and what all changes were introduced one after the other. By following the suggestions given above, aspirants can definitely prepare themselves well enough for Civil services examination.
Aspirants should look to find the solution about what all can work for themselves and what can't. So, make sure you identify the issues and then formulate your own strategies. It will be always better to go for own plan of action rather than exploring the possibilities of getting suggestion that can work for an individual. For preparation of questions related to Governor Generals and Viceroys, aspirants can download Prelims Sampoorna fact files.