History as subject from the UPSC point of view holds the key area in the syllabus both in prelims and Mains stage of the examination. Every year, two to three questions are asked by UPSC directly or indirectly from important terminologies associated with history subject. It is important that aspirants should study History keywords with sincerity as these important words will help aspirants in understanding the broader picture of history topics like, why certain polices were enacted, what is the impact of different acts and rules, furthermore the facets of Indian history give us an idea about the societal and economic impacts of Indian and global society.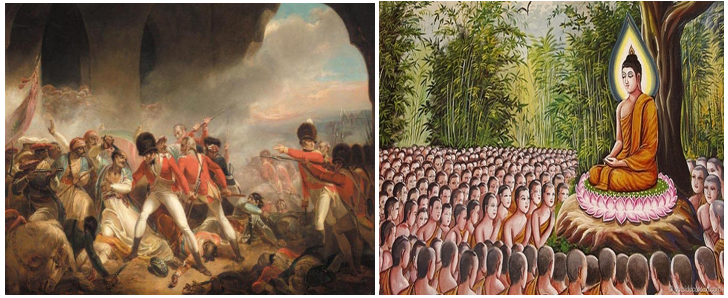 There is no iota of doubt that history subject is difficult to understand, not because of vastness of history syllabus as a result of which aspirants end up in boredom, the major reason for aspirants committing mistakes in history questions is due to the fact that students feel history is really difficult subject. Many aspirants face this problem of understanding the keywords associated with Ancient. Medieval and Modern Indian history. There are certain ways in which all terminologies of history can be understood in very lucid manner.
History Terminologies for UPSC Prelims:
Aspirants should accept the fact that the History as subject is very vast and expansive and there is very little scope to innovate because whatever you are reading is not current news but that has already happened as past events. Although, these events have taken place in the past but, they still occupy a very important place in the history books. Thus mugging up and understanding the important history keywords for UPSC Prelims is simultaneously important. In prelims, questions will be asked from history terminologies like;
| | |
| --- | --- |
| Terminologies | Meaning |
| 1. Amatya | Occupation; Prime Minister. Official title for a higher official used from the Mauryan Period |
| 2. Bhukti | Bhukti was mentioned in the Gupta inscriptions. Bhuktis was the name of Provinces in the Gupta Empire. It Gupta period's administrative unit of a kingdom |
| 3. Diwan-i-Risalat | Religious Affairs; Diwan-i-risalat or the minister of foreign affairs was in charge of dealing with diplomatic correspondences and the ambassadors. He was an important officer as all the Sultans were curious to maintain diplomatic relations with the Central Asian powers. |
Source to cover Keywords:
Aspirants are advised to understand pattern of targeting sections by UPSC to develop strategy of covering all key words section. An important concept while understanding the lesson on history keywords is understanding the difference between static and dynamic keywords.
In the case of static history keywords, these words are found and included in majority of the books. On the other hand, the concept of dynamic history keywords is fascinating. These keywords find relevance in the current topics of discussion. These keywords are easily found by reading newspaper articles, journals on the Internet and blogs. It has important information about the topics of current affairs. Therefore both static and dynamic history keywords in UPSC Prelims have an important role to play while understanding the lessons of History.
ANCIENT INDIA
IGNOU B.A notes- very crisply written
IGNOU M.A NOTES – helpful in understanding various political, economic and socio- cultural aspects
Romila thapar- Early India( only a very selective reading)
NCERT Class 6, NCERT Class 11
MEDIEVAL INDIA
IGNOU MA and BA NOTES
Satish Chandra is another important source to compliment IGNOU.
NCERT CLASS 7, CLASS 11
MODERN INDIA:
BIPIN CHANDRA- FREEDOM STRUGGLE AND POST INDEPENDENCE
Or
Modern India Spectrum
IGNOU B.A and M.A
NCERT CLASS 8, CLASS 12
Syllabus of History is a vast subject which can be extend to expansive length and breaths. The nature of the lesson and the depth of the study requirement on topic is difficult to gauge. To memorize the history keywords, aspirants can write down in notes form for revision point of view. Whenever aspirants forget about a particular topic, they can refer to the missing history keyword and the consequent recollection would help to frame their answer with the keyword and thereby would ensure them in remembering the lesson for a longer period. Before appearing for prelims stage of the examination, aspirants are advised to prepare a list of the important history keywords and revise them thoroughly. This would help aspirants during the last moment time of examination.