3Hubble finds a new Jupiter-like planet forming in an unusual way: NASA
Context
The Hubble Space Telescope has photographed a Jupiter-like protoplanet.
About
About the finding:
NASA's Hubble space telescope has produced a direct photograph of a Jupiter-like protoplanet embedded in a protoplanetary dusty disk around 2 million years old.
It is forming through what researchers describe as an "intense and violent process."
This discovery supports a long-debated theory for how planets like Jupiter form, called "disk instability."
A protoplanetary or circumstellar disk is a disk of gas and dust orbiting a newly formed star that is believed to be forming planets.
According to disk instability theory, matter in this disk slowly moves inward while dust particles grow into centimeter-sized pebbles.

This is seen as the first step in the formation of kilometer-wide planetesimals, which eventually coalesce into planets.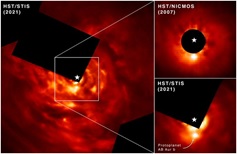 About the newly forming Planet:
Verifying, please be patient.