A Rare Dragonfly spotted in Kerala
Context
A species of Spiny Horntail- Dragonfly is seen in Kottiyoor forests of Kannur district of Kerala.
About
This species is endemic to Western Ghats, earlier found in Maharashtra this year.
In India, they are found in three types of species in genes Burmagomphus.
cauvericus – restricted to certain areas of western ghats
pyramidalis- Western Ghats as well as in Peninsular India.
laidlawi- Found in whole of Western ghats
Other than these species all species of the genus are found in the Western and Eastern Himalayas.
The new species is separated from its congeners by the markings on the lateral thorax and peculiar shape of anal appendages.
Dragonfly
Dragonflies are predatory insects from the order Odonata (an order of flying insects that includes the dragonflies and damselflies) and characterized by;

large eyes
transparent wings
Most colourful patches in body
Dragonflies are day flying species and have some common features like butterflies.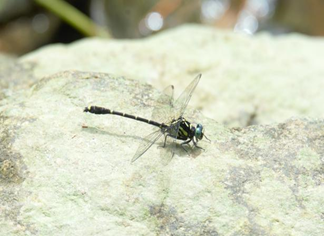 Other major species in India
Ditch jewel dragonfly
Diplacodes trivialis (ground skimmer)- Most abundant species.
Red Groundling
Potamarcha congener- Common chaser

Verifying, please be patient.