To end illegal mining, Madhya Pradesh plans to make it legal in parts of Chambal sanctuary
Context
Madhya Pradesh government has proposed to open 292 hectares for mining in five stretches on Chambal and its tributary Parvati rivers. Sand mining has been banned in the sanctuary since 2006.
About
To free its forest department from devoting too much time, resources, and efforts in fighting illegal mining in the National Chambal Sanctuary.
Opening up the five stretches would minimise the conflict with illegal miners, gain local support, and fetch revenue from royalty, one-fourth of which could be used to strengthen protection measures.
The legalisation measure will also help to reduce the pressure of illegal mining.
Ecological disturbances: The stretches de-notified under the proposal are already disturbed by illegal mining and were no longer used for mating or breeding by gharials or muggers.
Stricter Provision: The state proposed to tighten monitoring of vehicles carrying sand, by marking them with registration numbers, barcoding royalty receipts with destination and time, and creating a mobile application that allows for verification on-the-spot.


Areas proposed for Mining:
Barodia Ghat
Dalarna
Rajghat-Piprai
Barbasin
Badapura
Chambal River: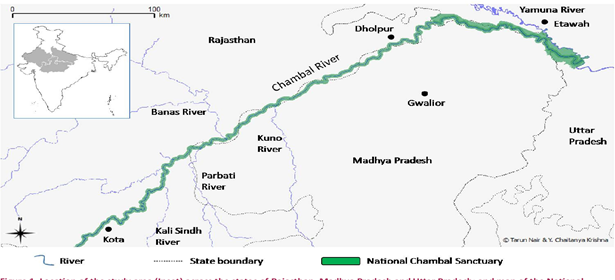 Source: Rises from Vindhya range
Meets: Yamuna River
Major dams:
Gundhi Sagar
Rana Pratap Sagar
Jawahar Sagar
Kota Barrage
Tributaries:

Right Bank: Parbati, Kali Sindh, Shipra.
Left Bank: Banas, Mej.

Sanctuary: National Chambal Sanctuary (Gharials)
Verifying, please be patient.