Aquatic weed used to make eco-friendly products, generating employment
Context
Due to the demand for woven baskets, cups, plates, boxes, and other cottage industry products being high in West Bengal, the noxious aquatic weed is used to make hand-woven products.
About
About the Aquatic weed
This is not an indigenous species but was introduced to India during the British colonial rule as an ornamental aquatic plant from South America.

The plant produces beautiful purple flowers that have high aesthetic value.

This simple, floating aquatic plant, unfortunately, is also an obnoxious weed that has been suffocating surface freshwater sources like rivers, rivulets, streams, ponds, dams, and lakes.

It makes the waterbodies unsuitable for the commercial fishery, transportation, and recreation.

The plant is a prolific vegetable matter-producer and has the ability to choke out any closed water body at an astonishing rate.

This cuts off sunlight as well as reduces the oxygen level in the water, making it unfit for comercial use.
What are weeds?
Weeds are wild, unwanted plants that compete with normal healthy plants for water, light, soil nutrients and space.

Weeds are competitive, persistent, pernicious, and interfere negatively with human activity.

There are approximately 250,000 species of plants worldwide; of those, about 3% or 8000.species behaves as weeds.
Methods of Weed Control
Chemical control

involves the use of herbicides. Herbicides control weed plants either by speeding up, stopping or changing the plant's normal growth patterns; by desiccating (drying out) the leaves or stems; or by defoliating the plant (making it drop its leaves).

Mechanical control

is the use of powered tools and machinery to manage weeds. It is suitable for larger infestations because it reduces the weed bulk with less manual effort. Care should be taken to minimize soil disturbance.

Biological control

involves the use of insects or pathogens (diseases) that affect the health of the weed. Usually, these bio-control agents are from the same country of origin as the weed species.

Manual control

is the use of the hands or handheld tools to deal with weeds. An advantage of manual control is that it minimizes soil disturbance, and decreases the likelihood of erosion and weed seed germination.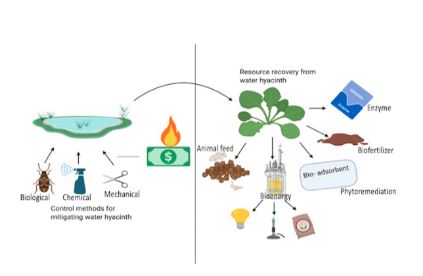 Used for cottage industry products
West Bengal has made an outstanding example by utilizing this obnoxious aquatic weed plant to develop a small-scale cottage industry that is both financially rewarding as well as environmentally friendly in approach.

Cottage based Industry refers to small manufacturing units producing goods and services using conventional and low-technology methods.

An example of the cottage industry is the locally produced handicrafts and textiles, which are still the backbone of many rural economies around the globe.
Other uses
The plant has been used as a bio-fertilizer.

Making home cleaning brooms

Good phytoremediation species

preparing a biodegradable paper
Advantages
Generating employment

Promoting local trade and art

Sustainable use of resources

Biodiversity Conservation

Promoting conservation of waterbodies

Boosting economic growth in the country

Verifying, please be patient.